US accused of engaging in 'technological terrorism'
By MO JINGXI | CHINA DAILY | Updated: 2022-07-07 07:41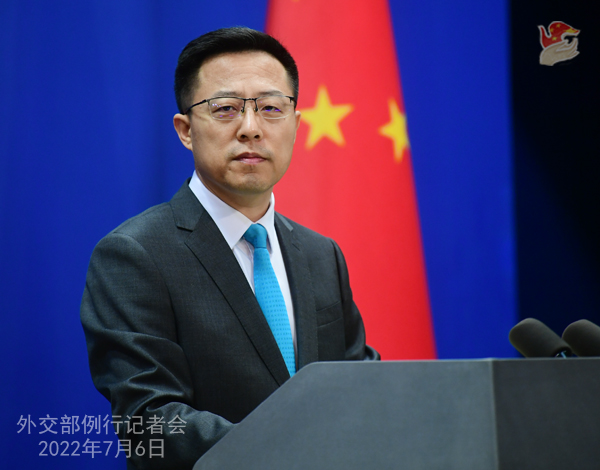 Foreign Ministry spokesman Zhao Lijian said on Wednesday that the United States is engaging in "technological terrorism" by pushing the Netherlands to ban a company from selling chipmaking technology to China.
"It is another example of the US practice of coercive diplomacy by abusing state power and wielding technological hegemony," Zhao said, referring to a Bloomberg report that said US officials are lobbying their Dutch counterparts to bar ASML Holding NV from selling to China mainstream technology essential for making a large chunk of the world's chips.
People familiar with the matter told Bloomberg that the Dutch government has yet to agree to any additional restrictions on ASML's exports to Chinese chipmakers, which could hurt the country's trade ties with China.
Speaking at a regular news briefing in Beijing, Zhao accused the US of repeatedly seeking to politicize and instrumentalize economic and trade issues and imposing "technology blockades" and "technology decoupling" on other countries.
"This will only remind all countries of the risk of being solely dependent on the US in terms of technologies. And it will also prompt them to achieve independence and self-reliance in science and technology at a faster pace," the spokesman said.
"Those who seek to block others' way will end up being blocked on their own way," he added.
Zhao also urged relevant parties to uphold an objective and just position and make independent decisions based on their fundamental and long-term interests.
The US has long been seeking to hamstring competitive Chinese high-tech companies under all kinds of trumped-up charges in violation of the principles of fair competition and the market economy, and international trading rules.
According to a document released by the Foreign Ministry in June, the US has placed over 1,000 Chinese companies on various sanctions lists, subjected biotechnology and artificial intelligence technologies to enhance export controls and stringent investment reviews, and sought to ban Chinese social media platforms including TikTok and WeChat.