Turning paper into art, one sculpture at a time
By LI WENFANG in Guangzhou | CHINA DAILY | Updated: 2022-07-07 09:03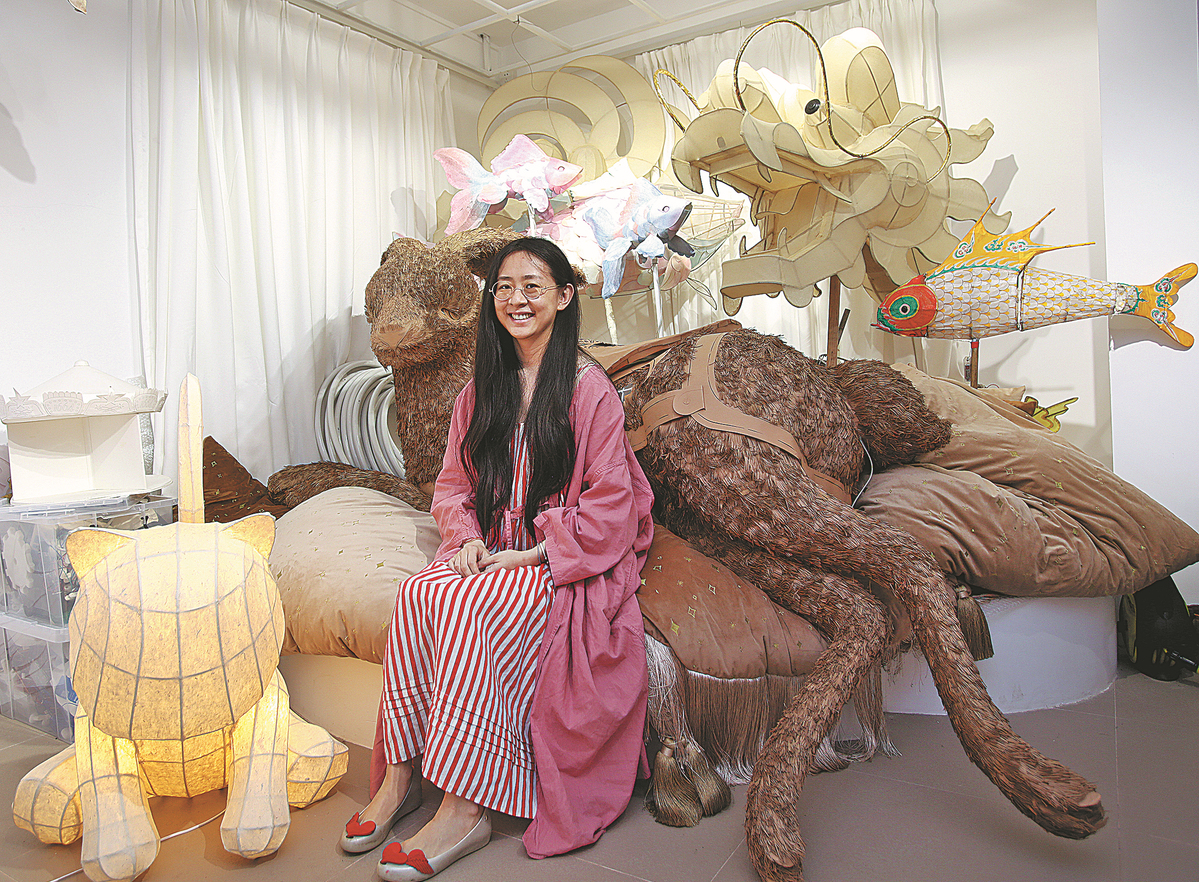 What began as a childhood hobby has become one artist's preferred medium
Wen Qiuwen never expected paper sculpting would become her career when she began making paper toys with her mother during her summer and winter vacations in Guiyang, Guizhou province, as a primary school student.
Her red, southern Chinese-style lions with lights inside have wowed audiences at exhibitions, and three of her pieces were displayed at cultural exchange events in Paris and Rome.
Wen said her paper sculpting technique was refined after taking a class in junior high school, where she learned to make ships and build models out of paper.
Later, as she majored in oil painting at South China Normal University in Guangzhou, Guangdong province, she created paper props for conceptual photographs.
After graduation, she worked as an art director at advertising firms, but in 2014, she decided to quit and set up a studio to focus on paper sculptures.
The idea of making the lions came to her when a friend at a traditional Chinese lantern factory in Foshan in Guangdong gave her a 1.85-meter-high frame of a lion head.
She cut out over 1,000 pieces of paper, painted them and then glued them to the frame.
The light pink, green, blue and yellow colors looked like macarons and at one art festival, her piece was dubbed the "girlish lion".
"After spending so many years in Guangzhou, I'm naturally interested in Cantonese culture," Wen said. "I've visited ancestral halls and temples, taken part in a dragon boat race banquet, where the 1,000 tables seemed to stretch forever, and watched lion dances. There's something almost surreal about these traditional events, which have been passed on since ancient times."
Made of thick steel wire, the frames permit Wen's paper sculptures to last longer.
She made more lions, some with bodies. Two were shipped to Rome for a cultural exchange event in 2019, and another was added to a collection in a historic house in Meizhou, Guangdong.
During another cultural exchange event, Wen flew to Paris to create a 9m-by-5m-by-20m piece entitled The Fairyland of Penglai for an exhibition at the Pompidou Center.
Due to its size, she had to use a ladder to cut out the individual sections, which she did with the help of images projected onto the paper. A French artist designed the lighting for the finished piece.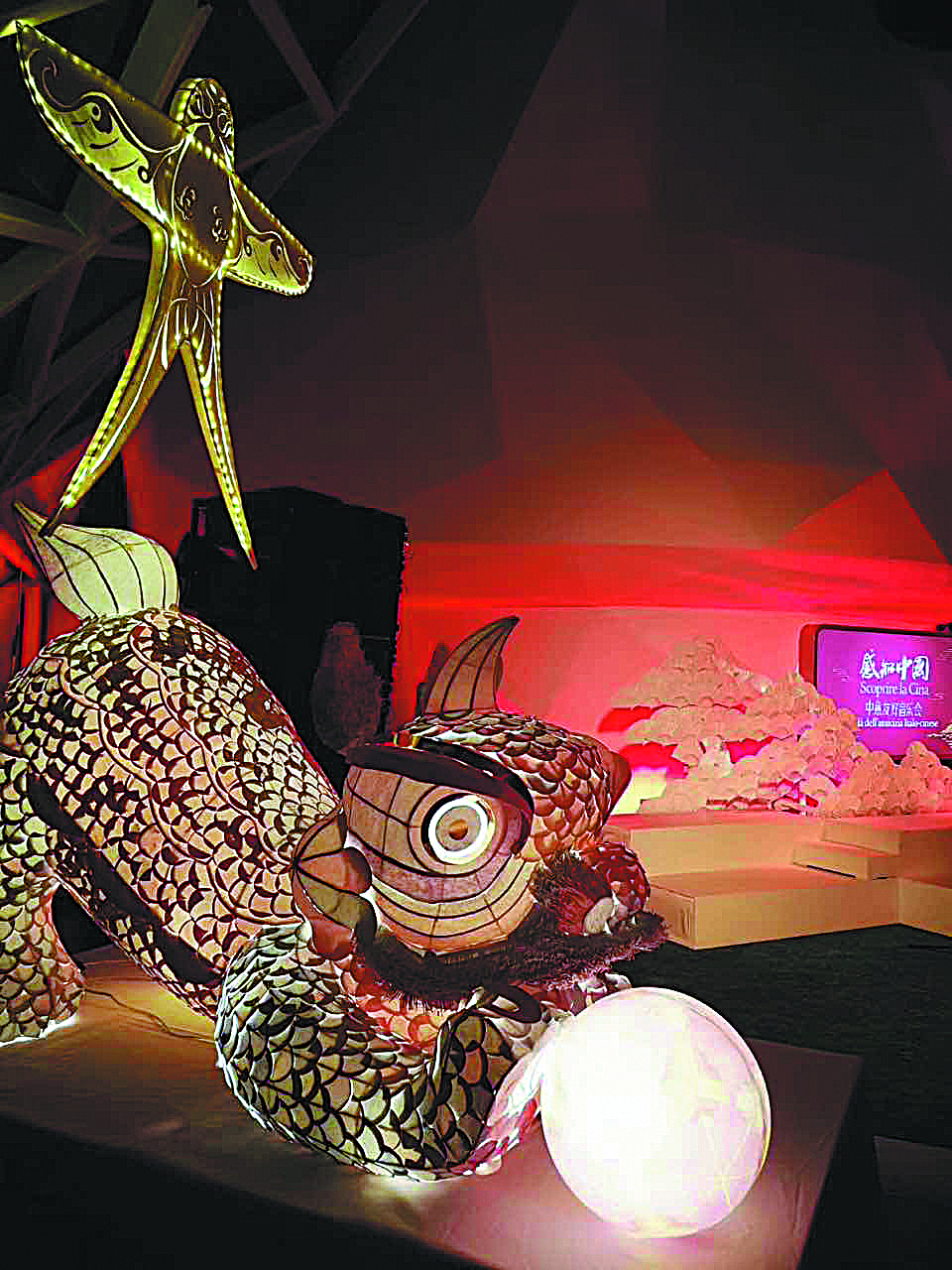 Last year, Wen began creating a series called Flash Museum, which focuses on animals she likes, including extinct ones like the dodo and the woolly mammoth, as well as animals painted by her favorite artists, such as the rabbit by German Renaissance painter Albrecht Durer.
The series requires meticulous work, as each individual hair is cut from kraft paper.
While working on the mammoth, she added butterfly wings and an elevator containing a heart in its chest.
The series, which Wen sees as exploration and expression of self-consciousness, has been displayed not only in Guangzhou, but also in Shenzhen, Guangdong, and in Xi'an, Shaanxi province.
This year, the 35-year-old is refocusing on traditional culture by working on lanterns with artists and designers from a variety of fields, including illustration and gaming. They plan to display the pieces in an ancestral hall in Guangzhou.
She is also thinking of combining paper sculptures with interactive electronic devices.
Wen mainly uses scissors, utility knives, glue, watercolors, watercolor paper, kraft paper and black cards to make her sculptures. For pieces to be displayed in places like shopping malls, she uses water-resistant materials.
Wen feels it is easier to express herself through paper sculptures than painting.
"Paper is changeable. When it is lit up, it is transformed and becomes something surprising," she said. "I cannot know exactly what a piece will look like before I finish it. The glow of the light creates new possibilities, which is very interesting to me."