Japan at crossroads as upper house election draws near
By WANG XU in Tokyo | China Daily Global | Updated: 2022-07-07 12:55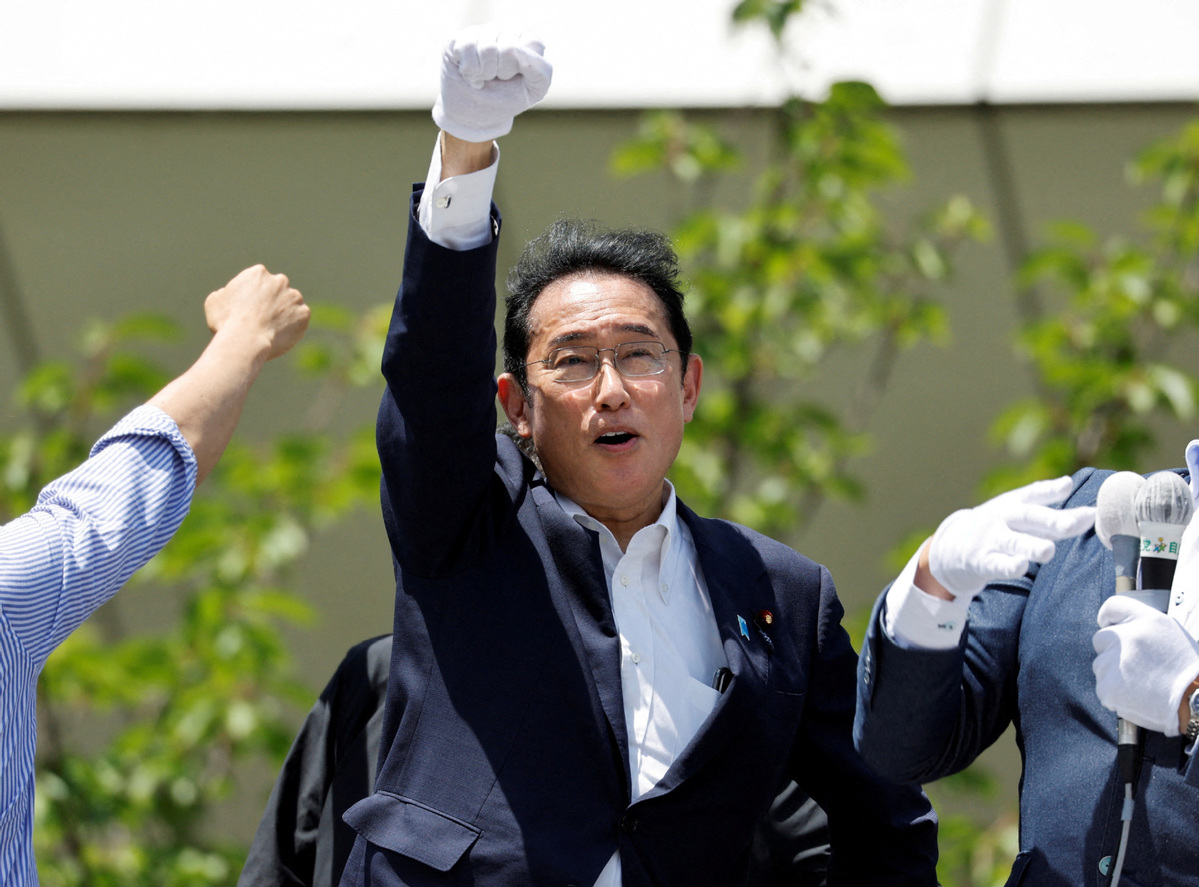 Japan's upper house election on Sunday is in the spotlight because of the real possibility that Prime Minister Fumio Kishida could become the country's first leader to change its pacifist constitution.
"Elections to the Japanese legislature's upper chamber, also known as the House of Councilors, do not always draw such attention because for one thing, it doesn't select Japan's prime minister and for another, it doesn't determine the country's treaties and budgets," said Wang Qi, a researcher of East Asian studies at the Chinese Academy of Social Sciences in Beijing.
"But it is different this year, because the result of the election could have profound consequences for Japan's defense and security strategy. The outcome might give a chance for Kishida to revise Japan's war-renouncing constitution and that will definitely increase tensions and uncertainties in the Asia-Pacific region," Wang added.
To amend Japan's pacifist constitution, the ruling coalition needs to win at least 82 seats to maintain a two-thirds majority with the support of two minor parties, Nippon Ishin and the Democratic Party for the People. Both of them support a revision.
Given that the LDP, Komeito, Nippon Ishin and DPP already hold a two-thirds majority in the lower house of parliament, the only obstacle to the amendment would be securing a majority of public support in a national referendum to implement the change.
"Despite all the focus on the election, I don't know if Kishida will put his priority on constitutional revision," said Yu Uchiyama, a comparative politics professor at the University of Tokyo.
"Even if he did, it would rather be a symbolic gesture," Uchiyama added. "I think his priority will be to secure a long-term administration and cement his new capitalism, which many say he failed to voice clearly about."
Analysts and observers hold contradictory views on Kishida, who used to be regarded as a dovish player between rival branches of Japan's ruling Liberal Democratic Party.
The analysts wonder if he is in favor of constitutional reform or whether he will push for a change in the country's constitution under pressure from former prime minister Shinzo Abe and his allies.
Either way, Kishida is very likely to be the one who decides on Japan's future security posture.
Abe is now head of the largest faction within the LDP, with about 90 lawmakers, giving him a strong voice in choosing the LDP's president. In contrast, Kishida's faction, with 43 members, is only the fourth largest within the party.
If Kishida manages to expand the LDP and its coalition partner Komeito's margin of control in Sunday's upper house election and if he wins the LDP leadership election next year, he will rule for three years before facing another election in 2025.
A poll published on Monday by Nikkei Daily showed that the LDP is projected to win about 60 seats on its own, up from the 55 seats it currently holds.
"Opponent parties failed to distinguish themselves from others this year and they lack strong leaders to attract voters. That's why LDP and Komeito would easily keep the majority of the upper chamber," said Masanari Koike, a former member of Japan's House of Representatives, the lower house, adding that the right-wing party Nippon Ishin could also win more seats.
Japan's election rules said members of the upper house are elected for a six-year term and elections are held every three years, with half of the total 248 seats up for grabs.
This year, the election day is set for Sunday. Over 530 candidates from more than 15 parties will compete for 124 seats. Among them, 75 will be decided based on electoral districts and the remaining seats will be filled by people elected through proportional representation across Japan.
Koike said economic issues and structural reform should be Kishida's top agenda going forward.
"Japan now faces serious economic challenges, caused by a decrease in population and demand, also a lack of structural reforms which hinder rising new industries. Since the Abe administration, Japanese governments and the Bank of Japan just have no options except financial expansion," Koike said.
"But it is now causing historical depreciation of the yen. Combined with increased import and energy prices, it had hurt people's daily living. If they do not fix it, there seems no optimistic end for this road."