Boosters seen as key for S. Korea surge
By YANG HAN in Hong Kong | China Daily | Updated: 2022-07-15 07:30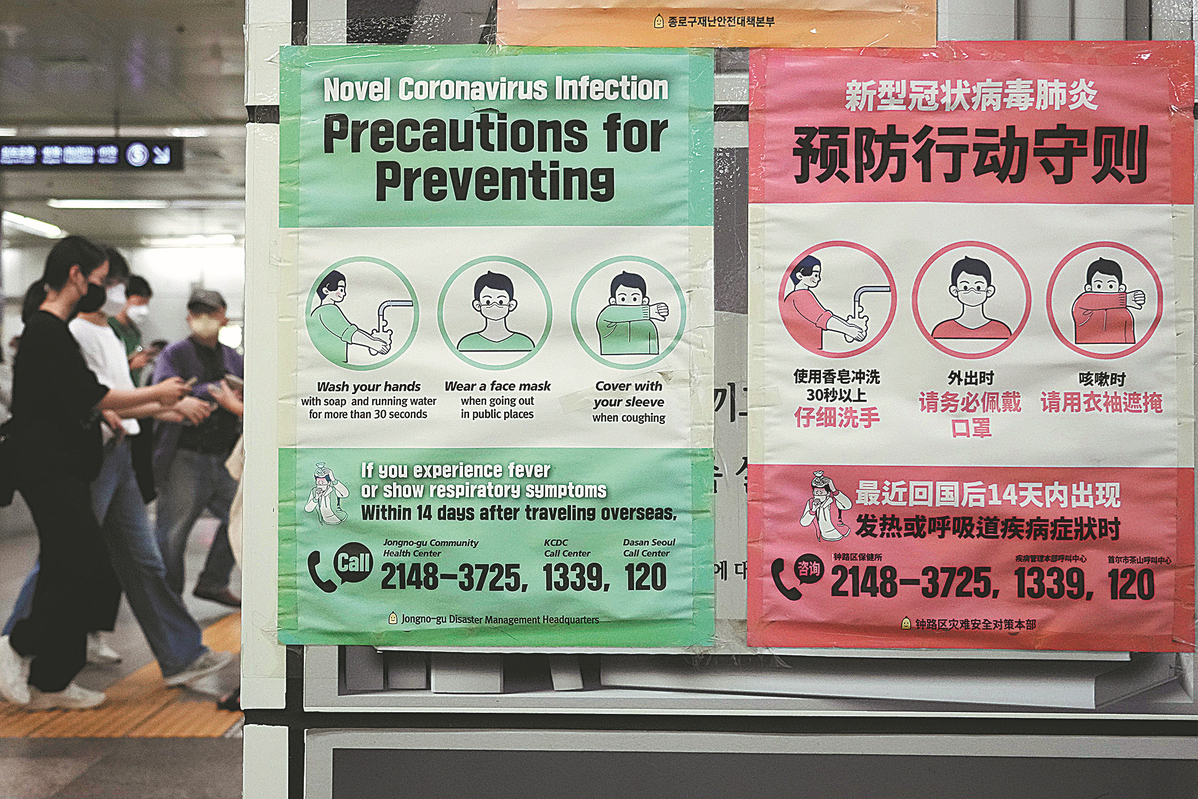 Vaccine boosters could hold the key for South Korea's efforts to counter a resurgence in COVID-19 infections, experts say, after authorities decided against bringing back social distancing rules.
On Thursday, the daily confirmed cases doubled the number for the same period of last week, bringing the national tally to 18,641,278, according to data from the Korea Disease Control and Prevention Agency, or KDCA. The daily count sits at a two-month high.
On Thursday, South Korea detected its first case of the Omicron subvariant BA.2.75, which was first sequenced in India in May and has been found in around 10 countries.
"If you want to just maintain a sort of protective level against the infection, we have to get the vaccination at least every six months or so," said Kim Seung-taek, head of the Zoonotic Virus Lab at Institut Pasteur Korea, a research center in the city of Seongnam.
Though the existing vaccines were designed to combat the original form of the virus that causes COVID-19, Kim said they are still effective in protecting people from having severe symptoms and death.
South Korean Prime Minister Han Duck-soo said on Wednesday that the government will expand the booster shot program by allowing people aged 50 and older to receive a fourth vaccine dose, Yonhap News Agency reported. People aged 18 and older with underlying health conditions are also eligible for the shot.
South Korea's current wave of infections is driven by the fast spread of the highly transmissible Omicron subvariant BA.5.
"With the spread of BA.5 mutations, the resurgence is starting faster than expected," Han said, noting that daily infections are expected to top 200,000 between mid-August and the end of September.
Thursday's daily number of 39,196 cases was more than double that recorded a week earlier but down from the 40,266 cases recorded the previous day.
Though the number of daily COVID-19 cases is increasing rapidly, Kim Tark, professor of infectious diseases at Soonchunhyang University Bucheon Hospital, said that the peak of the current resurgence will see case numbers under half that of the figure recorded in the previous Omicron wave fueled by subvariants BA.1 and BA.2, which peaked in March at over 600,000 daily cases.
Lower numbers are expected in the peak of the current wave "because people have already experienced a huge outbreak", he said.
About 87 percent of South Korea's population, or more than 44 million people, have already been fully vaccinated with two doses. About 65 percent of residents have received their third shot, according to statistics of KDCA.