Fourth COVID-19 vaccine approved in US
By MINLU ZHANG in New York | China Daily Global | Updated: 2022-07-15 10:26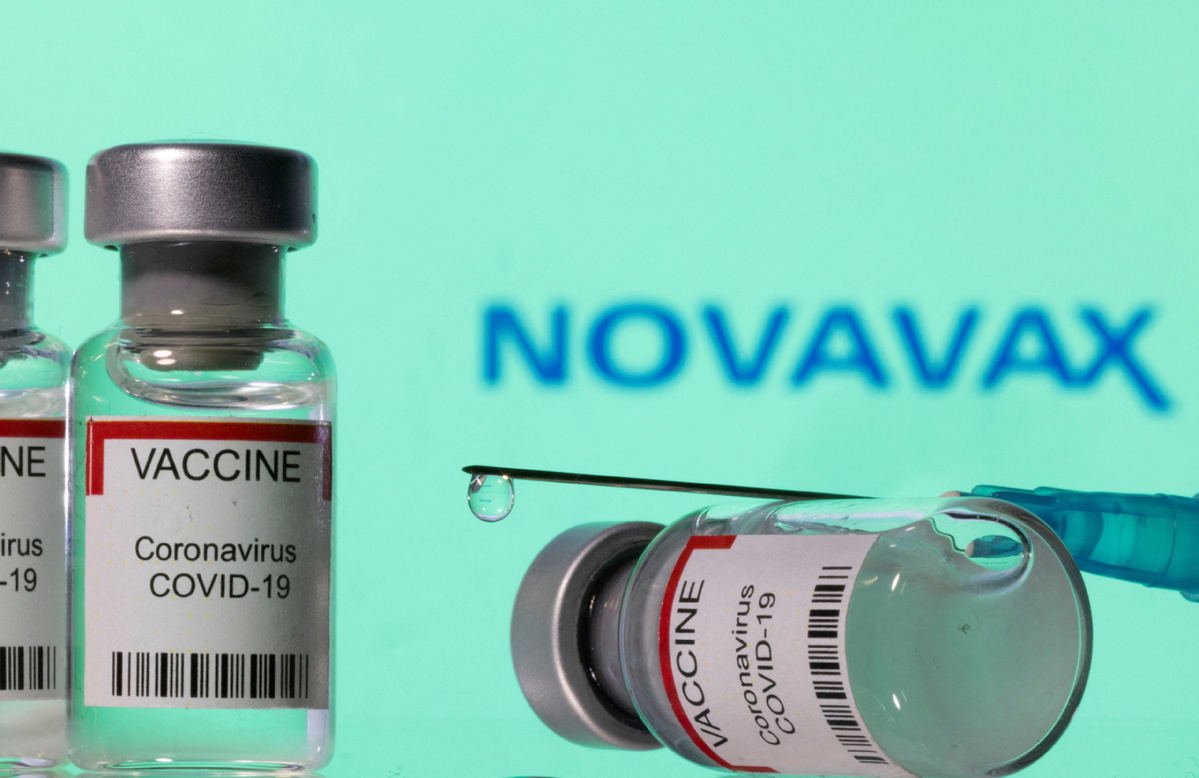 The US Food and Drug Administration (FDA) has granted Novavax's COVID-19 vaccine emergency use authorization, making it the fourth COVID shot to be authorized for adults in the United States.
The authorization "offers adults in the United States who have not yet received a COVID-19 vaccine another option that meets the FDA's rigorous standards for safety, effectiveness and manufacturing quality needed to support emergency use authorization," said FDA Commissioner Robert Califf in a release on Wednesday.
The Centers for Disease Control and Prevention (CDC) still needs to sign off on Novavax's vaccine before pharmacies and other healthcare providers can start administering shots. That could happen as soon as next Tuesday.
Peter Marks, a senior FDA official, said Novavax's vaccine would potentially appeal to unvaccinated people who would prefer a shot that is not based on the messenger RNA technology used by Pfizer and Moderna.
US health officials are hoping that those who choose not to take Pfizer's and Moderna's vaccines, which are based on the mRNA technology, will instead choose Novavax's vaccine, which is based on more conventional protein technology used for decades in hepatitis B and HPV vaccines.
The FDA's decision comes weeks after its independent committee of vaccine experts voted overwhelmingly in early June to support Novavax's vaccine after weighing the safety of the vaccine and its ability to prevent COVID-19.
After the June meeting, FDA officials had said the agency was still reviewing the company's manufacturing process and checking the quality of the vaccine. The company's executives also acknowledged those were one of the biggest obstacles to completing regulatory filings.
More than two-thirds of the US population has been fully vaccinated with shots from Moderna Inc, Pfizer-BioNTech or Johnson & Johnson. About 27 million adults still have not gotten a single shot yet.
The US government said it had secured 3.2 million Novavax vaccine doses, which it plans to release once the company finishes quality testing in the coming weeks.
However, the European Medicines Agency (EMA) on Thursday identified severe allergic reactions as potential side effects of Novavax's COVID-19 vaccine. The EMA said it would also update the product side effect information to add unusual or decreased feeling in the skin.
Only 250,000 doses of Novavax's COVID vaccine, Nuvaxovid, have been administered in Europe so far since its launch in December, according to the European Centre for Disease Prevention and Control.
The trial of Novavax was conducted in the US and Mexico from December 2020 through September 2021. Two doses of the Novavax vaccine were 90 percent effective at preventing illness from Covid across the board and 100 percent effective at preventing severe illness, according to clinical trial data back then.
However, the trial was conducted months before the omicron variant became dominant. Novavax's vaccine, like all the other shots, is based on the original version of the coronavirus, while the US is preparing to updated Covid shots to target the omicron BA.4 and BA.5 subvariants of Omicron now dominant across the country.
Novavax says it is studying a version of its shots redesigned to target the BA.4 and BA.5. The first data on those shots are expected "in the late summer or fall," the company says.
FDA officials has flagged four cases of myocarditis and pericarditis from Novavax's clinical trial in young men ages 16 to 28.
The agency has also issued a fact sheet for health-care providers warning that clinical trial data indicates there is an increased risk of heart inflammation for younger men, known as myocarditis and pericarditis, with the Novavax vaccine, similar to Pfizer and Moderna's shots.