Sunak sets pace as 3 left in UK leadership race
By JONATHAN POWELL in London | China Daily Global | Updated: 2022-07-20 09:10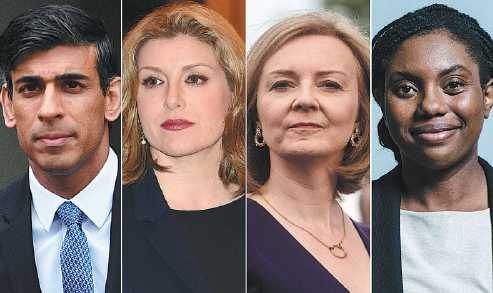 The race for the Conservative Party leadership that will also decide the next prime minister of the United Kingdom was whittled down to three contenders on Tuesday after Kemi Badenoch was eliminated in the latest round of voting.
Conservative members of Parliament eliminated candidate Tom Tugendhat in the previous round of voting on Monday, in which former chancellor of the exchequer Rishi Sunak gained the most ground.
Sunak has led the voting throughout, and was ahead again on Tuesday with 118 votes, followed by Trade Minister Penny Mordaunt on 92 and Foreign Secretary Liz Truss on 86, with former equalities minister Kemi Badenoch trailing on 59. The threshold to automatically reach the stage of the final two is 120.
In a bid to sweep up votes from supporters of Tugendhat, Truss said early on Tuesday that she would commit to raising the UK's defense spending to 3 percent of GDP by 2030 if she becomes prime minister.
In a statement, Truss said she will "recruit more soldiers, sailors and aviators, and buy more ships, submarines, jets, artillery and armored vehicles if that's what future threats require". She added that she will boost support for the intelligence services as well.
Mordaunt's campaign also hoped to pick up some of Tugendhat's backers. One supporter told Sky News that Tugendhat supporters "know that the only way to have a One Nation, unifying, lifelong Brexiteer in the final is to vote for Penny".They added: "Rishi has all the support he needs and it's time to get behind her".
'Deep state' plot
Outgoing Prime Minister Boris Johnson on Monday defended his three years as leader, as his government survived a no-confidence vote.
Speaking to MPs in Parliament, he hinted at a "deep state" plot to reverse Brexit and pull the UK back into the European Union once he is replaced.
The government made the unusual move to table a motion of confidence in itself after rejecting a noconfidence motion from the opposition Labour Party last week that targeted Johnson and sought his immediate removal from power. MPs passed the motion by 349 votes to 238.
Johnson said: "We got Brexit done and though the rejoiners and the revengers were left plotting and planning and biding their time-and I'll have more to say about the events of the last few weeks and months in due course-we delivered on every single one of our promises."
Agencies contributed to this story.
jonathan@mail.chinadailyuk.com