Envoy at Aspen: Take steps to avoid new Cold War
By ZHAO HUANXIN in Washington | China Daily Global | Updated: 2022-07-21 11:28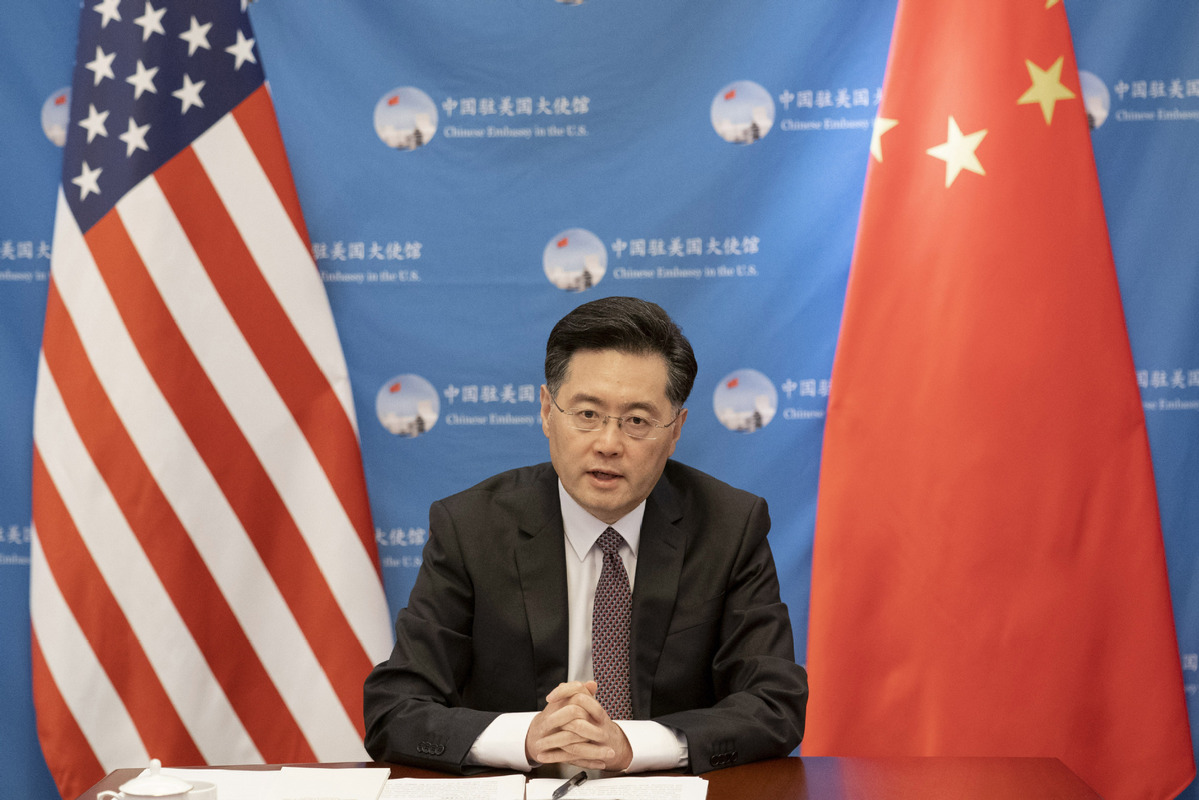 Looking at China as a threat is picking the "wrong fight", and the United States should look at its differences and commonalities with the country to defuse tension, with the bilateral relationship at a "critical juncture", China's ambassador to the US said Wednesday.
"Shall we walk on the dead alley of 'zero-sum' game or on the bright path of win-win cooperation? When the world's entering a new period of instability and transformation, we have more challenges requiring cooperation between China and the United States," Ambassador Qin Gang told the Aspen Security Forum in Colorado.
The annual three-and-a-half day conference in Aspen, which opened on Tuesday, is laden with China-related topics in discussions including, "China's Backyard? US Strategy in the Indo-Pacific", "How the World Views Conflict with Russia and Competition with China" and included a "fireside chat" with Qin.
When asked if the US and China are entering a new Cold War (a period of geopolitical tension between the US and the Soviet Union following World War II), Qin said people are worrying that history would repeat itself, and that the Cold War is coming back because some people have a Cold War mentality.
He went on at length to tell the audience that China is not the former Soviet Union, and that its ruling party, the Communist Party of China, is not the Communist Party of the former Soviet Union.
The CPC has adhered to its founding mission of putting people at the center. It has led the efforts to lift 800 million people out of poverty over the past four decades, accounting for 70 percent of global poverty reduction.
"China is the only country to include peaceful development in its Constitution," Qin said. "China never exports ideology. On the contrary, China is working hard with other countries to build up a community with a shared future for mankind."
The envoy noted that US President Joe Biden has said many times that the US is not looking for a new Cold War with China.
"The key is to honor the words with actions," Qin said, in an apparent reference to the fact that Washington has been pursuing bloc politics and ramping up military alliances in a clear attempt at countering China.
The ambassador said China hopes the US side will make reassurances about its strategic intention on China, remove Cold War elements from its policies, and not engage in a "democracy versus authoritarianism" narrative, geopolitical confrontation, decoupling, or an arms race.
"Only by doing so can we prevent US-China relations from sliding into a new Cold War, which we all hate to see," Qin said.
Qin, who assumed the ambassador's post nearly a year ago, said US-China relations have remained strained from the previous administration and face mounting challenges. Although the Biden administration has made "very serious commitments" about bilateral relations, it has yet to translate its "positive" words into deeds.
Like his predecessor Cui Tiankai, Qin pointed out that the most essential question is whether the US can accept the development of China, a country that is very different from the United States historically, politically, and culturally.
"We have differences. But don't forget, we have huge common interests and shared responsibilities, not only for the people of our two countries, but also for the peace, security and the prosperity of the world," Qin said.
During the discussion about the Russia-Ukraine conflict, Qin said there had been a "double standard" in talking about sovereignty and territorial integrity.
He said he was "puzzled" that over the more than 100 days since the crisis, some people keep challenging China's principled position on sovereignty and territorial integrity without looking at the root causes for the conflict.
"Actually, there's a double standard when talking about sovereignty. On Ukraine, people emphasize the principles of sovereignty, but on China, they are doing damage to China's sovereignty and territorial integrity, particularly on Taiwan, on Xinjiang, and on Hong Kong," he said.
Borrowing a line from US President Abraham Lincoln, "A house divided cannot stand", Qin said Lincoln's famous words explain everything — what some Western countries are saying and doing to China's Xinjiang and Hong Kong regions, and what China is doing.
"We are both trying to prove that President Lincoln was correct, but from opposite angles, out of different purposes. One thing we can reassure you is that the house of China will stand united, firm and strong," the ambassador said.