Sunak, Truss to vie for UK leadership
China Daily | Updated: 2022-07-22 09:25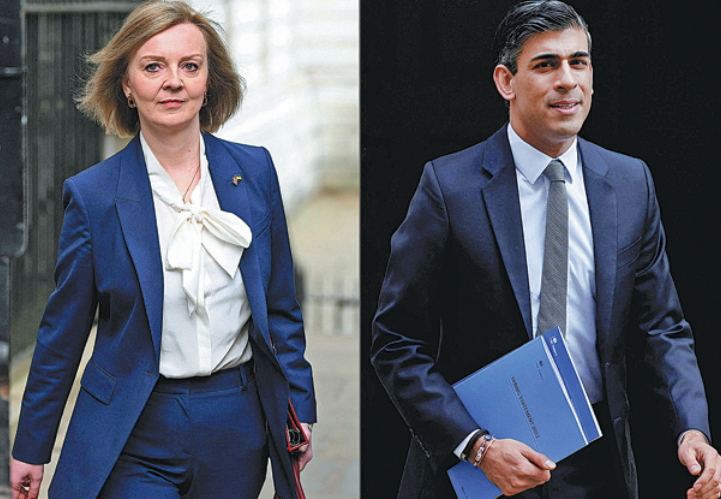 Britain's former chancellor of the exchequer Rishi Sunak and Foreign Secretary Liz Truss have been selected to vie for the Conservative Party leadership that will also decide the next prime minister of the United Kingdom.
In the space of eight days, through a series of votes, Conservative members of Parliament have reduced an initial ballot of eight candidates down to two to succeed Prime Minister Boris Johnson, after Trade Minister Penny Mordaunt was eliminated on Wednesday.
The party membership of 160,000 will now consider their choice to be leader before making their selection next month, with the winner to be announced on Sept 5.
Candidates have debated priority policies such as how to manage the stalling economy, cutting or maintaining taxes, the National Health Service backlog and restoring trust and integrity in public life, according to The Times.
They have also discussed their positions on defense, housing, relations with the rest of Europe, net-zero carbon targets and leveling up, which is the effort to boost living standards in areas where they are lagging.
Truss and Sunak, who served alongside each other in Johnson's Cabinet, have locked horns in two televised debates that focused in particular on tax and spending policy.
Sunak has said that tax cut promises made by Truss were "socialist" in nature, while Truss has said Sunak's policy of deferring tax cuts poses the risk of a recession.
Having overseen some of the largest tax increases in recent years, Sunak has said he intends to address the "hard economic reality" of inflation with fiscal caution.
His critics in the party have described his resignation from Johnson's Cabinet on July 5 as "treacherous", as it was seen to have triggered a flurry of other resignations that ultimately brought down the prime minister.
The former investment banker became a politician for the Conservative Party in 2014 and supported Brexit.
Soon after he became chancellor in February 2020, he announced the furlough program to support workers that helped steer the nation through the COVID-19 pandemic crisis.
Truss backed the Remain (in the European Union) campaign ahead of the EU referendum in 2016, but her position has changed, and she now outlines plans to deliver the benefits of Brexit.
She has said that she intends to reverse the national insurance tax increase that came in April, and to keep corporation taxes competitive. The BBC reported that she said she would increase defense spending to 3 percent of GDP by 2030.
Sources told The Guardian that when Sunak became chancellor of the exchequer, he was reluctant to commit to spending on climate measures, though he has expressed support for net-zero carbon targets.
He has vowed to keep defense spending close to current levels, rising to 2.5 percent of GDP by 2030. On Europe, he said he would create a Brexit Delivery Department that would review inherited European Union laws, including data protection law, and would overhaul laws governing the City of London and speed up clinical trials.
Truss held Cabinet positions under former prime ministers David Cameron and Theresa May, and her reputation grew when she was given the role of international trade secretary in 2019. She was promoted to foreign secretary in September last year and seen as a Johnson loyalist.
Truss backs net-zero carbon emissions by 2050 and was supportive of the 26th United Nations Climate Change Conference, or COP 26, outcomes. However, critics have said she did not include climate commitments in many trade deals when she ran the trade department.
Commentators on social media said Truss appeared to emulate former prime minister Margaret Thatcher's dress and style in a televised debate last week, and she has cited Thatcher as an inspiration.
In the weeks ahead, Sunak and Truss will face each other in at least two more televised debates, seeking to convince party members that they are the best choice for leader.
In a statement, Mordaunt called on the two candidates to adopt a more moderate tone for the sake of the party. "Politics isn't easy. It can be a divisive and difficult place. We must all now work together to unify our party and focus on the job that needs to be done," she said.