Japan hit by record virus resurgence, but curbs unlikely
By WANG XU in Tokyo | CHINA DAILY | Updated: 2022-07-22 09:38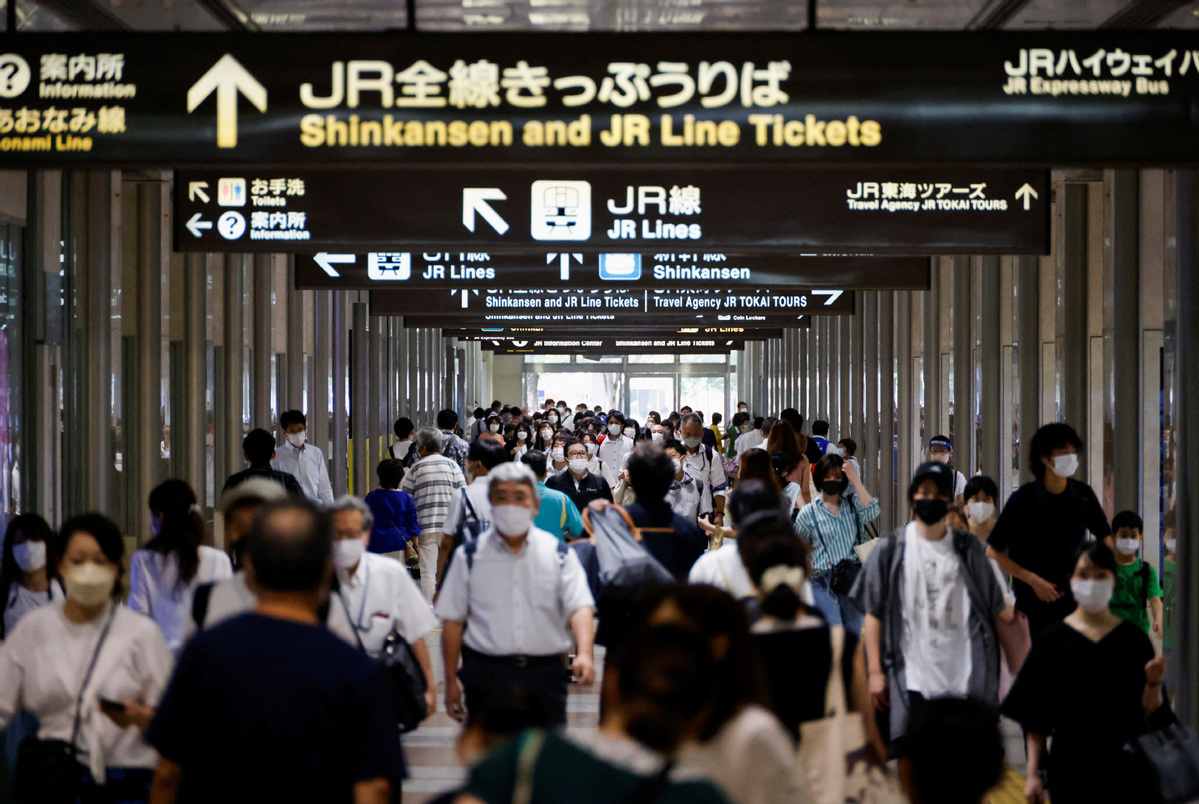 Japan is seeing a coronavirus spike like never before with no end in sight, but the government is unlikely to reintroduce restriction measures this time.
On Thursday, Tokyo reported a new record for daily infections at 31,878, far exceeding the previous record of 21,562 in early February.
The country's nationwide tally also climbed to a new high of 186,229 on Thursday, with experts saying that it can be partly attributed to the spread of the Omicron subvariant BA.5.
Based on figures calculated by China Daily, there was an average of more than 100,000 infections reported in Japan daily in the past week, with new daily infections increasing by more than 250 percent compared to the average two weeks ago. Meanwhile, the number of deaths have increased by more than 100 percent.
As a result, 35 of Japan's 47 prefectures reported record case numbers, meaning that at least 1 in 12 residents in Japan have already been infected.
"Unfortunately, there is no indication yet of when the current wave of infections might peak. It's possible that the number of infections might end up double that of the previous wave," Omi Shigeru, Japan's top COVID-19 adviser, said.
However, as cases continue to climb, the Japanese government is not looking to reintroduce restrictions.
"We will do our utmost to support the healthcare system and prioritize protecting elderly people exposed to a higher risk of severe symptoms," said Chief Cabinet Secretary Hirokazu Matsuno, adding that the central government will not impose movement restrictions for now.
At the same time, the medical system in Japan is struggling under the strain of loosening measures. Bed occupancy rates at Tokyo hospitals that have patients with severe COVID-19 symptoms had surpassed 30 percent a week ago.
Tokyo Governor Yuriko Koike vowed to strengthen coordination with hospitals and medical workers.
The uncertainty posed by the latest COVID-19 surge is another blow to Japan's tourism industry, which only received 252 tourists in June.
June marked the third consecutive month following the easing of border control measures, but the Japan National Tourism Organization said preliminary data showed that only 252 among 120,400 foreign visitors who entered Japan in June were for tourism.
Koichi Wada, head of the Japan Tourism Agency, said on Wednesday that the nation was "still in the early days" of a tourism recovery and he "expected the number to increase from July onward".
However, a Nikkei report on tourism in Japan said the recent surge in infections has lowered those expectations.