Overseas demand boosts PV exports
By LIU YUKUN | CHINA DAILY | Updated: 2022-07-23 10:39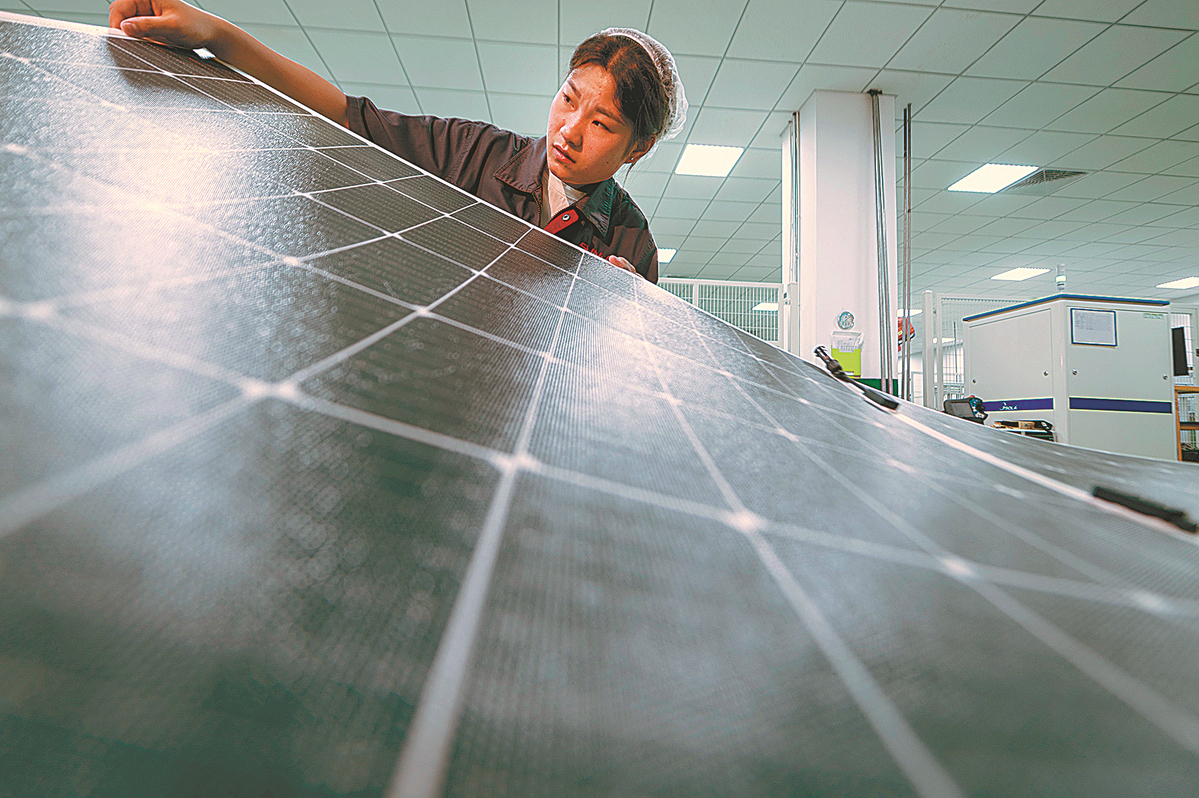 Soaring demand from the overseas green energy industry helped boost China's photovoltaic or PV module exports to a new high in the first half of this year.
The rise came despite the twin impacts of the COVID-19 pandemic and geopolitical conflicts on logistics and supply chains.
The export volume of the PV modules reached 78.6 gigawatts in the first six months, up 74 percent year-on-year, according to the Ministry of Industry and Information Technology. The total export of the PV products added up to about $25.9 billion, up 113 percent year-on-year and a new high, the China Photovoltaic Industry Association said.
Yang Xudong, an MIIT official, said at a recent forum that countries around the globe have accelerated transition to a greener energy structure, which presents a great growth opportunity for domestic PV module manufacturers.
"China is leading the world's photovoltaic race in terms of equipment manufacturing, thanks to a reduction in production cost supported by technology innovation, which is important to attract global buyers," said Lin Boqiang, head of the China Institute for Studies in Energy Policy at Xiamen University.
For the last 11 years, China has been topping the world rankings for the output of polysilicon, a key raw material for solar modules. Similarly, the country has been leading in PV modules for the last 15 years, according to a report by the China Renewable Energy Engineering Institute.
In the first half, production of PV modules reached about 123.6 gigawatts, up 54 percent year-on-year, according to MIIT data.
China's rapid development of the PV industry has attracted many investors from various fields. Over 70 companies from other industries, including Gree Electric and Mingyang Smart Energy, have stepped into the field with an investment focus on module manufacturing and distributed solar power.
Distributed power, like rooftop solar power, is an approach to install solar facilities and generate electricity at or near where it will be used, according to the report.
"Despite the sustained rapid development of the global photovoltaic industry, attention should be paid to whether the development of the supply chain is coordinated with the surging demand,"Yang said.
"Since last year, the price of raw materials for photovoltaic modules has continued to rise. Recently, the price of silicon material reached as high as 300 yuan ($44) per kilogram. The high price is a sign of the imbalance between supply and demand."
Yang also said the high price may affect the healthy development of the PV industry, and a proposed mechanism is expected to prevent irrational expansion of production capacity and excess capacity from building up.