CPEC Phase-II crucial to boost Pakistan's development
By Mehmood Ul Hassan Khan | chinadaily.com.cn | Updated: 2022-07-26 09:30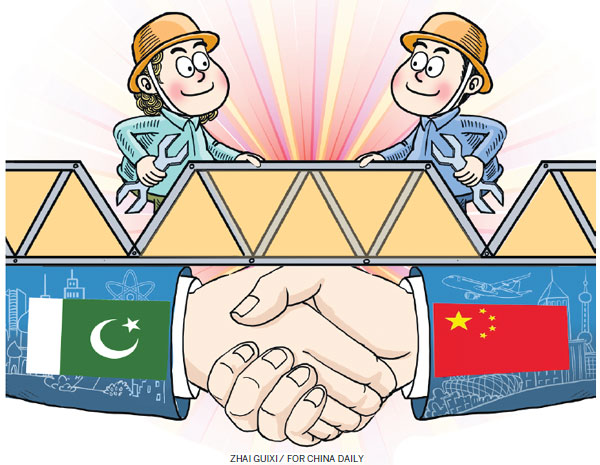 China-Pakistan Economic Corridor has now entered in its second phase. Many policymakers and regional experts have already termed the CPEC a gamechanger for Pakistan and the region.
In this regard, analysis reveals that it will be a catalyst to Pakistan's massive industrialization. It will be a stimulator to pursue the development of renewables and the hydropower energy production in the country.
Moreover, projects of social development, health-capacity building, agriculture development and last but not least vast the network of Special Economic Zone would be value addition of the CPEC Phase-II in the country.
Pakistan's annual plan for (2022-23) states that the CPEC Phase-II will emphasize industrialization and development of Special Economic Zones, agriculture modernization, science and technology cooperation, promotion of ICT-enabled environments and establishment of IT and high-technology Zones, and socio-economic development.
It seems that industrialization is the main pillar of CPEC Phase-II which will provide essential sources of economic growth and help to generate further employment in the country. New opportunities of employment are always considered as one of the main factors for trickle down of economic benefit in the modern economic development model in the world. Thus CPEC Phase-II is very important for the country.
Therefore, hopefully success of industrialization in the CPEC Phase-II will determine the fate and perceived benefits of CPEC. Thus implementation of a functional industrialization policy and comprehensive plan having special focus on the Special Economic Zones will play an important role in the CPEC Phase-II. It would provide basic infrastructure and impetus for industrialization.
In this context, Pakistan should adopt two prong strategies i.e. domestic and global. For domestic, Pakistan should try to focus on enhancing and strengthening industrial base, inclusion in global supply chains, technology dissemination, spillovers, and diversification of industry.
For global, Pakistan should focus on attracting more inflows of foreign direct investment and the Trade-Related Investment Measures (protocols. Therefore, Pakistan should develop a rigorous, comprehensive and objective oriented liaison with Chinese private companies to seek and secure more inflows of FDIs in the country.
Interestingly, according to many research studies, the Special Economic Zones in China account for providing employment opportunities to 30 million people with the rise of 22 percent GDP. In this connection, many studies also estimate that SEZs have attracted 46 percent of FDI with the increase of 60 percent in potential exports of China. It estimates that major economic zones contributed 12 percent to GDP and in future can contribute 20 percent more.
Another research study concluded that Chinese SEZs on average will add 21.7 percent in per capita FDI with 6.6 percent increase in FDI growth rate and will contribute to economy that will help in technological advancement of already installed programs ultimately giving 8 percent rise in wages of workers. Thus development of SEZs in the CPEC Phase-II is very crucial.
Now let us talk about socio-economic benefits of CPEC Phase I & II to Pakistan. It is estimated that the country's GDP will increase by 6.43 percent until 2030 as a result of infrastructure investment. According to the World Bank report (2019) social welfare development from the CPEC Phase-II would increase by 10.51 percent.
Consequently, it will also help to lift 1.1 million people out of extreme poverty. It has also potential to boost the employment opportunities and Pakistan may get four million new jobs. Trade will also witness an increase of 9.8 percent, if Pakistan implement the CPEC and support it by required reforms.
According to many published reports CPEC has so far created 75,000 new jobs for Pakistan. It means 75,000 families have benefited and which has enabled them to combat extreme poverty. On the other hand, CPEC also helped Pakistan to manage the load-shedding, which, in turn, contributed to control the annual loss of $4 to 5 billion.
Moreover, energy development under the flagship of CPEC also contributes to tackle issues of aging plants and infrastructure related to electricity. It has been one of the key economic drivers of Pakistan's macro-economy due to which the efficiency and productivity of the energy sector has been further increased. Hopefully further investments in CPEC Phase-II in power, gas and petroleum sectors will enhance its potential and production capacity.
Moreover, transport infrastructure is another important sector, which contributed to overcome problems of connectivity. Many national, regional as well as international reports confirm that CPEC power plants are the most efficient in Pakistan.
In the past, Pakistan was in dire need to rehabilitate and construct new infrastructure and successful completion of the numerous infrastructural development projects in the country has revolutionized the concept of greater regional connectivity.

Larger numbers of the small and medium enterprises also benefited from the investments of CPEC in the country. The contribution of the CPEC to national GDP was almost two percent due to which Pakistan surpassed the level of 5.8 percent GDP growth rate in 2018. According to many reports of the World Bank, the major beneficiaries in Pakistan in future would be Quetta, Peshawar, Karachi and Lahore.
CPEC Phase-II will also help Pakistan to be an active player in transit trade. CPEC's transport and the sea infrastructure will facilitate trade from western China and will assist to reduce travel time and cost. According to the report, it will assist to reduce travel time by 20 days for Oman, 21 days for Saudi Arabia, 24 days for Kuwait, 2 days for the Netherlands, 2 days for Germany and 21 days for France from China.
In terms of cost per container in dollars, there would be a saving of 1,857 for Oman, 1,457 for Saudi Arabia, 1,457 for Kuwait, 1,357 for the Netherlands, 1,357 for Germany and 1,357 for France for China. China can accrue benefits of $70 billion due to CPEC route. Pakistan, being transit country, can also get benefits in terms of fees and other services.
After the incumbent government in the country, construction work on the new Gwadar International Airport is now getting momentum and likely to achieve green-light by October 2023.
To conclude, it is suggested that the CPEC Phase-II should be initiated as soon as possible. However, the government of Pakistan and security establishment should jointly chalk out a comprehensive policy to protect the lives of the Chinese people working in various projects of the CPEC in the country. Hopefully, it will bring drastic changes in the socio-economic canvas of the country.
Agriculture development, rigorous green industrialization and development of Special Economic Zones, science and technology cooperation, artificial intelligence cooperation, digitalization, ICT development and last but not least health cooperation will further strengthen bilateral relation in the days to come.
Dr Mehmood Ul Hassan Khan is director of the Center for South Asia & International Studies (CSAIS) in Islamabad.
The opinions expressed here are those of the writer and do not necessarily represent the views of China Daily and China Daily website.
If you have a specific expertise, or would like to share your thought about our stories, then send us your writings at opinion@chinadaily.com.cn, and comment@chinadaily.com.cn.