Domestic tourism jumps as people flee hot summer
By CHENG SI | chinadaily.com.cn | Updated: 2022-07-26 22:17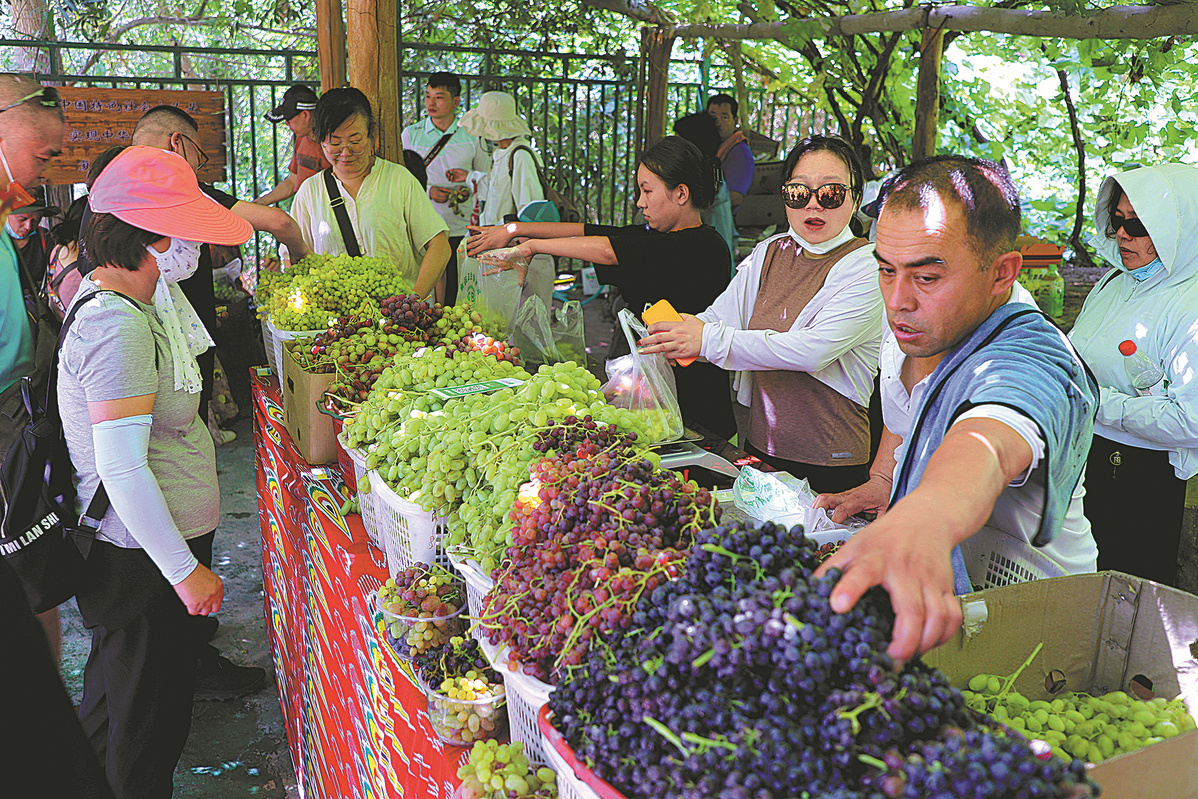 Domestic tourism in China has surged as people flee the sizzling summer heat wave, prompting a rush for long distance trips to cooler border areas or enjoying off-season activities like indoor skiing or even rafting, travel industry experts said.
Most of the nation's provinces and regions have been scorched by relentlessly high temperatures, especially since the start of June. For example, Shanghai recorded a temperature of 40.9 C on the afternoon of July 13, equaling the highest reading in the city based on records dating to 1873.
The sweltering weather has not discouraged people from planning trips, though, and they have shown a strong desire to travel just to beat the suffocating heat, according to travel agencies.
Figures from internet travel portal Qunar show that searches for "summering" and "summer trip" have risen sharply on its platform. Searches using other keywords like "skiing", "rafting" and "surfing" had increased fivefold as of Thursday from the same period the previous month.
Qunar said that reservations for tour products on skiing rose by 268 percent month-on-month as of last Thursday. Sales of tickets for indoor skiing attractions rose 247 percent month-on-month from July 1 to Thursday.
Zhai Ziwen, Qunar's director for ticket sales, said that the persistent high temperatures are the main reason for people's preference for events like skiing and skating indoors. People from 25 to 35 years old make up nearly 40 percent of the orders on the platform.
He added that travelers often order tickets for ski resorts up to three days before their departure due to the large number of people going on vacation.
Domestic destinations with lower temperatures, a pleasant climate and pristine natural beauty are preferred by travelers who want to spend their summer there. This includes southwest Yunnan province, whose capital city of Kunming had its highest temperature of around 27 C last week, and the Xinjiang Uygur autonomous region.
Qunar said that orders for flights to Yunnan over the summer have outperformed the level from the same period in 2019. Some 70 percent of these orders are bound for Kunming, a city famous for its four seasons and a noticeably cool spring.
The border region of Xinjiang has also seen a tourism boom since June, thanks to its picturesque landscape and an adjustment of the nation's travel restrictions on cross-provincial tours.
Zhang Chunming, Party secretary of the region's Ili Kazak autonomous prefecture's culture and tourism bureau, said at an online conference on Friday that the prefecture has adjusted its epidemic prevention policies from June and boosted the allure of its tourism products, for example, organizing the lavender festival to attract travelers.
"We've found that people are coming here not only for sightseeing, but for leisure tours. Sixty percent of the travelers we've talked to visit the prefecture for leisure, praising the good climate and the environment," he said.
Ma Yiliang, director of the statistical survey research center of the China Tourism Academy, said that the travel boom from June indicates that people still feel the need to travel.