Economy in focus as Sunak, Truss go head-to-head
By JULIAN SHEA in London | China Daily Global | Updated: 2022-07-27 09:28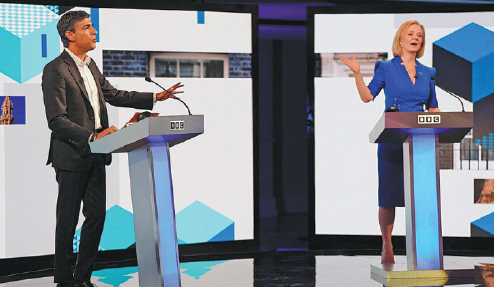 The two contenders to be Britain's next prime minister were forced to justify their blueprints for the country's economic future when they went head-to-head in a televised debate on Monday.
Foreign Secretary Liz Truss and former chancellor of the exchequer Rishi Sunak are the last two candidates in the race to replace Boris Johnson in Downing Street, and are currently vying for the votes of Conservative Party members across the country, with the result and the name of the new prime minister to be announced in early September.
Some Conservatives had previously expressed concern about the fractious and divided impression of the party that the leadership race had presented to the public, and the first debate between the final two was hardly any less confrontational.
Truss, who served alongside Sunak in Johnson's cabinet, spoke of his "doom and gloom" approach to the economy, and attacked the previous policy of raising taxes to try to deal with the pandemic recovery.
"This chancellor has raised taxes to the highest rate in 70 years, and we're now predicted a recession," she said. "The truth is in the figures."
But Sunak hit back, saying there was "nothing Conservative" about Truss' tax cut plans, and that they would give the party "absolutely no chance" of winning the next election.
"You've promised over 40 billion pounds ($48 billion) of unfunded tax cuts-40 billion pounds more borrowing," he said.
"That is the country's credit card, and it's our children and grandchildren, everyone here's kids will pick up the tab for that. There's nothing Conservative about it."
The pair also traded blows about each other's backgrounds, with Truss contrasting her state school education with Sunak's at the exclusive, fee-paying Winchester College.
He replied by highlighting that Truss had campaigned for the Remain camp in the 2016 Brexit referendum, though she countered that it was the experience of the referendum campaign that had taught her not to trust economic forecasts from the Treasury.
Keir Starmer, leader of the opposition Labour Party, said the Conservatives' focus on the leadership contest meant the government was "paralyzed" with its "head in the sand" about real issues.
"There's total frustration to see two Tory candidates talk about anything other than the practical steps they're going to take on the issues pressing down on people day in, day out," he said, adding that he thought they were "throwing ideas out without any sense of how they're going to deliver them".
"I really don't think that after 12 failed years that the answer we need for the United Kingdom is another Tory leader," he said. "They were both serving in government-they are the architects of the mess this country is in."