Capitol rioter sentenced to over 5 years in prison
China Daily Global | Updated: 2022-07-28 09:23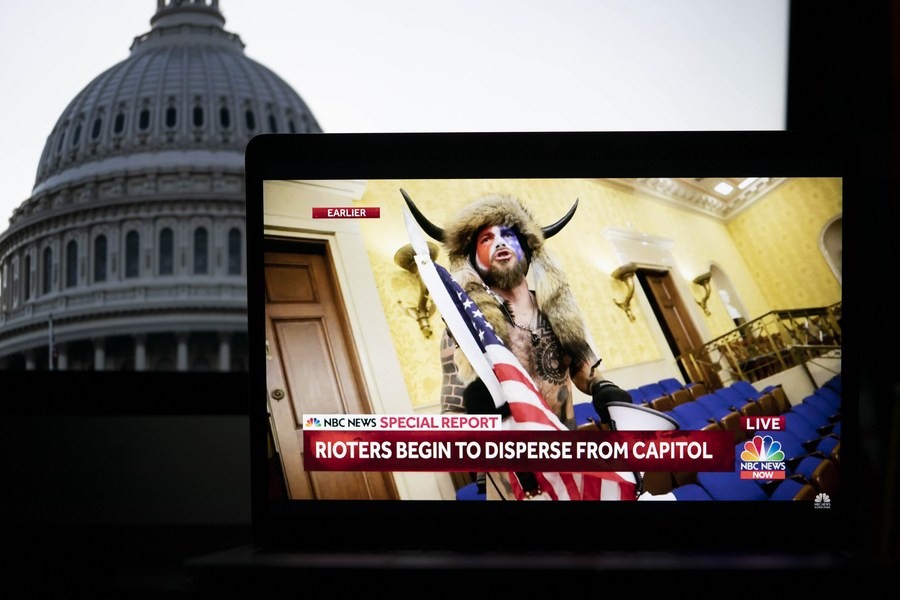 A man who pleaded guilty to assaulting police officers outside the US Capitol was sentenced on Tuesday to 63 months behind bars, tying the record for the longest prison term for anyone convicted in the Capitol riot on Jan 6, 2021.
Mark Ponder, 56, also was ordered to pay $2,000 in restitution and faces three years of supervised release following his federal prison term of five years and three months, the US Department of Justice said in announcing the sentencing.
Ponder, from Washington, DC, assaulted three officers in a series of confrontations on the Capitol grounds after a mob of supporters of then-president Donald Trump overwhelmed police lines on the West Plaza of the building on the afternoon of Jan 6, according to court documents in the case.
Ponder, who was arrested on March 17, 2021, pleaded guilty in April this year to charges of assaulting, resisting or impeding officers using a dangerous weapon.
According to the department's statement, he swung a pole at a US Capitol Police officer, striking the officer's riot shield and breaking the pole in two, before arming himself with a thicker pole that he wielded against other officers, striking one of them in the shoulder.
US District Judge Tanya Chutkan said at Tuesday's hearing that Ponder "was leading the charge" as "part of a group who, when they couldn't get what they wanted, decided they were going to take it, and they were going to take it with violence", according to The Washington Post.
Also on Tuesday, Trump returned to Washington for the first time since leaving the White House 18 months ago, delivering a speech sprinkled with strong hints that he might run for president again in 2024.
Trump, 76, stopped short of declaring his candidacy, but laid out what he believed should be the priorities for the "next Republican president".
"I always say I ran the first time and I won, then I ran a second time and I did much better," Trump said. "I look forward to laying out many more details in the weeks and months to come."
Several hours before Trump took the stage at the America First Policy Institute, Mike Pence, who served then as Trump's vice-president, addressed a different conservative audience in Washington. Pence is also considering a White House run in 2024.
The speeches highlighted the divisions within the party between Trump loyalists and other Republicans who believe the party should instead focus on the future heading into this fall's midterm congressional elections and beyond.
Trump said the survival of the US was at stake. He painted a dark picture of a nation in decline and in imminent danger from rising crime. "We are a failing nation," he said.
"Inflation is the highest in 49 years," Trump said "Gas prices have reached the highest in the history of our country."
US President Joe Biden weighed in on Twitter, dismissing Trump's claim to have been a law-and-order president.
Trump and Pence made appearances in the nation's capital after campaigning for rival candidates in Arizona on Friday.
Agencies via Xinhua