Russia asks UN, Red Cross to look at prisoner deaths
China Daily | Updated: 2022-08-01 09:32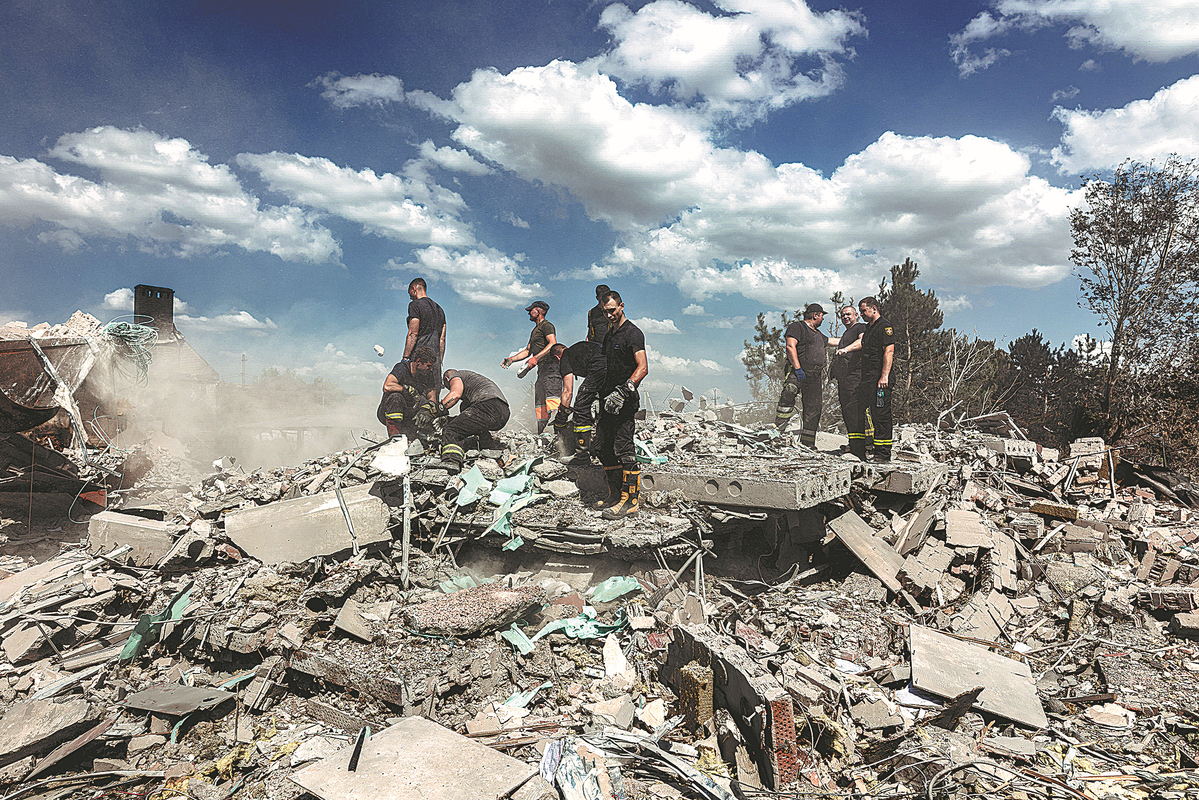 ODESSA-Russia has invited United Nations and Red Cross experts to investigate the deaths of dozens of Ukrainian prisoners, and Ukraine's President Volodymyr Zelensky has ordered the evacuation of residents in the eastern region of Donetsk.
Hundreds of thousands of people were still exposed to fierce fighting in the Donbas region, in which Donetsk and Lugansk provinces are located, Zelensky said.
"Many refuse to leave, but it still needs to be done," he said in a televised address late on Saturday.
Ukraine and Russia have traded accusations over a missile strike or explosion early on Friday that appeared to have killed dozens of Ukrainian prisoners in the frontline town of Olenivka in eastern Donetsk.
Russia invited experts from the UN and Red Cross to look into the deaths "in the interests of conducting an objective investigation", the defense ministry said on Sunday.
The ministry had published a list of 50 Ukrainian prisoners killed and 73 wounded in what it said was a Ukrainian military strike with a US-made High Mobility Artillery Rocket System.
Ukraine's armed forces denied responsibility.
Also on Sunday, a senior official in Crimea accused Ukraine of carrying out a drone attack before planned celebrations to mark Navy Day, injuring five and forcing festivities to be called off.
The accusation came hours before Russian President Vladimir Putin was due to oversee Navy Day celebrations in his hometown of St Petersburg and approve Russia's naval doctrine.
"An unidentified object flew into the courtyard of the fleet's headquarters," said Mikhail Razvozhayev, governor of Sevastopol, home to Russia's Black Sea fleet.
"According to preliminary information it is a drone."
Ukraine had decided to "spoil Navy Day for us", he said.
Ukraine's defense ministry did not immediately respond to a request for comment.
Five employees of the fleet headquarters had been injured, and the Federal Security Service was investigating its circumstances, Razvozhayev said.
On Saturday the Russian state-run energy company Gazprom suspended gas supplies to Latvia.
"Today Gazprom suspended its gas supplies to Latvia… due to violations of the conditions" of purchase, the company said.
Gazprom cut gas deliveries to Europe via the Nord Stream pipeline on Wednesday to about 20 percent of its capacity. It had reduced gas flows to Europe twice in June.
Gazprom ascribed the halted operation of one of the last two operating turbines for the pipeline to the "technical condition of the engine".
Kremlin spokesman Dmitry Peskov has blamed European Union sanctions for the limited supply.
Agencies via Xinhua