Panel: China leads in battery-mineral supply operations
By YIFAN XU in Washington | chinadaily.com.cn | Updated: 2022-08-01 10:09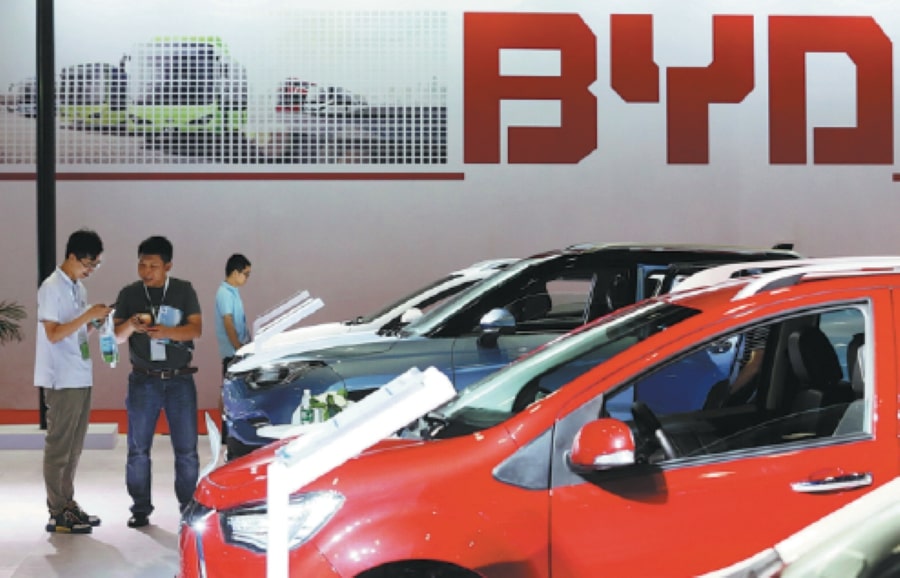 China has not only been developing rapidly in the electric vehicle (EV) sector but is also leading in clean energy-related mineral supply chains, insiders said in Washington.
At a July 26 event titled "The Battery Minerals Supply Challenge", hosted by the Center for Strategic and International Studies (CSIS), panelists said that the rapidly growing demand from the EV industry boosted the importance of batteries as well as battery minerals supply, in which "the dominance of China" is a consistent theme.
Kwasi Ampofo, the head of Metals and Mining at Bloomberg New Energy Finance (BNEF), said that globally the EV industry is going to see "tremendous growth" by 2025, and China will play a significant role.
"The EV sales will reach about 20.6 million, and in terms of percentage of new vehicles sold, you're looking at about almost 40 percent for Europe and China coming with the plug," said Ampofo.
"The US market share declines significantly by 2025 as a result of the cumulative investment that Europe and China have made over the last 10 years in the electric vehicle sector," he said. "And if we extend that to even look at the electric two- or three-wheeler, which has already reached 43 percent penetration as of 2021, you're going to see that it's entirely going to be a China story by 2025, with the United States literally playing no role in that market segment."
Ampofo said that based on his forecast modeling, China would be one of the three countries that could potentially achieve a zero-emission tailpipe in the auto sector by 2050; the other two would be South Korea and Germany.
"Similar to electric vehicles, we're going to see significant growth in demand for batteries as a result of demand for electric vehicles," said Ampofo, stating that for cell capacity from now to 2025, "it is still going to be a China story".
"Metals indeed play a key role in batteries," he said.
According to the BNEF forecast of battery chemistries, about 18 million metric tons of metals will be required by 2030.
Scott Yarham, the associate regional pricing director for metals at S&P Global, said that mining has not been able to keep up, and it would take years for new projects to come online.
"While everyone has net-zero goals, there is a disconnect between raw material supply and achieving that [EV] fleet," said Yarham. "Demand is exploding."
Jessica Roberts, the head of forecasting at Benchmark Mineral Intelligence, listed the challenges for the supply chain in meeting growing EV and battery demand.
"First and foremost, we have challenges in accessing raw materials on the extraction side. Then there are also challenges and access to facilities that can refine and upgrade these raw materials. And then finally, because we have tightness in supply, we're now also in a landscape of rising costs as well," said Roberts, "so, we're sort of ultimately pushing up lithium-ion battery cell prices just in this kind of period that we're in at the moment."
Roberts talked about how China is dealing with those challenges.
"If you take a look through these, you can sort of see that China is overwhelmingly dominant in each of them, perhaps with the exception of mining itself," she said. "Also, when we come to think about China in terms of its mining, we've seen that the last few decades, we've seen a huge growth in the mining industry in China due to its lower cost position primarily.
"But where China doesn't have in its own resources, we've seen it invest overseas with off-take agreements or to open and operate mines overseas itself, such as the case with nickel in Indonesia," Roberts said.
As automakers are transitioning increasingly to nickel-rich cells, China has been increasing its investment in Indonesia's nickel industry for years.
According to Anthony Du, the vice-chairman of the General Association of the Indonesian Chinese Chamber of Commerce, of the 75 foreign enterprises investing in Indonesia's nickel industry as of June, Chinese investors or joint ventures wholly own 54.
Du spoke at the seventh China International New Energy Conference in Chengdu.
At the CSIS event, Roberts also said that China performed well in other main battery materials supply, including lithium, cobalt, manganese, natural graphite and synthetic graphite.
"So, in Europe and the USA, we can see that the market really is lagging behind China in building out its own lithium-ion battery supply chain," Roberts said.