US breaking the global rice bowl
By Guo Heping | China Daily | Updated: 2022-08-02 08:04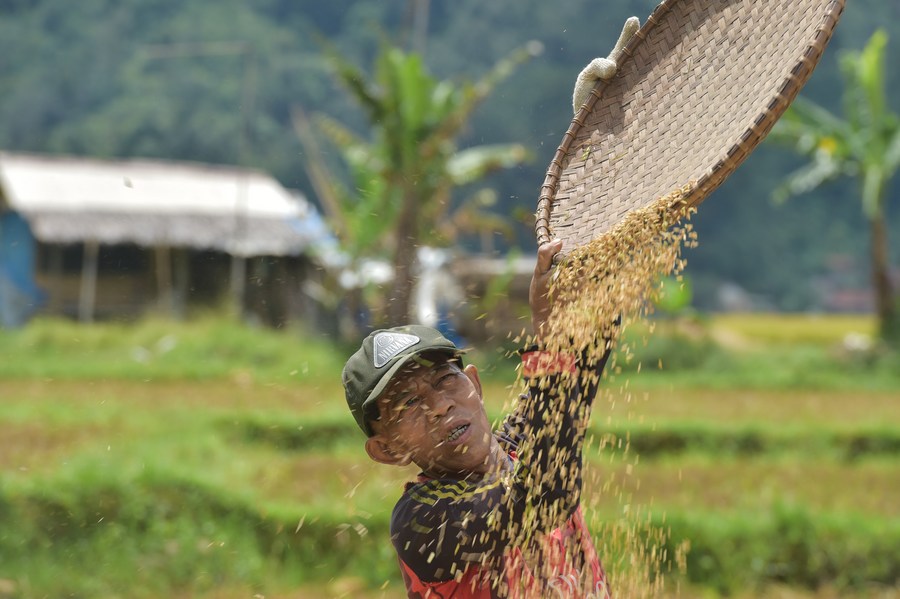 Senior US officials in charge of international development cooperation and multilateral affairs have recently delivered several speeches on global food security, accusing China of hoarding food, which they claim has pushed up food prices and exacerbated the global food crisis. Demanding that China provide debt relief for poor countries, they have been criticizing China's foreign aid policy.
To show that the United States has been doing more than any other country to overcome the global food crisis, and whitewash its evil deeds, the US Senate even organized a hearing on Global Food Security Crisis and the US Response, blaming other countries for the dire global food situation.
Washington has weaponized food
Yet the fact is that the US has politicized and weaponized food aid. It has been behind almost all food crises in the past, and this time is no exception. No wonder some Russian media outlets have said that, in order to punish Russia, the US is ready to starve the world to death.
Washington owns a set of unique weapons, with food being one of the most important among them. Former US secretary of state Henry Kissinger once said: "Who controls the food supply controls the people." By manipulating the global food trading system, the US has got a firm control on the world's "rice bowl" (or food bowl).
As the world's top agricultural powerhouse, it restricts grain exports and uses grain to produce biofuels, seriously disrupting the global food trade and supply. The US is to blame for the current global food crisis, not least because it has prolonged the Russia-Ukraine conflict by supplying billions of dollars of weapons to Ukraine and imposing unilateral sanctions on other countries. It has also aggravated conflicts and triggered global food shortages in many other regions.
Starting from the Marshall Plan, US foreign aid has become largely political and ideological with clear strategic goals and harsh political terms. Since the Cold War, the US has passed laws to provide food assistance for developing countries based on strict conditions, thereby reducing employment opportunities in those countries. For instance, it required African countries to give up food cultivation and switch to producing cash crops such as bananas and cocoa on a commercial scale, thus making them self-deficient in grain and other foods crops.
Also, the US can unilaterally withdraw its preferential loans to other countries at any time on the pretext that they are harming its interests, US aid workers enjoy extraterritorial rights, and US project agreements are considered superior to the domestic law of the recipient country. Washington also interferes in developing countries' internal affairs by intervening in their institutional and policy frameworks.
In recent years, the US has announced many initiatives in food security, military, infrastructure, health, digitalization, climate change and other fields, with pledged aid worth hundreds of billions of dollars. But almost all of them turned out to be castles in the air. For instance, the US proposed the "Build Back Better World" initiative one year ago, but it has made no practical progress till now.
Recently, the US announced the $600 billion Partnership for Global Infrastructure and Investment and $4.5 billion in food aid, which could also end up being a pie in the sky. Not to mention that most US food aid is provided through multilateral agencies such as the UN World Food Programme and a large amount of funds are returned to the country's foreign aid institutions. What people in the recipient countries actually get is less than half of the aid, as studies show that for every dollar spent on food aid in the US, only $0.35-0.40 is actually spent on the hungry.
Worse, the US has also affected international relations and upset the world order, by withdrawing from several UN organizations and international agreements, breaking contracts and imposing sanctions on other countries. It has rejoined many of the UN organizations and global agreements, though. And guided by the "America first" strategy, the US has destroyed countless jobs around the world and cheated countless partner countries.
US buying grain in bulk and hoarding vaccines
The US has been buying in bulk not only grain and other food products, but also other essentials such as medicines including COVID-19 vaccines since the pandemic broke out. It is the US that has hoarded vaccines and pushed up vaccine prices, and donated close to expiry vaccines to African countries, and has been criticized worldwide for its selfishness and disregard for the health and life of people in other countries.
It is therefore shameless of the US to accuse other countries of hoarding grain and driving up global food prices.
As a responsible major country, China hates to see other countries, especially developing nations, suffering due to food shortage, and has been helping them to secure their "rice bowl". It has also been deepening international cooperation, taking measures to improve people's livelihoods and building a community with a shared future for mankind.
China produces about a quarter of the world's food and feeds one-fifth of the world's population despite having less than 9 percent of the world's cultivable land. Its grain output has been stable at 650 billion kilograms for seven consecutive years, making it the world's largest grain producer and third-largest grain exporter. That China has become self-sufficient in food is its greatest contribution to global food security.
China's initiative for sustainable growth
Besides, China has proposed the Global Development Initiative with an eye on global sustainable growth, with food security being one of the eight key areas of cooperation. And State Councilor and Foreign Minister Wang Yi recently proposed China's Cooperation Initiative on Global Food Security, offering a Chinese solution to the current global food shortage.
In fact, China is committed to helping the poor and needy around the world. Since 2016, China has provided emergency food aid to more than 50 countries, meeting the needs of tens of millions of people. It has provided more than 30,000 tons of emergency humanitarian food aid to developing countries recently, mainly through bilateral channels, in order to ensure every penny is spent on the people who need it.
China has not only donated grain, but also trained people from other developing countries in advanced agricultural techniques and shared with them methods to boost crop resilience, so they can increase their grain production. To better safeguard global food security, China has also helped build agricultural technology demonstration centers, grain storage and processing infrastructure, and provided agricultural technical assistance such as hybrid rice and Juncao, a hybrid grass, for other countries, while dispatching agricultural experts to many countries to organize training programs.
All in all, China has carried out agricultural cooperation with more than 140 countries and regions, and promoted more than 1,000 agricultural technologies, which have increased crop yield by 30-60 percent on average in project areas, benefiting more than 1.5 million farmers.
Global development cooperation boosted
Beijing not only provides bilateral assistance to developing countries, but also participates in trilateral and multilateral global development cooperation, and is committed to accelerating the implementation of the UN 2030 Agenda for Sustainable Development and building a community with a shared future for global development.
Besides, as a developing country, China has given the largest amount of aid, sent the largest number of experts and initiated the highest number of projects in other countries under the South-South cooperation framework of the UN Food and Agriculture Organization.
Also, China supports the World Food Programme to set up a global humanitarian emergency warehouse and hub in China to provide food for other countries. It has established a South-South Cooperation Trust Fund with the FAO and provides funding to help other developing countries reduce poverty, increase agricultural production and boost food security.
Furthermore, China has fully implemented the G20 initiative to suspend the debt repayment of least-developed countries. In real terms, it has suspended the largest amount of debt among the G20 members, significantly easing the debt burden of many countries.
China's foreign aid development is guided by the principle of pursuing the greater common good and shared interests. It has always adhered to the principle of non-interference in the internal affairs of other countries, does not attach any political conditions for aid or assistance, has delivered what it has promised, and helped the recipient countries realize diversified, independent and sustainable development, drawing praise from a vast number of developing countries.
China has supplied most vaccines to other states
Moreover, China has produced and provided anti-epidemic materials including more than 2.2 billion vaccines, the largest of all countries, for more than 120 countries and international organizations, including Western countries, even countries that don't have diplomatic relations with it. This is in stark contrast to the US which is known to leave countries to fend for themselves in their hour of need, and seems hell-bent on breaking the global "rice bowl".
Facts speak louder than words. And facts show that China is a reliable partner of the United Nations and other developing countries in food supply, an important player in maintaining global food security, and a major contributor to global sustainable development.
Given these facts, the US should reflect on its disgraceful role in the global food crisis, abandon its divisive policies and play a constructive role in solving the global food security problems and promoting world peace and development.
The author is a commentator on international relations.
The views don't necessarily reflect those of China Daily.
If you have a specific expertise, or would like to share your thought about our stories, then send us your writings at opinion@chinadaily.com.cn, and comment@chinadaily.com.cn.