With key partner's support, public-private model builds up infrastructure
By EDITH MUTETHYA in Nairobi, Kenya | China Daily Global | Updated: 2022-08-02 09:40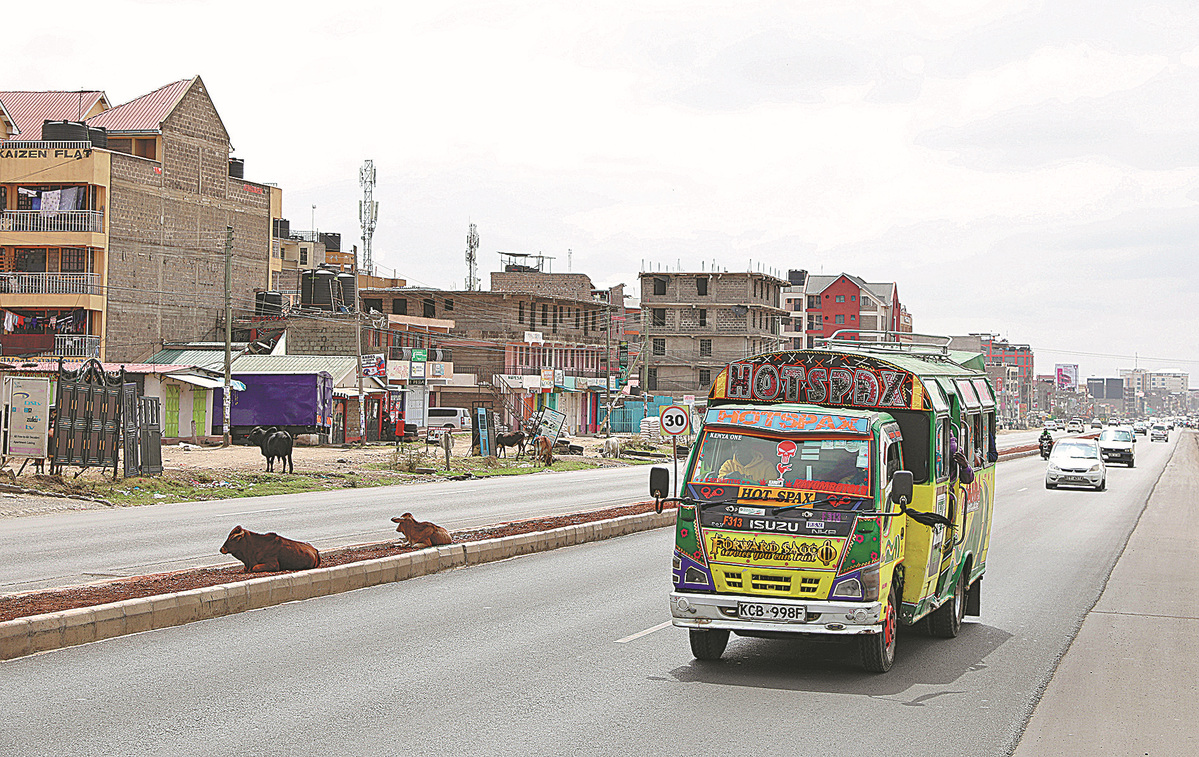 Kenyan President Uhuru Kenyatta has expressed gratitude to the Chinese government for its investment confidence in Kenya, a trust that has seen the East African country greatly improve its infrastructure network.
Kenyatta said the confidence has also seen many Chinese private sector companies enter Kenya's market, paving the way for a public-private partnership model that is expected to see the country develop its infrastructure without increasing public debt.
According to the Kenya National Chamber of Commerce and Industry, at least 400 Chinese firms have set up subsidiaries in the country with a major focus on infrastructure, retail and real estate.
With the help of China and other partners, Kenya has been able to build more than 11,500 kilometers of new tarmac roads, which have increased the country's paved road network by more than 85 percent in the past 10 years.
"As a result of accelerated road development and maintenance, more than 70 percent of Kenyans can now access an all-weather road network within a radius of 2 kilometers of their homes," Kenyatta said.
The president made the remarks on Sunday as he commissioned two Chinese-built projects. One of them is the iconic 27-kilometer Nairobi Expressway, the first toll road in Kenya that was designed, financed and built by the China Road and Bridge Corporation.
He said the expressway has ushered in a new model of public project execution through the public-private partnership, where a project is not financed through debt or government funds.
"As the first PPP road project in Kenya, the Nairobi Expressway marks the government's pivot toward leveraging private capital to bridge our infrastructural deficit," Kenyatta said.
CRBC will maintain and operate the six-lane dual carriageways for 30 years to recoup its investment, after which it will transfer the project to the government.
Kenyatta said in the short time that the Nairobi Expressway has been open for trials, it has proved its worth by ushering in reduced travel time, increased mobility, reduced congestion and enhanced productivity.
"Since we opened the road for public trials in April, it now takes between 15 and 24 minutes to drive from Mlolongo in Machakos County to Rironi in Kiambu County," he said.
"Before the expressway, that journey would take at least three hours, which is the equivalent of flying to Addis Ababa and back."
He said the expressway also guarantees better emergency response for those in need of critical care and better commuter movement, as well as relief for the main transport artery that serves Jomo Kenyatta International Airport in Nairobi.
Commercial hub
"This singular project secures Nairobi's status as the region's capital and economic nerve center, and therefore strengthening Kenya's position as eastern and central Africa's commercial and diplomatic hub," Kenyatta said.
He also said the expressway has also created a better business environment that will lead to more opportunities for the country's tourism, conferencing and hospitality sectors, which employ more than 3 million Kenyans and another 6 million indirectly.
Kenyatta also commissioned the revamped Nairobi Eastern Bypass, a 27-kilometer dual carriageway, which was constructed by China Communications Construction Company.
The road is a major transport artery that connects the Nairobi-Mombasa highway with the Nairobi-Thika highway, distributing traffic to the northern, eastern and southern precincts of the Nairobi metropolitan area.
He expressed optimism that the expressway and bypass road will significantly address the nightmare of traffic gridlocks in Nairobi that is estimated to cost the nation over $42 million annually in lost productivity time and wasted fuel.
Zhou Pingjian, the Chinese ambassador to Kenya, termed the commissioning of the expressway as a new friendship landmark for Kenya and China.
Zhou expressed China's commitment to supporting Kenya in its efforts to achieve sustainable development as well as realize its Vision 2030. "China remains committed to working with Kenya to implement the outcomes from the Forum on China-Africa Cooperation conferences, the Global Development Initiative, the Global Security Initiative, and advance high-quality Belt and Road cooperation for shared prosperity," Zhou said.