Genocide, colonialism are not 'civilized'
By ZHANG ZHOUXIANG | China Daily | Updated: 2022-08-03 07:25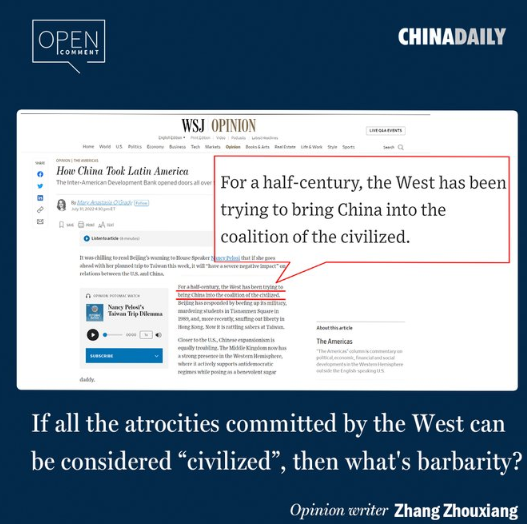 "For half a century, the West has been trying to bring China into the coalition of the civilized."
Believe it or not, the above sentence appeared in a Wall Street Journal article on Sunday, under the headline "How China took Latin America". While it is absurd enough to suggest that China "took" a continent that, for it, is as good as being on the other side of the world, it is a grave offense to claim that China is outside the "civilized coalition".
The article surmises that the Western world is a "civilized coalition", making one wonder how they define the word "civilized".
In the 15th century, Western nations "discovered" the new world, massacred the inhabitants there, conquered and renamed the lands after their own kings and aristocracies. Was colonizing a civilized act?
In the 1700s, Western nations pillaged resources from Asia and America, captured black slaves from Africa and shipped them to their newly conquered lands. Was the slave trade a civilized act?
In the 20th century, Western nations launched two world wars to realize their selfish goals. They made the whole world bleed and redrew the world map while minting money. Were the world wars civilized acts?
Even today, it is the West that triggers conflicts in the Middle East, so it can control the oil there. It is the West that has launched color revolutions in one sovereign country after another in the hope of establishing puppet regimes.
Were any of these "civilized" acts? And if these are "civilized" acts, then what is barbarity?
Despite having the answers, the WSJ called the West "civilized". Their blind confidence stems from the West's hegemony in the field of public opinion. It is such hegemony that makes certain Western media outlets whitewash their misdeeds and call the Western world "a coalition of the civilized".
However, every lie they spread weakens the foundations of their hegemony and the more such lies they spread, the faster their monopoly will crumble.