West marginalizes, China helps Africa
By Lin Songtian | China Daily | Updated: 2022-08-03 07:28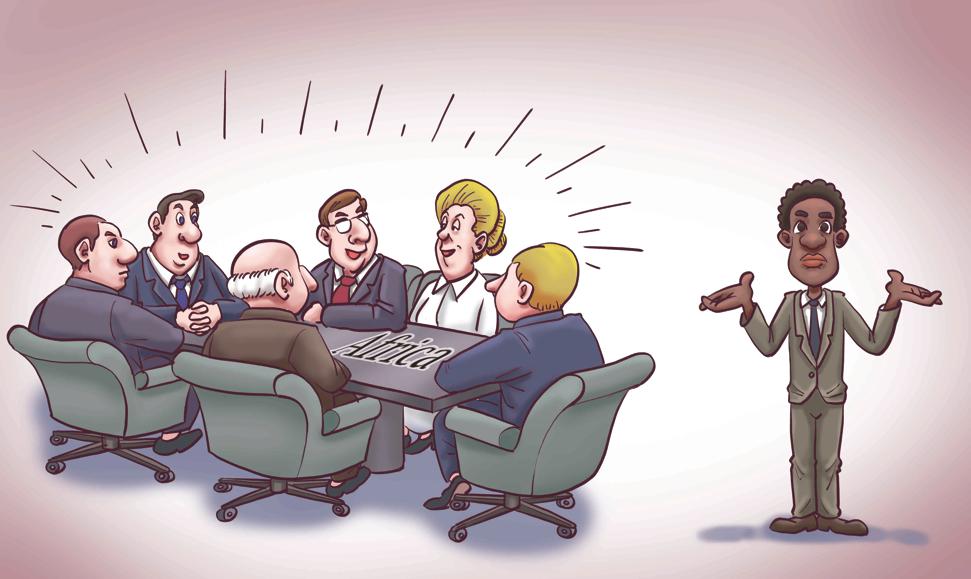 Thanks to mutually beneficial China-Africa cooperation and rapid development momentum, 20 African countries had achieved GDP growth of more than 5 percent before the COVID-19 pandemic broke out. Which suggests Africa has the capability and opportunity to become a new growth pole of the world economy in the wake of the Fourth Industrial Revolution and economic globalization.
However, the world today is undergoing profound changes and is struggling to contain the pandemic. The Ukraine crisis triggered by geopolitics and the Cold War mentality of some Western powers have seriously disrupted the global industry, supply and capital chains, leading to global food, energy and financial crises, affecting people around the world, especially those in African and other less-developed countries.
Need to be vigilant against West's moves
That's why we should be vigilant against the moves of the major developed countries. For they have been using funds to build ideological and confrontational blocs, politicizing economic and trade cooperation, and trying to establish a NATO-like organization in the Asia-Pacific region. These moves have further marginalized Africa, creating a severe production crisis and a famine-like situation on the continent.
The Western powers' attitude toward Africa, to put it simply, is discriminatory. The United States-led West does not want to see Africa realize sustainable development nor does it want China-Africa cooperation to deepen and China's influence to expand in Africa. To achieve its goal, therefore, the US-led West has been fabricating lies, in order to mislead global public opinion and undermine the friendly and mutually beneficial cooperation between China and Africa.
The US and some other Western countries have announced a number of initiatives for or cooperation plans with Africa, claiming to increase infrastructure investment in Africa and other developing countries. In essence, however, their moves are aimed at curbing the growing influence of the China-proposed Belt and Road Initiative, instead of supporting Africa to achieve sustainable development.
US desperate to counter Belt and Road Initiative
In March 2021, a task force sponsored by the Council on Foreign Relations, an American think tank, said in its report, "China's Belt and Road: Implications for the United States", that the US is deeply interested in adopting a strategy to provide an effective alternative for the Belt and Road Initiative.
To this end, the US and the European Union launched foreign aid programs to support infrastructure construction in African and other developing countries and help narrow the global investment gap. But both the "Build Back Better World" (B3W) initiative of the US and the "Global Gateway" of the EU claim to be "alternatives" to the Belt and Road Initiative, and are aimed at containing China's international influence.
In addition, the US' African Growth and Opportunity Act, which purportedly is aimed at promoting trade between the US and Africa, sets many additional conditions for beneficiary countries and uses trade preferences as a means to suppress countries that fail to meet the US' requirements. Hence, in effect, the act has become a political tool for the US to put pressure on African countries. Also, the US has removed a number of African countries from the AGOA, and revoked the provision under which their goods had duty-free trade access to the US.
West performance poor on multiple fronts
Besides, Western investment in Africa has been inadequate in both energy and capital. In recent years, the US and other Western countries have been battling with multiple challenges such as economic recession, soaring inflation, political polarization, wealth inequality, racial conflicts, social unrest and poor pandemic response. So to divert public attention away from their domestic problems, they proclaim that they are serious about promoting Africa's development in order to curb China's influence.
According to a report released by the Infrastructure Consortium for Africa in 2018, estimates of Africa's infrastructure investment requirement range from $130 billion to $170 billion a year. And in its 2021 Report Card for America's Infrastructure, the American Society of Civil Engineers said the US needs to invest $2.59 trillion in infrastructure in the next 10 years, meaning a funding gap of $259 billion per year.
Without addressing its domestic problems, how can the US meet Africa's urgent needs?
Moreover, to check China's rising influence, the G7 leaders announced the Partnership for Global Infrastructure and Investment at their summit in Bavaria, Germany, in June, pledging to raise $600 billion for infrastructure investment, with the US vowing to mobilize $200 billion in public and private funds rather than direct funding by the government.
'Build Back Better' a castle in the air
The US' B3W initiative, for which Biden and the other G7 leaders had pledged to raise $40 trillion to help meet the infrastructure needs of the developing world, including African countries, turned out to be a castle in the air, with the US barely managing to raise $200 billion. As The New York Times said, the committed funds in the project are not guaranteed to be secure. Not to mention that Ukraine needs more than $750 billion for post-crisis reconstruction while the PGII announced at the G7 Summit has a verbal commitment of only $600 billion.
Under such circumstances, how can the US offset the influence of China's Belt and Road Initiative?
When it comes to cooperation with Africa, the West only pays lip service to the continent's real needs. From the Barack Obama administration's "Power Africa" to the Donald Trump administration's "Prosperity Africa", from last year's B3W to this year's PGII, the West has never been short on empty promises. Missing has been action.
Under "Power Africa", the US promised to invest funds to generate 20,000 megawatts of electricity in Africa by 2020. By the end of 2020, the actual power generation was only 4,194 megawatts, less than a quarter of the promised capacity. "Prosperity Africa" has delivered even less. And in the one year since the launch of the B3W, the US government has invested a mere $6 million in global infrastructure, just a fraction of the $40 trillion the US-led G7 had promised.
Mutual benefit and win-win cooperation
As the world's largest developing country, China has always put people first, and adhered to peaceful, open and civilized development. It has lifted more than 800 million people out of abject poverty, and embarked on a new journey to build a modern socialist country of common prosperity.
China pursues win-win cooperation for common development and will never indulge in zero-sum games. It is committed to developing relations with other countries on the basis of equality, mutual respect, mutual benefit, mutual learning and common development. China is ready to share its development experiences and achievements with Africa.
Under the Forum on China-Africa Cooperation framework, President Xi Jinping has announced "Ten Major Cooperation Plans", "Eight Major Initiatives" and "Nine Major Programs" on China-Africa cooperation. These are aimed at helping African countries enhance their sustainable development capacity, and clear the development bottlenecks created due to inadequate infrastructure facilities, lack of professional and skilled personnel and shortage of financial resources, so as to achieve win-win cooperation for common development.
The political declarations and action plans adopted after consultations at the three-yearly FOCAC conference are all openly accessible to the public and serve as the common guidelines and measures of China-Africa cooperation.
Unconditional development support to African nations
China has always delivered what it has promised to Africa. It has never attached any political strings to loans, aid or joint projects, or interfered in the internal affairs of African countries or forced them to do anything against their will.
China's financial support and loans to African countries are used to enhance their development capacity. In fact, China has helped Africa build and upgrade 80 percent of telecommunications infrastructure, more than 10,000 kilometers of railways, nearly 100,000 km of roads, over 200 schools, more than 80 large-scale power facilities, nearly 1,000 bridges, and over 100 harbors and airports. It has also helped build more than 130 medical facilities and over 50 stadiums, and provided scholarships and short-term training opportunities for more than 10,000 person-times every three years.
It is this mutually beneficial relationship that has propelled China-Africa trade. US-Africa trade was $32.76 billion, almost 2.5 times that of China-Africa trade, in 2002, but in 2021 China-Africa trade reached $254.2 billion, nearly four times that of US-Africa trade. And China has been Africa's largest trading partner for the past 13 years.
The major global powers have regularly come up with catchy strategic slogans for Africa's development. But what Africa needs are concrete measures and mutually beneficial global cooperation, not empty promises and slogans; equality and mutual respect, not lectures; enhanced sustainable development capacity, not just raw material exports. In short, Africa needs winwin cooperation for common development, not the zero-sum games the Western powers play.
Building a developed and prosperous Africa
A developed and prosperous Africa is in line with the common interests of the world, and it is the common responsibility of the international community to help build such an Africa. With a socially stable and economically prosperous Africa, the world will get a bigger consumer market as well.
China will be happy to see other countries participating in Africa's development, for instance, by building infrastructure and improving human resources. After all, Africa needs humongous amounts of international investment and huge numbers of infrastructure facilities and financing to realize sustainable development.
No single country can provide those investments and build those infrastructure facilities. The huge demand for infrastructure in Africa requires coordination and cooperation among China, the US and other Western countries, rather than confrontation or competition.
China is willing to carry out multilateral cooperation for win-win outcomes with African and other countries, so as to put Africa on the main track of development and help it achieve sustainable development, so it can contribute more to building a community with a shared future for mankind.
The views don't necessarily represent those of China Daily.
The author is president of the Chinese People's Association for Friendship with Foreign Countries.