Policies energize hard-hit economy
By XU WEI | China Daily | Updated: 2022-08-03 08:32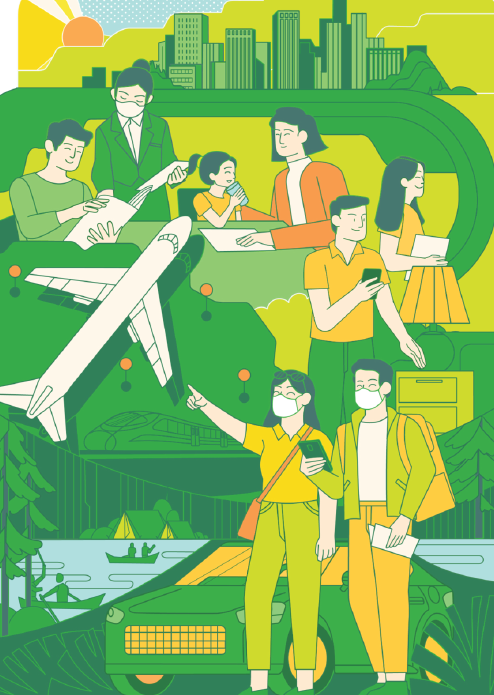 SHI YU/CHINA DAILY
Wave of measures has helped companies weather epidemic

China's policy package aimed at steering the economy back on track is starting to pay off, aiding a gradual rebound in key service sectors, while analysts and industry insiders call for continuous support to counter headwinds and underpin a sustained recovery.
The National Bureau of Statistics said on Sunday that the purchasing managers' index for China's nonmanufacturing sector came in at 53.8 in July, marking the second consecutive month that the sector expanded. A reading above 50 indicates expansion, while a reading below it reflects contraction.
The NBS said the PMI reading for the catering, accommodations and transportation sectors in July exceeded 60, the result of a host of pro-growth policies issued since May.
Zhao Qinghe, a senior statistician with the NBS, said in a statement after the release of the data that the nation's service sector has been on the recovery track over the past two months, and activity in all the surveyed service sectors shows growing confidence among businesspeople.
The central government has come up with various policy measures to support companies in the services sector, especially catering, tourism, culture and transportation, which have been hit hard by the surge of COVID-19 outbreaks in parts of the country since March.
A State Council executive meeting chaired by Premier Li Keqiang on Friday reiterated the need to support struggling industries, including catering, retail, tourism and transportation, as policymakers pledged to extend extra value-added tax deductions in the services sector.
Key measures that have already been rolled out include offering tax refunds and fee cuts to businesses, deferring their social security payments and encouraging State-owned housing authorities to reduce or exempt rent for micro and small businesses.
By July 20, China had offered a total package of over 3 trillion yuan ($444 billion) to support those measures, according to the State Taxation Administration.
Under a policy document jointly issued by six central government departments, smaller firms in the service sector that are tenants of State-owned houses in areas classified as medium- and high-risk for COVID-19 will enjoy a six-month rent exemption this year, while those in other areas will be exempted from paying rent for three months.
By July 20, the government had spared 936,400 smaller businesses from paying 53.8 billion yuan in rent for State-owned property, according to the Ministry of Housing and Urban-Rural Development.
Shanghai, one of the hardest hit cities by the pandemic this year, scaled up subsidies to reduce rent and taxes on property and urban land use for qualified businesses, among other measures. Beijing is offering up to 30 million yuan worth of coupons for accommodations, as part of its efforts to speed up the recovery of tourism and boost consumption.
Yang Fang, a senior researcher at the Institute of Digital Economy at Zhongnan University of Economics and Law in Wuhan, Hubei province, said the government's policy offerings have spurred consumer spending, stabilized the cash flow of businesses and contributed significantly to efforts to protect market players, ensure public well-being and steady the job market.
She explained that a major drag on consumer spending is the catering sector, whose revenues dropped 7.7 percent year-on-year in the first half of this year.
However, the recurrence of the epidemic in some areas last month, including Gansu and Anhui provinces and Shanghai, has cooled economic activity, while the slowdown in growth of residential income, which grew by only 2.6 percent year-on-year in the second quarter, has continued to weigh on the growth of the service sector, she said.
In one of the latest policy measures, the Ministry of Culture and Tourism and the People's Bank of China, the central bank, called for financial institutions to scale up their credit support for businesses in the cultural and tourism sector in a policy document published on July 25.
The document said cultural and tourism businesses will be offered preferential financial services, and financial institutions will issue new loans to help such businesses withstand the fallout of the epidemic.
It warned lenders against blindly restricting or cutting off loans to businesses and said that more work must be done to lower financing costs.
Qiu Liang, the owner of a rural hotel in Taining county, Fujian province, said the number of guests received at his hotel started growing in June, with over 70 percent of rooms being booked on a daily basis, up from 30 percent at the beginning of this year.
As part of the aid packages from the government, his hotel enjoyed a three-month waiver in rent, he added.
Like many smaller companies, Qiu said the fact that his business lacked fixed assets as collateral made it difficult for him to obtain credit support from financial institutions.
"It is our hope that the government can encourage lenders to come up with special credit products for hotels and homestays to help us better get through epidemic-related difficulties," he said.
A meeting of the Political Bureau of the Communist Party of China Central Committee-the Party's core leadership-on Thursday pledged to enable China's macro policies to play a proactive role in boosting demand, calling for monetary policies to effectively offset sluggish consumer spending.
The meeting also affirmed the nation's dynamic zero-COVID strategy, saying that new outbreaks must be contained immediately, and there should be zero complacency in fighting the epidemic.
Liang Si, a researcher from the Bank of China's research institute, said a rebound in consumer spending since May has fueled the recovery of sectors, including catering and tourism, but uncertainties brought about by the epidemic and rising costs have continued to dampen expectations and confidence among various market players.
He highlighted the need for different regions to adopt targeted aid packages for businesses based on the severity of the epidemic's influence.
"The issuance of more coupons will help businesses attract more customers, while incentives can be offered to employers that refrained from laying off workers," he said.
Yang, from Zhongnan University of Economics and Law, also highlighted the significance of rolling out more coupons for businesses and consumers to spur spending.
The digital transformation for the service sector should be expedited to proactively foster new models of consumption and spawn new business models, she added.
xuwei@chinadaily.com.cn