Campaign urges consumer 'energy bills strike'
By ANGUS McNEICE in London | China Daily Global | Updated: 2022-08-03 09:46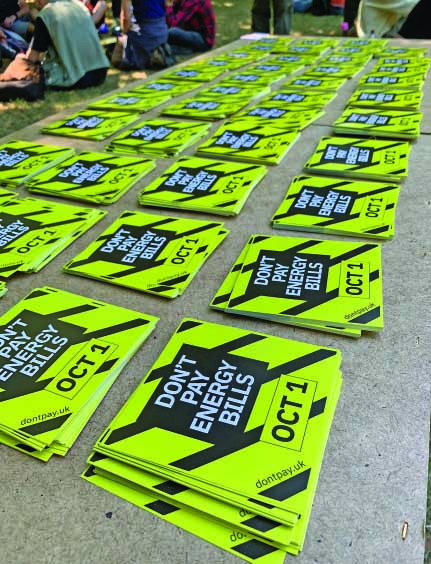 Momentum for a possible consumer strike over energy bills is gathering in the United Kingdom, as large energy companies continue to post record profits amid a cost of living crisis.
Gas and oil giant BP announced on Tuesday that profits between April and June this year reached $8.5 billion, the largest quarterly gain in 14 years. Last week fossil fuel company Shell announced profits for April to June had reached nearly 10 billion pounds ($12.2 billion), double the amount for the same period last year, and British Gas owner Centrica revealed operating profits for the first half of this year had increased five-fold, to 1.34 billion pounds.
The profit announcements come as British households face soaring energy bills. Consultancy firm BFY Group predicts that rising gas prices, aggravated by a dip in supply from Russia, could see annual energy bills reach 3,420 pounds at the end of this year and rise to 3,850 pounds next year, which is around triple the rate consumers were paying at the beginning of 2022.
An anonymous campaign group called Don't Pay UK launched in mid-June, encouraging UK consumers to cancel direct debits to energy companies and stop paying bills. The group has now accrued 100,000 followers on social media and has raised close to 10,000 pounds in donations towards operating costs.
"As BP announces its biggest profits in 14 years, it's clear to all: this is a cost of greed crisis, pushing millions of us into poverty to make the rich richer," the group said on Twitter on Tuesday. "Enough is enough, don't pay for their profits."
The group aims to get 1 million people to pledge to stop paying for energy from Oct. 1, when the UK energy regulator Ofgem is expected once again to raise the price cap on bills.
The UK government has announced that millions of households will receive a 400 pound discount on energy bills over a six month period starting from October to help with the rising costs, but analysts are doubtful that the discount scheme will provide sufficient support.
In May, Ofgem said that households can expect an increase of 800 pounds in October, taking annual bills to 2,800 a year, which is lower than estimates from both BYF Group and market intelligence firm Cornwall Insight, which predicts annual bills will reach 3,244 pounds from October and rise to 3,363 pounds from January.
"Millions of us won't be able to afford food and bills this winter, we cannot afford to let that happen," Don't Pay UK said in a statement. "Even if a fraction of those of us who are paying by direct debit stop our payments, it will be enough to put energy companies in serious trouble, and they know this. We want to bring them to the table and force them to end this crisis."
The group said that mass pay refusal has worked previously in the UK, pointing to consumer-led campaigns in the late 1980s and early 1990s which led to the scrapping of unpopular changes to the tax system.