Shanxi's pretty porcelain finds new fans
By SUN RUISHENG in Taiyuan and ZHOU HUIYING | CHINA DAILY | Updated: 2022-08-04 07:30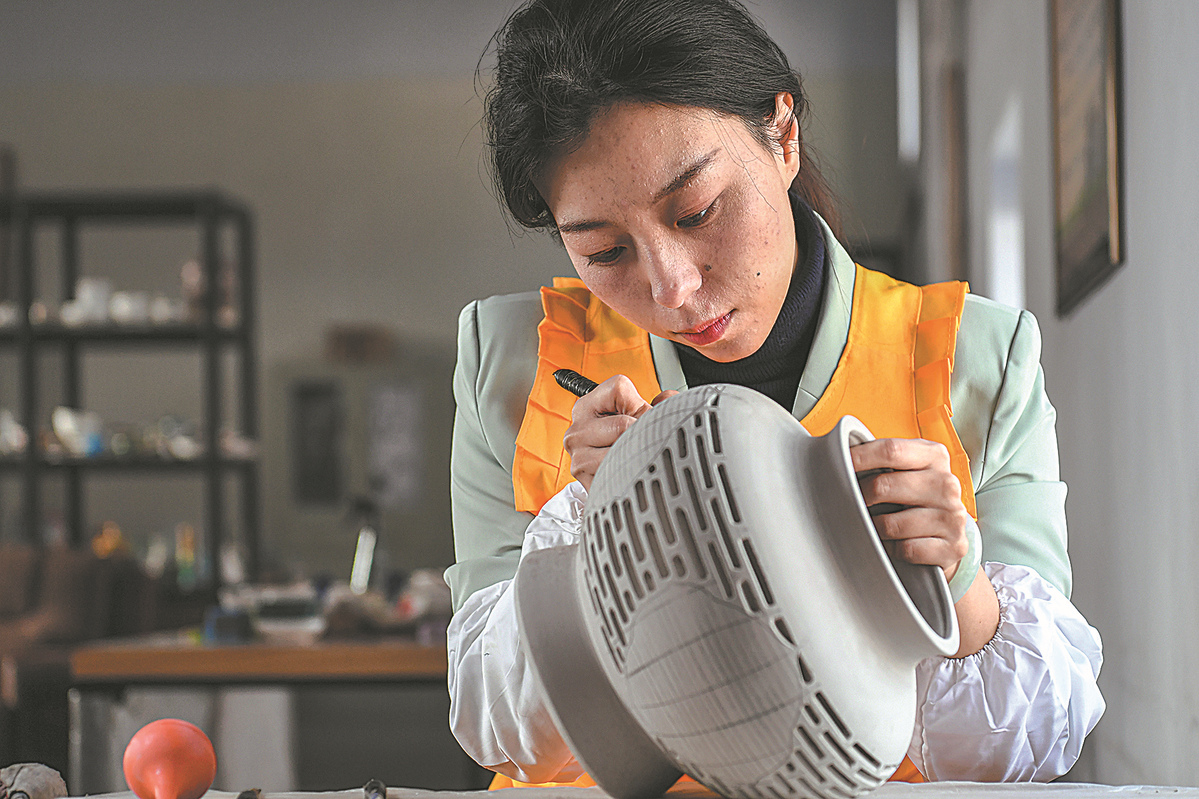 Although she already had a place to continue her postgraduate studies, Qiao decided to return home.
Once back in Shanxi, she poured all her energy into promoting the business. "There were nearly 30 porcelain factories in Yangcheng before 2015, but most of them had closed," she said. "It was really hard for me to keep going at the beginning when we hadn't sold anything for months."
After looking into the situation, Qiao discovered that the problem was market saturation and the old-fashioned design of the fahua pieces.
She tried out new ideas and adjusted the colors and patterns, adding more fashionable elements.
Gradually, her pieces began to catch the eyes of buyers across the country. Today, the factory employs about 100 workers involved in making fahua.
"We have divided the production process into parts, with each worker responsible for one part," she said. "It is easier for them, and also helps create a uniform standard. An experienced worker can earn around 6,000 yuan ($891) per month, and those who are less skilled can earn at least 3,000 yuan."
Qiao began to learn what she could from her father. She still keeps some of her unsuccessful pieces in her office.
"At first, it wasn't easy for me to master a tradition that involved so many complex processes," she said. "I can't remember how many times I failed before I finally mastered the 10 skills I needed to make fahua."
Recently, Qiao has developed a series of items designed for daily use, such as decorative lighting, tea sets and wine ware.
"It is important for us to learn traditional skills properly," she said. "But on the other hand, we should also think about how to innovate and develop tradition by adding more modern elements, which makes it more attractive."
In 2020, Qiao set up the Fahua Exhibition and Experience Center, an intangible cultural heritage teaching center that integrates studies, promotional work, exhibitions and cultural exchanges.
In the past two years, it has received some 2,000 visitors, including school students and fahua enthusiasts.
In April, she organized an online lecture on fahua inheritance and innovation for students from the College of Fine Art at Shanxi Normal University.
"After the lecture, I received lots of messages asking me questions about fahua," she said. "I was very happy, and took it as encouragement to develop more items that better represent traditional art and culture."
Peng Ke'er contributed to this story.
Contact the writers at zhouhuiying@chinadaily.com.cn