Home of Moutai, Renhuai brewing more big names
By WANG ZHUOQIONG in Beijing and YANG JUN in Guiyang | China Daily | Updated: 2022-08-04 09:11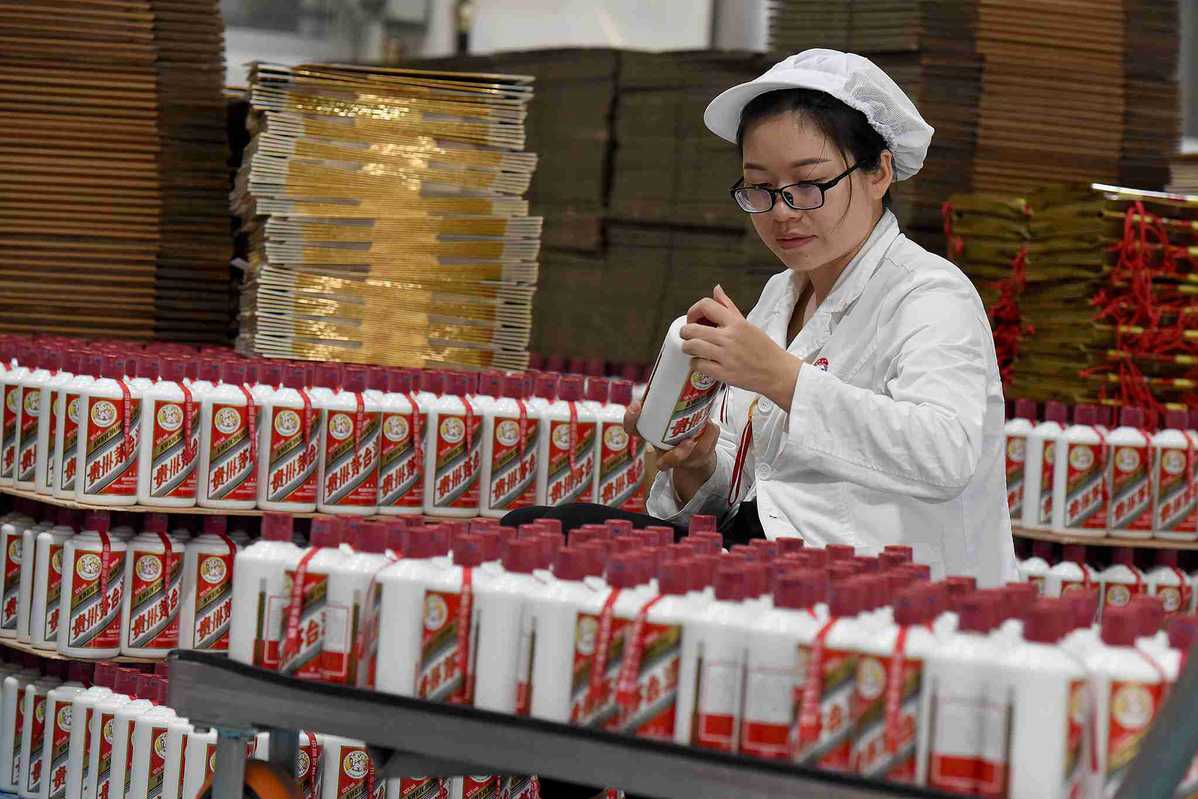 Renhuai in Southwest China's Guizhou province, also known as the hometown of top liquor brand Kweichow Moutai, plans to further consolidate its position as one of the key liquor production bases in the country by upgrading the industry and investing heavily in water treatment facilities.
Renhuai has plans to build more than 200 large or medium-sized liquor companies, adding to its total number of 1,000 liquor enterprises, by 2025.
Zhu Danpeng, a food and beverage analyst, said, "Renhuai's mindset and perspectives over the local liquor industry have played a vital role in leading the healthy and orderly development of the sector and supply chain."
In 2021, total production value in Renhuai has reached 156.4 billion yuan ($23.16 billion), of which the added value of the liquor industry stood at 110.9 billion yuan, ranking No 12 among the top 100 county and county-level cities in China.
The city has 34,049 registered liquor brands, with eight being renowned nationwide. Its geographically certified brands have been valued at 72.1 billion yuan.
One of the most recognizable brands, Kweichow Moutai on Tuesday posted a steady six-month growth year-on-year in terms of revenue and net profit.
The liquor producer posted a net profit of 29.79 billion yuan ($4.4 billion) in the first half, up 20.85 percent year-on-year, according to a report released by the company on Tuesday. The year-on-year bottom-line growth rate is the highest since 2020. From January to June, revenue climbed 17.38 percent year-on-year to 57.62 billion yuan.
Last year, revenue of the alcohol maker reached 109.46 billion yuan, a year-on-year increase of 11.71 percent. Its profits totaled 74.53 billion yuan, up 12.59 percent year-on-year in 2021.
The company contributed its strong momentum to upgrades in its product portfolios by introducing more new liquor products, the launch of its digital marketing platform as well as its first attempt to release an ice cream product.
Moutai's progress has also been part of many highlights for Renhuai. In the first half, the city achieved a production value of 85.1 billion yuan, up 7 percent year-on-year. The total industrial production value has grown more than 32.4 percent during the same period.
Building up the awareness and leadership of its liquor brands is key to the development of the area, said the municipal government, along with the introduction of an entry system for production areas and production area protection rules.
In February, Renhuai issued a management guidebook for liquor production in the region. The guidebook states that the total region covered by Chinese liquor maker Moutai is 120.44 square kilometers.
Meanwhile, Renhuai has vowed to improve the natural environment, which has been affected by the fast expansion of production capacity.
Since 2021, the municipal government of Renhuai has rolled out a three-year campaign to reduce pollution and improve the environment. At present, the city has closed 622 enterprises and renovated 799 companies that have been found with environmental issues.
Since May, the city has worked on more efforts to push the implementation of 23 environmentally friendly programs focusing on water management, including improving sewage and wastewater collection and treatment efforts. For example, a total of 189 sewage and wastewater treatment plants have been built and four such facilities have been renovated to manage the treatment of emissions from liquor factories in the city.
Zhao Yandi contributed to this story.