Pelosi's husband in news over car crash, stocks
By HENG WEILI in New York | China Daily Global | Updated: 2022-08-05 10:58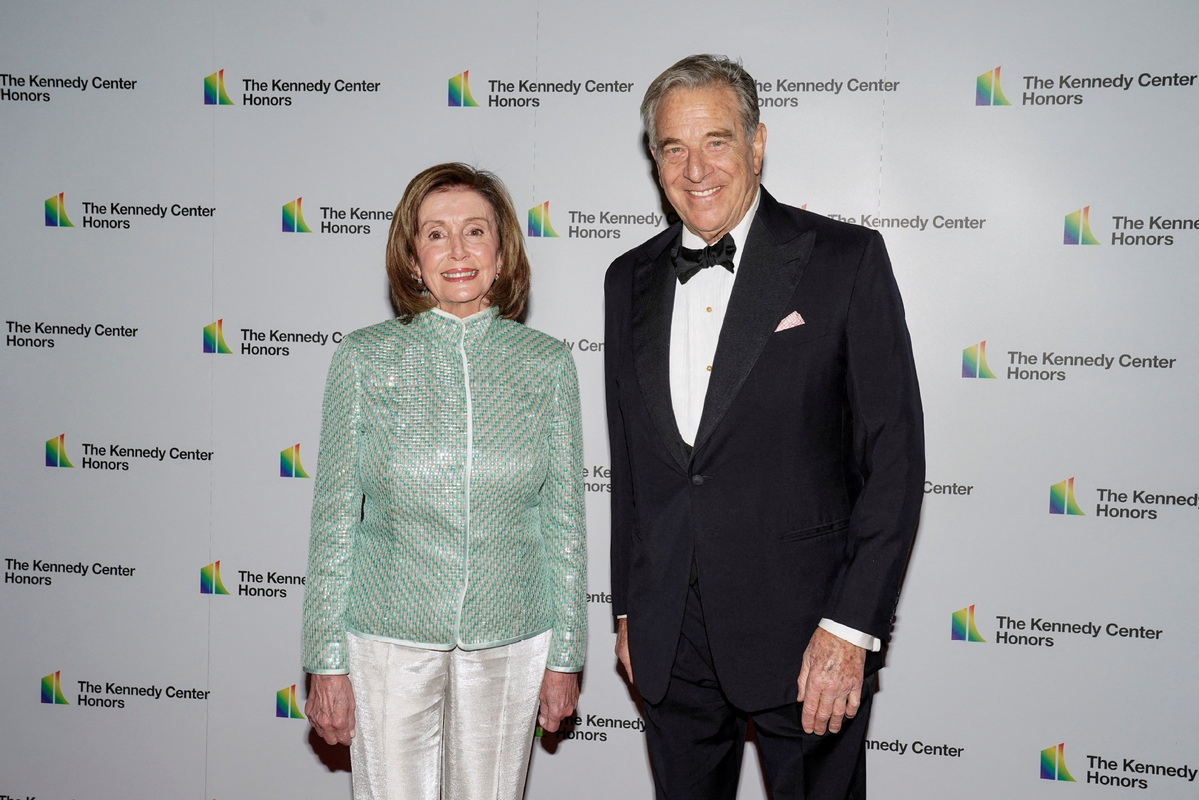 While US House Speaker Nancy Pelosi was making international headlines with her disruptive trip to Taiwan this week, back in California, her husband was ensnared in controversy over a drunken driving incident and his stock trades.
A news report Thursday said that police did not give Paul Pelosi a blood alcohol test until about two hours after he was arrested in a May 28 automobile collision in Northern California wine country.
Authorities confirmed to Fox News Digital that Pelosi was taken to a hospital for treatment of any potential injuries before arriving at a Napa County jail, a routine step in a motor-vehicle crash, according to the sheriff's department.
According to a criminal complaint, at 10:17 pm on May 28, a caller reported the crash about five miles from Pelosi's vineyard estate.
California Highway Patrol (CHP) officers arrested Pelosi at 11:44 pm before they took the blood sample at their Napa office. The test eventually showed that Pelosi had a blood alcohol content (BAC) of .082 percent, slightly above the state legal limit of .08.
Pelosi is 6 feet, 2 inches tall and weighs around 200 pounds, according to the complaint. A person metabolizes alcohol at a rate of about .016 percent per hour.
"California lawyers are well aware that blood alcohol is (metabolized) at a fixed rate, so much per hour," a retired attorney told Fox News Digital. "So the .082 percent of alcohol in Mr. Pelosi's bloodstream hours after the crash can easily be converted to a substantially higher BAC at the time of the crash."
Pelosi, 82, pleaded not guilty Wednesday to misdemeanor driving under the influence (DUI). He did not appear in person at state Superior Court in Napa County on Wednesday. His attorney, Amanda Bevins, entered not guilty pleas on his behalf on charges of driving under the influence of alcohol causing injury and driving with a .08 percent blood alcohol level or higher causing injury.
Officers responding to the crash near the town of Yountville said they found Pelosi in the driver's seat of a 2021 Porsche Carrera and the other driver standing outside a Jeep, according to a complaint made public Wednesday.
CHP officers reported that Pelosi was "unsteady on his feet, his speech was slurred, and he had a strong odor of an alcoholic beverage".
Pelosi presented his driver's license to the officers along with an "11-99 Foundation" card when asked for identification, the complaint says. The foundation supports CHP employees and their families.
Prosecutors classified the case as a misdemeanor because of injuries to the 48-year-old driver of the Jeep. They declined to identify the driver, saying he had requested privacy.
The Jeep driver reported pain in his right arm, right shoulder and neck and headaches the day after the crash, according to his interview with investigators from the district attorney's office.
Paul Pelosi was released on $5,000 bail after his arrest.
Speaker Pelosi was in Rhode Island to give the commencement speech at Brown University at the time. The San Francisco Democrat's office has declined to comment.
If convicted, Paul Pelosi faces up to a minimum of five days in jail and up to five years' probation. He also would be required to complete a drinking-driver class and install an ignition-locking device that requires the driver to blow into it (to detect alcohol) before the car can be started, prosecutors said.
Paul Pelosi, who is a venture capitalist, owns shares in two major chip companies that could benefit from semiconductor legislation recently passed by Congress, financial records show.
He has acquired up to $12 million worth of shares of Nvidia and Micron since June 2021, according to financial disclosures reviewed by the Daily Caller. He recently sold between $1 million and $5 million worth of Nvidia stock, reporting a roughly $341,000 loss. He still holds shares valued at between $2 million and $7 million at the time of purchase.
Micron and Nvidia both supported the recently passed CHIPS Plus Act to subsidize domestic chip-manufacturing facilities and provide tax credits for semiconductor manufacturing.
"The Pelosis' situation is a case study in why we need a ban on members of Congress and their spouses and immediate families trading stocks," Dylan Hedtler-Gaudette, government affairs manager for the Project on Government Oversight, a nonpartisan ethics group, told the Daily Caller, a conservative website.
The US Commerce Department will determine which companies get the subsidies under the bipartisan bill, according to a legislation fact sheet.
Micron and Nvidia also pressed Congress to pass another version of the $52 billion bill in December 2021, according to a letter.
Three weeks later, Paul Pelosi bought up to $500,000 worth of Micron stock, a filing showed.
The House speaker voted in favor of the subsidy bill in February 2021 and later backed the version that cleared the Senate last month. President Joe Biden is expected to sign the bill into law on Aug 9.
Since the bill was approved in the Senate on July 27, Micron's stock price has risen by about 4 percent; shares are up more than 13 percent in the last month. Shares of Nvidia are up around 6 percent since the bill's passage and more than 26 percent in the last month.
Richard Fischer, a former Federal Reserve of Dallas president, said recently on CNBC that the Pelosis and others "appear" to have taken advantage of inside information related to stock trades.
Drew Hammill, deputy chief of staff for the House speaker, told the Daily Caller: "As always, he (Paul Pelosi) does not discuss these matters with the speaker until trades have been made and required disclosures must be prepared and filed. Mr. Pelosi decided to sell the shares at a loss rather than allow the misinformation in the press regarding this trade to continue."
A previous analysis by the Business Insider website estimated that the Pelosis are worth at least $46 million, making Nancy Pelosi, 82, one of the 25 richest members of Congress. The vast majority of the couple's wealth is in stocks, options and investments made by Paul Pelosi.
Shares in other major companies traded in the past two years as reported by the speaker include Google parent Alphabet, Apple, Amazon, Microsoft, Tesla, Visa and Walt Disney.
The Associated Press contributed to this story.