Young 'diplomats' discuss global challenges
By LUO WANGSHU | China Daily | Updated: 2022-08-06 09:22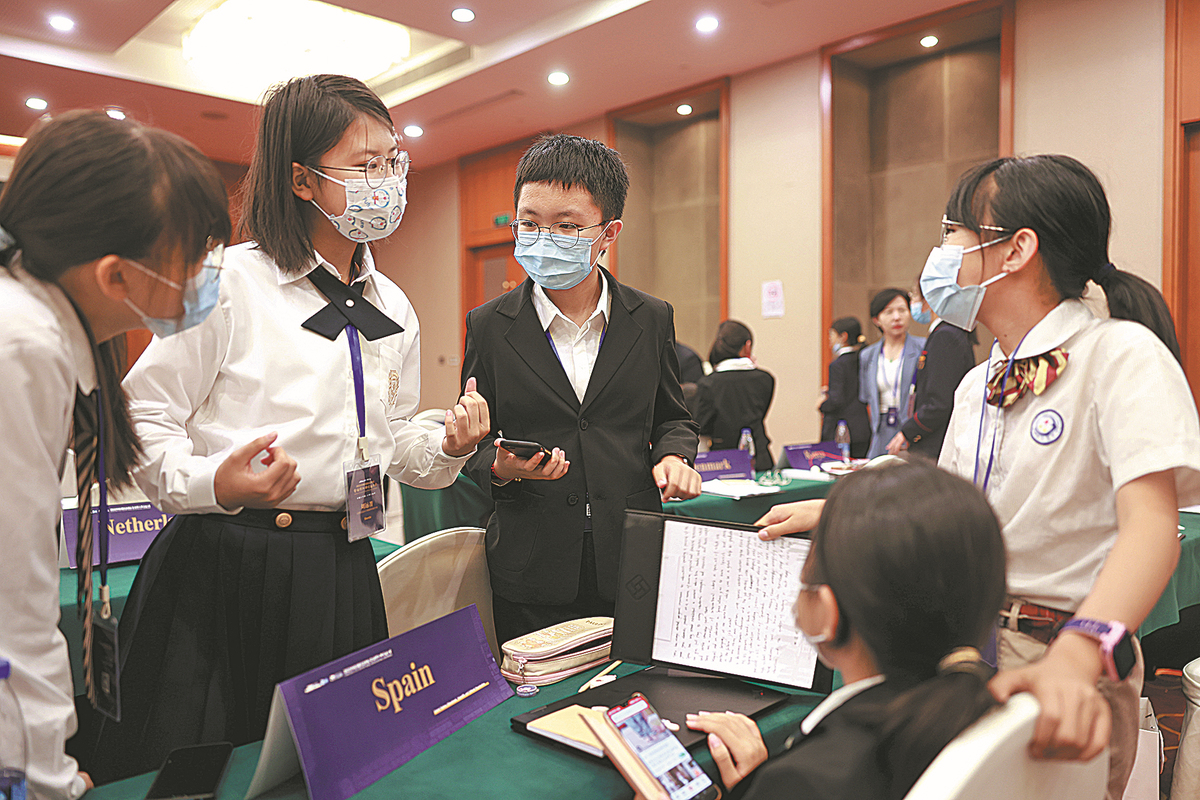 More than 600 young "diplomats" across the country gathered in eastern China this week for a model United Nations conference, discussing and debating challenges confronting global development and cooperation.
The four-day event, which ended on Friday in Suzhou, Jiangsu province, aimed to equip participants, mostly Generation Zers, with global vision and capabilities to cooperate in solving problems together. Generation Z refers to people born in the late 1990s and early 2000s.
The event, hosted by China Daily 21st Century English Education Media, attracted participants from middle schools, high schools and universities, discussing topics to promote the United Nations 2030 Agenda for Sustainable Development and its 17 goals, including sustainable development in building social development patterns and terrestrial ecosystems.
"The COVID-19 pandemic has exposed a world of fragilities and injustice. It must be an inflection point for bold and transformative action," UN Secretary-General Antonio Guterres said in a message to the conference at the event's opening ceremony on Tuesday.
"For the first time in a generation poverty and hunger are on the rise. Inequalities are increasing. A surge of mistrust and misinformation is polarizing people and paralyzing societies. Geopolitical diversions disrupt international cooperation. Human rights are under assault. And we continue to careen toward climate catastrophe."
"But we can turn things around," he said.
"The world needs your energy, courage and commitment. I draw hope from seeing your generation challenge the status quo and call for transformative change," he told the participants.
Zeng Qingkai, editor-in-chief of China Daily 21st Century English Education Media, said, "Young people are the inheritors of civilization, and the creators and disseminators of new cultural trends. Youth public diplomacy is a long-term project and a great cause for the future. Chinese young people in the new era are creative and passionate, embracing the world and the future with an open, inclusive, cooperative and win-win attitude."
He also noted that the 21st Century English Education Media will continue to play a key role to encourage the global "Generation Z" to participate in discussing the world and the future by building a platform of exchanges such as publishing, organizing activities and carrying out dialogues.
It aims to help young people to grow into the storytellers of China stories with a global vision, builders of Sino-foreign friendship and messengers of Chinese culture, guiding the "Generation Z" from China and abroad to contribute wisdom to build a shared future for mankind, he said.
Jin Kuixing, a teacher from Hebei Jizhou Senior Middle School in Hebei province, said online learning cannot replace on-site learning or social practice. Jin has offered guidance to students to participate in the activities and shared his view on how the event makes students grow.
As an effective carrier to promote quality education and cultivate international talent, the event has strongly promoted the expansion of students' comprehensive quality, he said.
Participant Zhao Zherui from a university in Henan province said the model UN event is a process of continuous interaction and learning. It is full of charm.
"By participating in the activities, I can not only learn and discuss international affairs, but also practice many abilities, such as organization, communication, research, writing, debate and solving conflict," he said.
The conference, founded in 2019, has attracted participants from more than 200 schools in China, establishing a dream-chasing platform for young people.
As one of China's high-level model UN activities with far-reaching reputation, the event has contributed to the training of young talent for global governance with international communication and diplomatic skills.