Celebrating a bookish romance
By Wang Kaihao | China Daily | Updated: 2022-08-08 08:25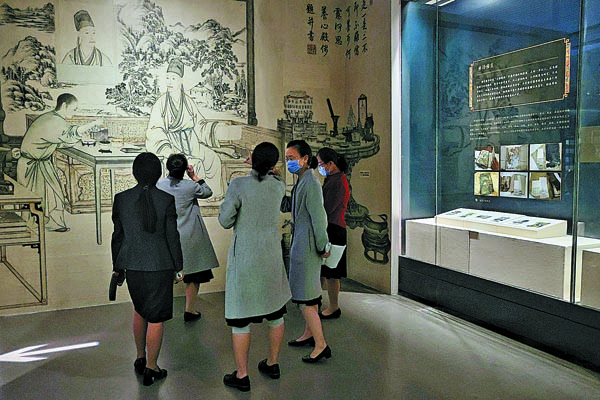 In 1744, Emperor Qianlong of the Qing era, an antique and art enthusiast, ordered scholars to search for and include the finest ancient books, ranging from the Song (960-1279) to Ming (1368-1644) dynasties, which were scattered in studies across the Forbidden City, in this collection. A total of 664 volumes were then categorized.
However, these books suffered fire damage in 1797. Emperor Jiaqing, Qianlong's son, launched a program to reestablish the collection within seven months.
After the Qing Dynasty fell, continuous conflicts and social upheavals in the early 20th century took a toll on the books. Some were lost, some were damaged and some were taken across the Taiwan Straits in the aftermath of the civil war. When 279 volumes of Tianlu Linlang, or 3,500 copies, entered the warehouse of the national library, over half of them were at least partially damaged, by mold, bugs, or just by time.
Led by Zhu, who has about 40 years of experience fixing ancient books, a comprehensive restoration project to save the fading pages was launched in 2013. It was finally completed at the end of last year.
"Repair may only be 30 percent of our daily work," Zhu says. "The rest of the time is all about how to regain the original appearance of these books. It was really tricky in a restoration project like Tianlu Linlang. The utmost patience and a scrupulous attitude is needed."