ASEAN looks to deal with climate change
By YANG HAN in Hong Kong | China Daily | Updated: 2022-08-08 09:28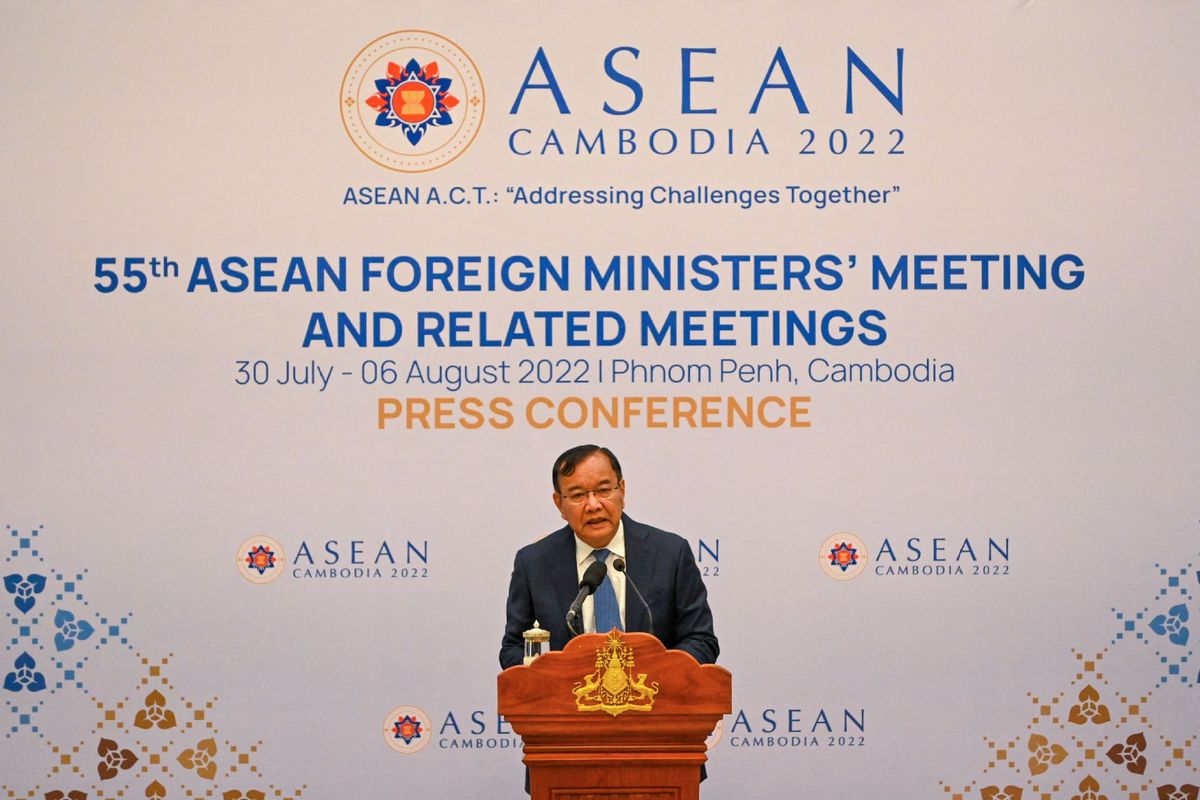 Post-pandemic recovery also among top priorities that need to be tackled
Climate change and post-pandemic recovery were among Cambodian Prime Minister Hun Sen's top priorities as his country hosted the 55th ASEAN Foreign Ministers' Meeting and related meetings last week.
Regional experts said the initiatives Cambodia proposed as the current chair of the Association of Southeast Asian Nations are important to the bloc, which faces huge environmental and economic challenges.
"Climate change is the biggest long-term issue that the world is facing, and its effects are increasingly being felt here and now," said Stephen Higgins, managing partner of the investment management firm Mekong Strategic Partners in Cambodia.
Commenting on Hun Sen's suggestion of establishing an overarching framework labeled an ASEAN Green Deal, Higgins said ASEAN member states, like most countries, need to undertake very significant investment to decarbonize their economies and start adaptation works.
"An ASEAN Green Deal will help with regional coordination of these efforts, while also assisting in the funding of them."
Speaking at the opening ceremony of the foreign ministers' meeting and related meetings on Wednesday, Hun Sen said ASEAN has put forward various policy solutions to tackle climate change challenges, but the responses remain sector-specific and uncoordinated. Meetings were held from July 29 to Aug 5.
"ASEAN needs to go further by leveraging different national conditions to provide a platform for cooperation among member states as well as with our external partners," he said, noting that the ASEAN Green Deal would cover a wide range of areas, from infrastructure, energy and manufacturing to consumption and agriculture.
Climate change could result in a loss of more than 35 percent of ASEAN's GDP by 2050 as it can severely affect key sectors such as agriculture, tourism and fishing, along with human health and labor productivity, according to joint research by Nanyang Technological University in Singapore and the University of Glasgow in Scotland.
Nisit Panthamit, director of the Center for ASEAN Studies at Chiang Mai University in Thailand, said it is important to consider the differences between Southeast Asian countries, since places such as Singapore are more developed and have more resources, while countries such as Thailand and Vietnam may be in the middle.
ASEAN's value chain cannot be cut off from the global economy, and a Green Deal could be a good move for the region in terms of showing that it can deal with decarbonization, Nisit told China Daily.
Though ASEAN countries such as Thailand have set carbon neutrality goals for the middle of this century, Nisit said progress has been slow due to disruptions such as the pandemic, economic slowdown and political instability.
It is possible a Green Deal can be achieved but he hopes to see more concrete plans of how it can be implemented, he said.
In his speech, Hun Sen also offered to host a secretariat in Phnom Penh for the Regional Comprehensive Economic Partnership agreement, which came into force this year, to coordinate the effective implementation of the world's largest free trade pact.
Market potential
In line with ASEAN's strategy under the comprehensive recovery framework, which aims to maximize the potential of the intra-ASEAN market and broader economic integration, Hun Sen said a stand-alone secretariat is needed as soon as possible.
"I hope Cambodia can win the support of fellow ASEAN member states as well as all RCEP participating countries when we submit our proposal officially."
The RCEP comprises 15 Asia-Pacific economies including the 10 ASEAN member states and five key trading partners, namely Australia, China, Japan, South Korea and New Zealand.
RCEP countries account for about 30 percent of the world's GDP and population.
To establish an RCEP secretariat, Nisit said, ASEAN should ask for cooperation not only from other signatories of the trade pact, but also from observer countries that may also like to play a role, as well as international organizations such as the World Bank and the International Monetary Fund.
The RCEP has served as a driving force for regional and global economic growth, said the economist Ky Sereyvath, director-general of the Institute of China Studies at the Royal Academy of Cambodia.