Pernod Ricard drinks up more market share
By ZHONG NAN | China Daily | Updated: 2022-08-08 10:10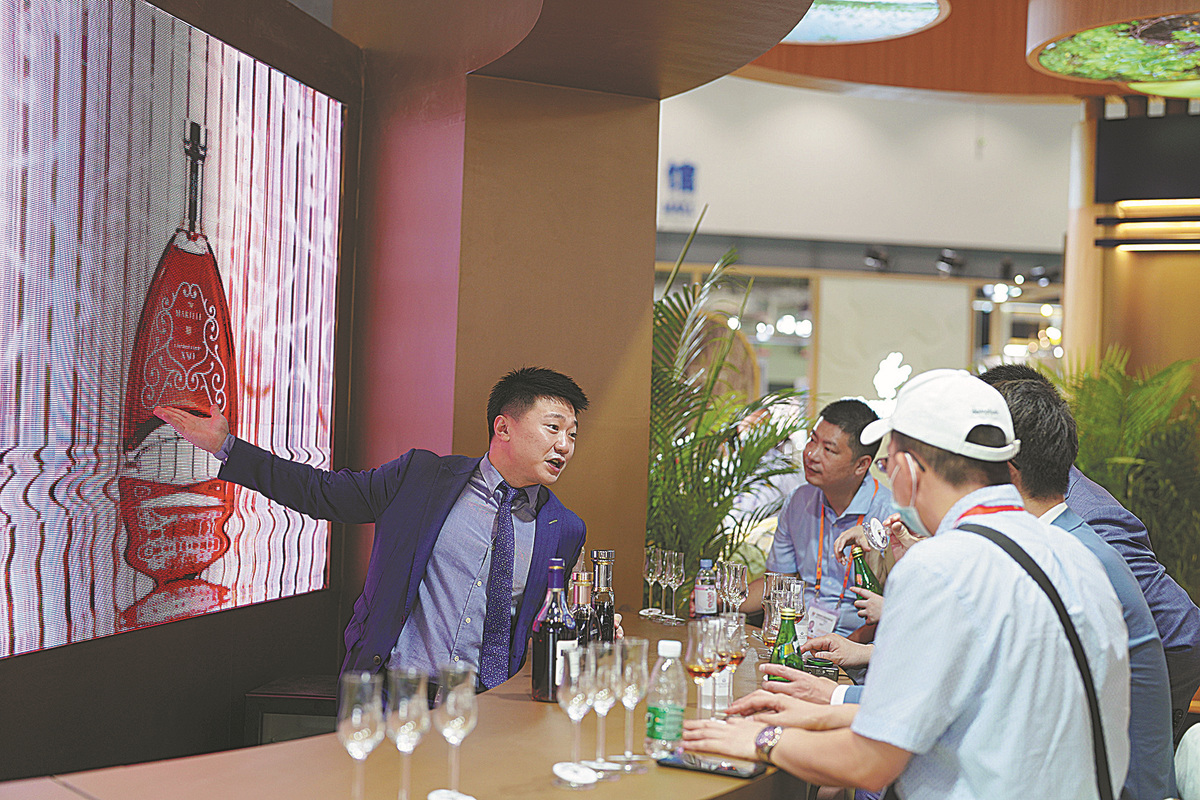 After putting its first China-based malt whisky distillery into operation in Sichuan province a year ago, Pernod Ricard, a French wine and spirits group, will further enrich its product portfolio, and push both online and offline sales in China to seize more market share in the coming years, said a senior executive.
In addition to importing wine and spirits into China, the company has already transformed from a trading company to a hybrid group in the country. It currently runs two manufacturing sites-a winery in the east foothills of Helan Mountain in Northwest China's Ningxia Hui autonomous region, and a whisky distillery in Southwest China's Sichuan province, as well as a venture company in China.
With investments in businesses in a number of industries-such as chocolate brand Chocday and alcoholic drinks e-commerce platform Forty-Nine Union-the group hopes to partner with more Chinese companies to expand its business scope across the country.
"It is true that in the short term, recurring outbreaks, especially in the second quarter, have brought some challenges to our business, such as logistic delays and temporary restrictions at on-trade venues. But thanks to our extensive urban and omnichannel retail layouts, our business has proven resilient in China," said Jerome Cottin-Bizonne, managing director of Pernod Ricard's China unit.
Pernod Ricard, also the world's second-largest producer of wine and spirits by sales revenue, and the parent company of well-known spirits brands including Martell, Glenlivet, Royal Salute and Absolut Vodka, saw sales revenue grow 12 percent on a yearly basis in China during the first three quarters of its 2022 fiscal year.
Apart from diversifying its strategic product portfolio to meet the growing demands of Chinese consumers, Cottin-Bizonne said that another key project along the way is The Chuan, its malt whisky distillery officially unveiled in Emeishan, a city in Sichuan province, in 2021.Pernod Ricard hopes to build a unique Chinese whisky culture over the years, and introduce this product to both home and overseas markets via its global business network.
Starting its first distillation in the summer of 2021, the company released the inaugural casks and a private cask program early this year. While planning to open a visitor center in 2023, the distillery aims to draw two million tourists in its first decade to further bolster the local economy and whisky culture.
"We found that young consumers are keen to access more diversified wine and spirits categories, and this eagerness and curiosity will only remain strong," he said, adding that the company will continue to bring new products to China to seize more market share.
For instance, Chinese consumers' evolving taste for high-end spirits pushed their spending on Scotch whisky to a record high over the past two years despite disruptions to trade caused by the COVID-19 pandemic.
The latest figures from the Edinburgh-based Scotch Whisky Association show that since 2019, the Chinese mainland has recorded the strongest growth for whisky produced in Scotland, with the total value of this market last year reaching 198 million pounds ($241 million), a rise of 123 percent compared with two years ago.
As a second-time participant at the China International Consumer Products Expo (CICPE), recently held in Haikou, Hainan province, Cottin-Bizonne stressed that Pernod Ricard holds great confidence in both China's lucrative consumer market and the development of the Hainan Free Trade Port.
Apart from opening two boutique stores in Sanya and Haikou last year, the French group established a business development team for Hainan FTP in the first quarter of 2022 and opened its largest duty-free boutique for its Martell brand across the world in Haikou in June.
As the direct-to-consumer business model and e-commerce continue to boom in the China market, he said the company will continue its direct engagement with consumers through both retail and e-commerce channels by leveraging the power of data and other digital sales solutions.
Industry experts interpreted the company's enthusiasm as a reflection of the huge potential of China's consumption market, and the major role of consumption in driving further economic recovery both at home and abroad.
Zhao Ping, vice-president of the Academy of China Council for the Promotion of International Trade in Beijing, said China's further opening-up and establishment of platforms, such as CICPE and the China International Import Expo for global consumer goods companies, will not only help boost confidence of manufacturers and consumers, but also inject momentum into the recovery and growth of the global economy.
China's consumer market is second only to the United States. The country's total import value of consumer goods amounted to 1.73 trillion yuan ($256 billion) in 2021, growing 9.9 percent on a yearly basis, said the Ministry of Commerce.