Craftsman sharpens Husa knife for younger generation
Share - WeChat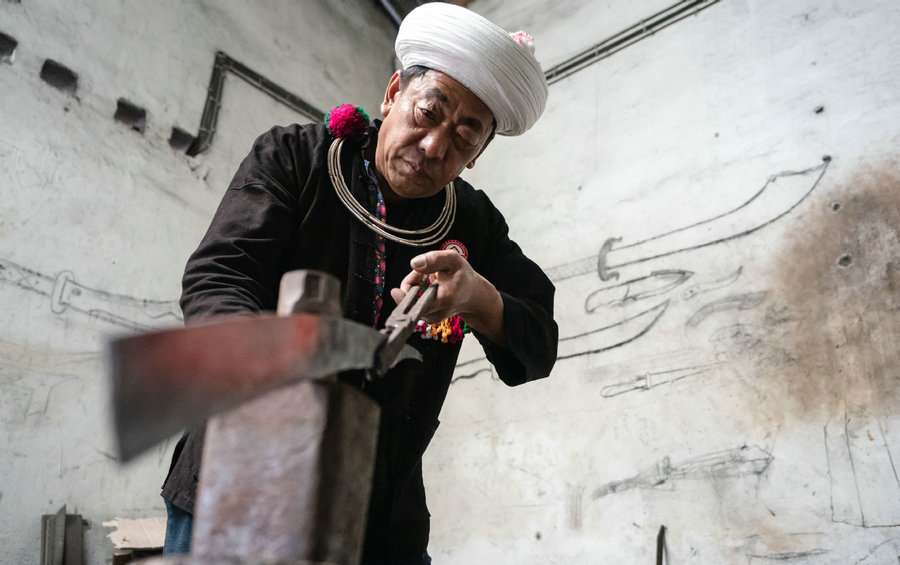 Husa knife, one of the national intangible cultural heritages, enjoys a long history of over 600 years. The knife gets its name from its birthplace, Husa township of Longchuan county, Southwest China's Yunnan province.
Xiang Laosai, 62, of Achang ethnic group in Husa township, who first learned Husa knife forging from his father when he was 14, has spent most of his time on it since then, delving into it for more than 40 years. Now he is a national-level representative inheritor of this technique.
Xiang has stuck to the traditional and unique techniques of Achang ethnic group to make the Husa knife, such as forging, quenching and sharpening. He has also devoted himself to improving the knife's appearance and character, making his hand-made knifes become sought-after.
In recent years, Xiang has set up a base in his hometown for teaching this technique for free and has attracted more than one hundred students. Xiang said it is the inheritor's responsibility to pass down Husa knife forging techniques, as it not only belongs to Achang ethnic group, but also is a Chinese cultural treasure.