Temple will offer all visitors rare experiences
By Michael Rhys Card | China Daily | Updated: 2022-08-09 08:11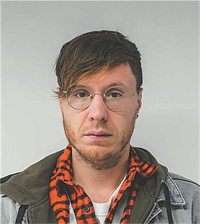 First and foremost, with this being a functioning monastery, it is home to around 30 monks who can be spotted throughout the temple in their blue and white robes with their long hair tied in a topknot. Watching them in their duties, cleaning the statues and preparing their offerings of fruit while going about their peaceful daily lives is an absorbing sight to behold.
Another standout experience is a bridge built just inside the entrance of the complex. Named Wofeng bridge, it was built in 1706. There is no water running beneath it, and instead there are two large brass coins hanging under both ends of the bridge. Each coin has a large hole in the center to which a small brass bell is fastened. The purpose of these bells is to hit them with small coins which are thrown from the right and left sides of the bridge. You can buy 50 of these coins for 10 yuan ($1.48). It is said that one will be blessed with great fortune if they can hit the bell, and if you do manage to hit the bell square on, which I did three times, you can enjoy the extremely satisfying sound that rings across the temple.
Finally, the complex is littered with statues and inscribed stele, and apparently there are three stone monkeys scattered across different places in the temple, and those who can find and touch each of them will live a long and happy life filled with luck, which is hopefully a groundless superstition as I wasn't able to find any of them.
It doesn't take long to take in everything the temple has to offer, and it is well worth the time. With its unique features and atmosphere, it is unlike any other temple I have visited in Beijing. White Cloud Temple doesn't feel like a tourist site, but an authentic snapshot of a fascinating culture and religion nestled quietly in the capital.