Cloth Peddler – a legendary Azerbaijani musical comedy film based on a world-known operetta by outstanding composer Uzeyir Hajibayli
AZERTAC | Updated: 2022-08-09 17:25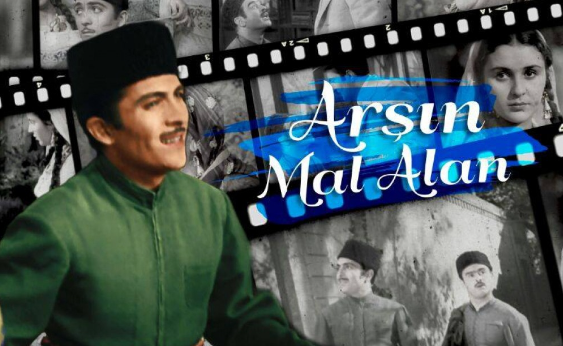 The history of Azerbaijani cinema dates back to the end of the 19th century, during which, many iconic movies have been filmed, which are still watched and admired by everyone.
These movies were filmed in many beautiful places: from the cozy and winding streets of the Icharishahar (Old City) - UNESCO World Heritage Site in Baku, to the picturesque orchards and forests of beautiful regions of Azerbaijan.
Here, on these streets, one of the most iconic and legendary Azerbaijani films, Arshin mal alan (The Cloth Peddler, 1945), directed by Rza Tahmasib, was filmed.
The Cloth Peddler/Arshin Mal Alan is a film adaptation of the comic and romantic operetta of the same name, which was composed by the founder of Azerbaijani opera and classical music Uzeyir Hajibayli and premiered in Azerbaijan in 1913, thus becoming the first operetta in the entire Muslim world.
Shot in 1945 and characterized by witty plot, amazing music, great singing and acting, the film quickly became a box office sensation.
It remains an important cultural touchstone across Eurasia and beyond having been distributed in 86 languages and shown in 136 countries.
The film is about pure love, women's rights, and a young couple's dreams for a modern way of life free of restricting customs.
The plot tells us about a rich young man named Asker. One day, he decides to get married. However, according to Eastern rules, he cannot see his wife's face before the wedding. But soon he finds a solution to this problem. On the advice of his friend Suleyman, Asker pretends himself as a street vendor of fabrics, an arshinmalchi.
By selling goods, these vendors can enter houses where the women and girls choosing their fabrics don't cover their faces. Now Asker can go into any yard and choose a bride. The film has a lot of entertaining moments, songs, humour.
The black-and-white version of this film has also been restored and can now be viewed in colour.
In 2013, the film was perfectly remastered and colorized in Hollywood, Los Angeles, at the initiative and with the support of the Heydar Aliyev Foundation of Azerbaijan.
However, this is not the only movie that was filmed in the Old City. For instance, Amphibian Man and The Diamond Arm are cult Soviet films in which you can see the streets well known to every Azerbaijani.