Job seekers and recruiters benefit from livestreaming
Share - WeChat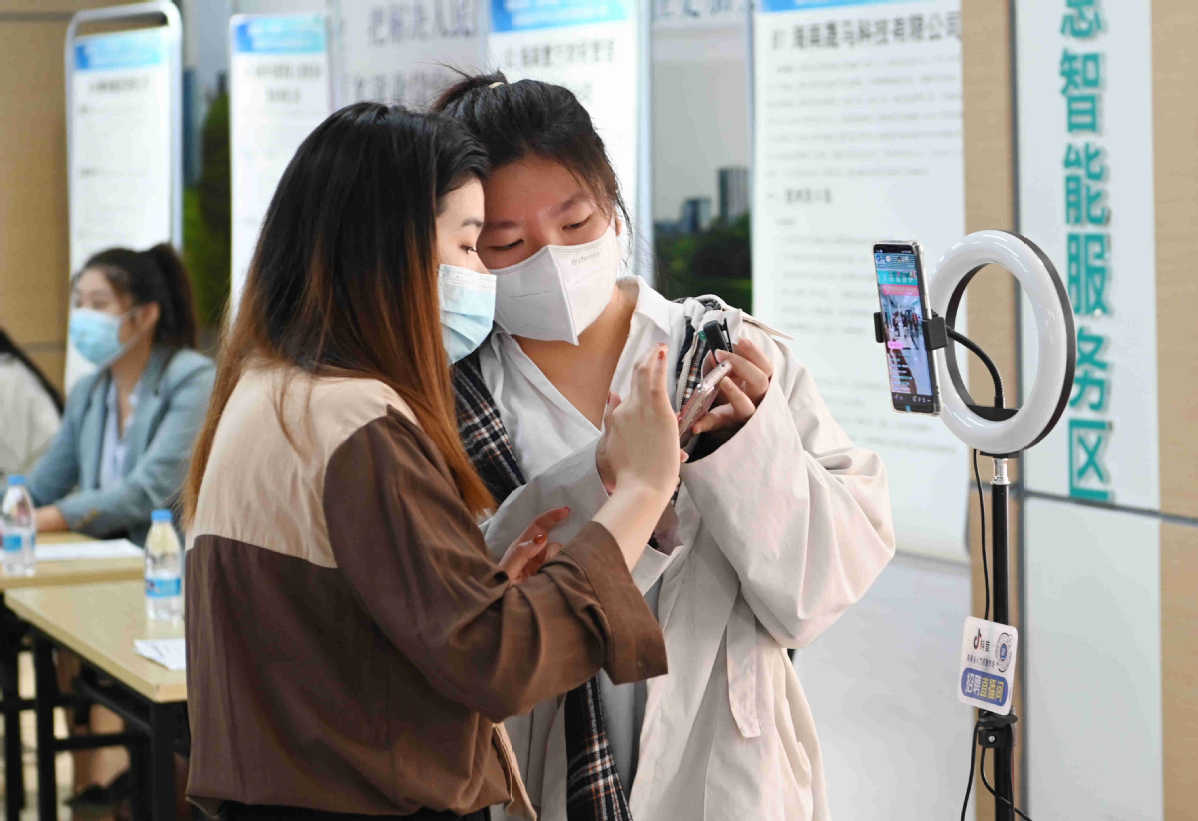 Policies introduced
Since last year, Zhaopin, an online recruitment platform, has opened 28,000 livestreaming rooms with the cooperation of more than 80,000 companies, receiving 1.25 million resumes from job seekers in the process.
In June, Zhaopin hosted six livestreaming sessions with human resources departments in cities such as Qingdao, Shandong province, Foshan, Guangdong province, and Xi'an, Shaanxi province, to introduce recruitment policies in different regions and promote working conditions at companies. These broadcasts received 210,000 views, and 7,000 resumes were submitted for 11,000 posts on offer.
In February, Zhou Hongrui, 33, landed a new job as technical worker at a dairy products factory in Beijing after a livestreaming event staged on Zhaopin.
He said he decided to apply after seeing the recruitment advertisement on the street. Zhou had been unemployed for two weeks after resigning as a digital accessories salesman. He said he felt much more pressure to find work as businesses were significantly affected by the pandemic.
"I have been a salesman since I graduated, but I always wanted to shift to another sector and learn something new. I majored in dairy products engineering at college, so this new job sounded ideal for me," he said.
Zhou said it took less time to find a new job than he initially thought. "After the livestream host introduced the company and the job, I submitted my resume and then arranged to have a video interview. The next day, after the human resources worker told me I had passed, I was invited to have an interview at the factory," he said.
He tried a number of ways to find a new job-mainly by submitting resumes and waiting for a response. However, livestreaming offered a new experience by providing detailed information and real-time interaction, he said.
Zhou, who earlier had five interviews at companies, added that he felt more relaxed being questioned online. He enjoys watching such broadcasts and short videos for entertainment, but it was the first time he had used livestreaming to find a job.
Li Qiang, executive vice-president of Zhaopin, said livestreaming provides a three-dimensional and immersive experience to familiarize job seekers with employers, who also promote their corporate image and culture.
The Q&A section and real-time communication during livestreaming sessions rapidly close the "information gap" and psychological distance between the two parties, he said.
However, most job seekers are young, and Li said he hoped more middle-aged people and seniors could take part in livestreaming sessions. The company said it would further help unemployed graduates and graduates from poor families.
The number of graduates in China has reached about 10.76 million. The urban unemployment rate for the first half of this year was 5.7 percent, but in June it stood at 19.3 percent for those in the 16 to 24 age bracket, according to the National Bureau of Statistics. The comparative figure for June 2019, before the pandemic emerged, was 11.9 percent.