Experienced host helps disadvantaged blue-collar workers find employment
By CHEN MEILING | CHINA DAILY | Updated: 2022-08-10 07:28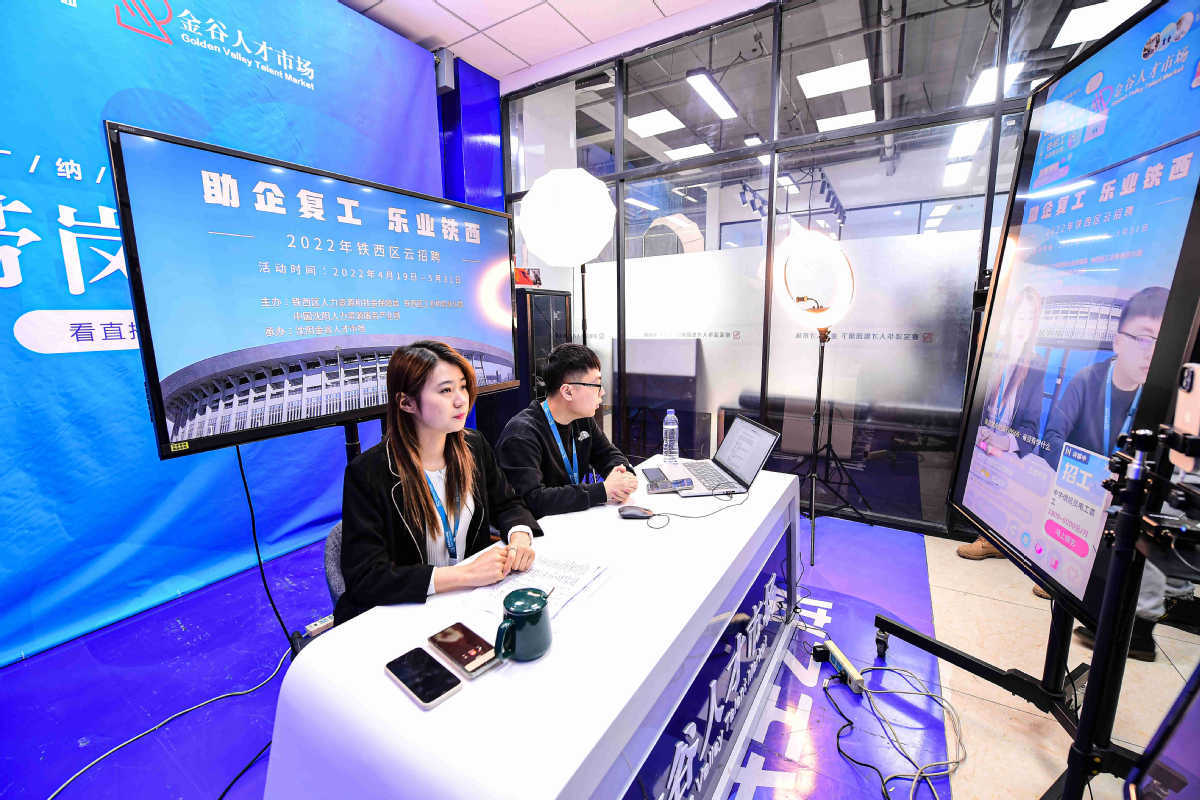 Yang Liangyun, 26, was cheated while looking for work. Born to a farming family in Tianshui, Gansu province, like many of the locals, he wanted to earn a living in an urban area.
In 2019, he contacted a labor service company in Jiangsu province, applying for a job as a loader. He said he wanted to make money, so he didn't mind if the work was extremely hard.
However, when he arrived, he found there were no vacancies for loaders. Instead, it was arranged for him to work at an electronics factory in Changzhou, Jiangsu. The factory management said it would sign a labor contract with Yang after he had worked for 20 days.
After this time, the wage stated on the contract was 17 yuan ($2.50) per hour, down from the 25 yuan promised by the labor agent. Yang called the agent, who refused to speak to him.
Yang resigned and immediately returned home. The following month, he received wages of 1,600 yuan for 28 days' work-much less than the 4,000 yuan that he estimated he was owed. The factory said he was not the only one who received lower pay than expected.
Yang said he no longer wanted to have any business with the labor agent, adding, "I cannot tell the good guys from the bad ones."
Blue-collar workers are often neglected in the labor market because of their poor educational background, age or physical disability. Experts said such employees lack access to the outside world, the ability to stand out among competition, and some don't even have a resume.
In March last year, Yang's interest was triggered by recruitment information released during a livestreaming session.
The host Liu Chao, who has 663,000 followers on the Kuaishou short-video platform, introduced jobs for netizens and answered questions. Liu said he has focused on recruiting blue-collar workers for two years, helping about 4,000 people find employment.
Yang said, "After being cheated before, I knew that anyone telling lies would not be able to provide so much detailed information and would not talk to netizens directly," adding that he trusts Liu because he is an experienced broadcaster.
Yang soon landed a job at an electronics factory, receiving a salary of 7,000 yuan in the first month. "I was satisfied. It meant that my efforts had paid off," he said.
Before Liu became a livestreaming host, he worked in the clothing business, which was affected by the COVID-19 pandemic.
He said he studies every employer he cooperates with, learning about the work they offer, the salary and the conditions. He returns calls to those who find a job with his help, asking them if they need further assistance.
Yang Quanfu, 39, who dropped out of primary school, is another to benefit from livestreaming. Until last year, he had never left his hometown in Heilongjiang province because he has a squint. Sometimes he did farmwork at home, part-time work at construction sites, or collected and sold refuse.
In 2018, after his parents became ill and their monthly medical costs reached about 1,000 yuan, Yang decided to find a full-time job.
After his elder sister told Yang's story to Liu, the livestreaming host, Yang soon found work at a photovoltaic factory in Changzhou, earning 6,000 yuan a month.
Zhang Chenggang, associate professor at Capital University of Economics and Business' School of Labor Economics in Beijing, told Beijing Youth Daily that livestreaming helps blue-collar workers reduce costs in looking for jobs, and to make the right employment choices. The broadcasts also help employers find and retain suitable workers.
"Livestreaming brings companies and job seekers together, contributing to employment," he added.