Photographer captures COVID moments
By HUANG ZHILING in Chengdu | CHINA DAILY | Updated: 2022-08-10 08:57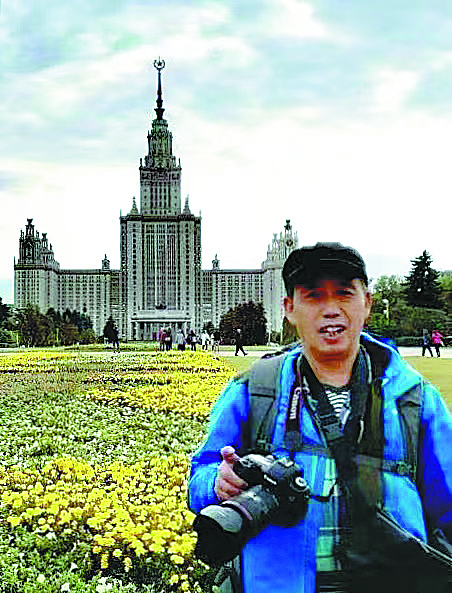 Yang Zhengnan, a 68-year-old resident of Meishan, Sichuan province, forgoes common activities in his hometown such as playing mahjong and hanging around in teahouses.
Instead, he prefers taking pictures. When the latest round of the COVID-19 epidemic broke out in Meishan last month, Yang was escaping the summer heat in Qiliping, a mountainous summer resort hit hard by the outbreak.
Rather than being confined to his apartment, he worked like a journalist. He took photos of medics conducting nucleic acid tests on people and the local farm produce market to show that there was an ample supply of meat and vegetables.
He was moved by the resilience of Peng Shaochun, a centenarian escaping the summer heat in Qiliping who did a nucleic acid test every day, and the patience of Wu Xiaofang and Luo Xiaofang, two nurses who worked together to test a 2-year-old girl.
"The girl was very short. They had to kneel down when they did the test," Yang said.
His photos of the centenarian and nurses were used by a leading domestic news portal and moved many who viewed them. But people who know Yang regard him as the professional photographer of the Ancestral Temple of the Three Sus.
The temple was the home of the three literary masters Su Xun (1009-66) and his two sons Su Shi (1037-1101) and Su Zhe (1039-1112). It later became a museum.
Yang lives in Xiaxi Street, which is separated from the museum by a drainage ditch. Since childhood, he has been a frequent visitor. A member of the China Photographers Association, he has been taking pictures at the museum for 25 years. His photos have been included in albums compiled by the museum.
In 2013, a magnitude 7.0 earthquake took place in Lushan, a county under the administration of Ya'an in Sichuan. The quake killed 176 people and injured 12,614.
The museum was badly damaged. Special funds totaling nearly 90 million yuan ($13 million) were allocated by the government to reconstruct the museum. After nearly three years of effort, the museum reopened in 2016.
Yang, who had owned a studio printing photos for customers, was hired as the museum's chief photographer to record its reconstruction with his camera. His photos were used in a museum photo album entitled Rebirth of the Ancient Temple. It won first prize in a competition with other Sichuan quake photo collections, Yang said.
Whenever friends from outside Meishan come, he volunteers to show them around the museum to see the ancient well the Sus used during the Song Dynasty (960-1279), artifacts on display and the route President Xi Jinping took during his trip to the museum on June 8.
In the east wing room, Xu Li, a guide who has worked in the museum for more than 40 years, talked about its construction history from the Song Dynasty to the present with Xi, who asked about the renovations made to the museum.