Yunnan makes China rose industry bloom
By ZHENG YIRAN in Beijing and LI YINGQING in Kunming | China Daily | Updated: 2022-08-10 10:16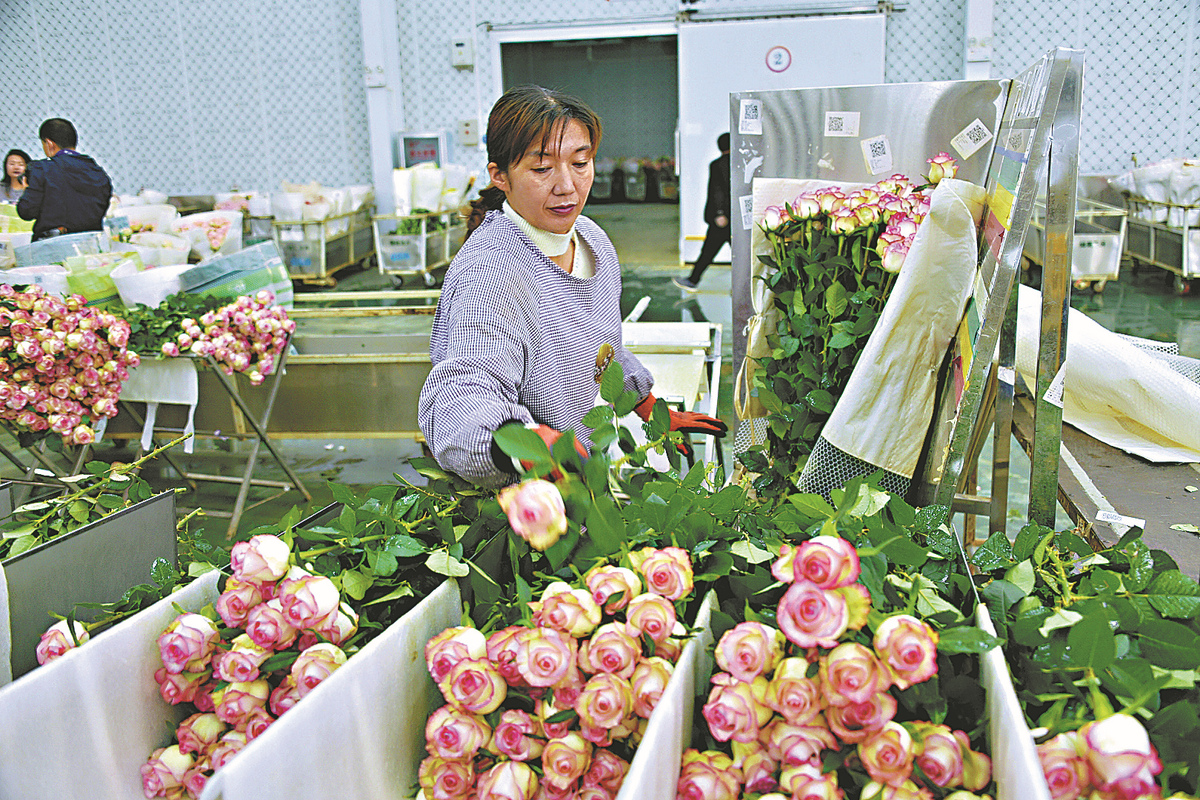 Years of efforts, technologies create robust production of proprietary varieties
Horticulturalists working on the development of proprietary varieties of the China rose-or Rosa Chinensis in Latin-in Yunnan province have overcome technical bottlenecks with the help of independent research and development, allowing new variations of the native plant to blossom around the country.
In the province's village of Qingshuihe in Jinning district, Kunming, nearly 20 university graduates have been working at a scientific innovation zone for years. Led by Li Shubin, a floral expert at the Yunnan Academy of Agricultural Sciences, they have been working on developing new varieties of the China rose.
Jinning, known as the hometown of the distinctive flowering bush, accounts for nearly half of the country's China rose production, Li said. However, in the past, most of the seeds of popular varieties of the plant were imported, and farmers had to pay patent fees. This not only was a burden to farmers but also hindered the development of the country's native rose industry.
"The solution to cultivating a self-developed China rose lies in scientific innovation," Li said.
In order to create an autonomous China rose industry, Li and his collaborators have traveled around the country since 2015, collecting more than 2,000 types of foreign and domestic China rose germplasm-the hereditary material of the plants. Of those, most were contemporary, but 60 were rare ancient types. Within seven years, they had established a China rose germplasm pool.
At this point, the scientists have integrated wild, ancient rose genes into newly cultivated varieties, creating new plants that have strong resistance to pests and low temperatures.
"Foreign breeding companies, which spend up to 5 million euros ($5.1 million) or so yearly on China rose development, produce about 10 new varieties a year. The average cost to develop each new type is between 300,000 and 500,000 euros, which is much higher than what it costs Chinese companies," Li said.
"Although the Chinese people are hardworking and our labor costs are relatively low, relying on our team's efforts alone to cultivate new varieties was not enough," Li said, explaining that the genetic diversity of the country's proprietary plants was not high previously, making it difficult to produce high-quality varieties.
"During those years, as long as we were making money, all profits were devoted to collecting wild germplasm and breeding new types of China rose. During the difficult times, I even sold my house in Kunming to keep the team operating," he added.
Li said their efforts paid off. Annually, he said, they produce some 200,000 crossbred China rose seeds, from which they screen out three to five varieties and apply for patents. More than 10 new varieties have been recognized by the National Forestry and Grassland Administration.
Sales revenue from the new varieties has reached nearly 10 million yuan ($1.48 million) annually.
Li Yunbin, a 58-year-old florist in Jingmen, Hubei province, has been working with Li Shubin for three years. He purchased patents to cultivate more than 10,000 China rose bushes that go at prices ranging from 9,000 to 26,000 yuan per bush. In 2020, sales revenue of his China roses surpassed 4 million yuan. In 2021, just the deposit he received for orders reached 8 million yuan.
Li Yunbin said bids for one of his rose bushes, which was especially large, reached 2 million yuan. "I did not sell it. For a florist, the key is to select the right product and the right technical support to avoid getting off track. Li Yunbin said his income has been "greatly enhanced "by the partnership.
Li Shubin is also working closely with other companies, mainly private floral enterprises in cities such as Beijing; Wuhan, Hubei province; Changsha, Hunan province; Lanzhou, Gansu province; and Chengdu, Sichuan province. Words of his group's achievements in R&D of China rose have spread around the country, and he also plans to promote their proprietary varieties abroad.
He said the team's own rose varieties are not only innovative and competitive, but the techniques they use are highly advanced. They design different, adaptable varieties for various climates.
"In addition, we developed environmentally friendly China roses that are resistant to diseases and blossom even at low temperatures. This reduces the use of pesticides and energy, and protects the environment. Many departments responsible for landscaping favor the environmentally friendly varieties," Li said.
Jinning has established 14 high-quality cultivation demonstration centers and 11 standardized flower processing centers. In the coming five years, it plans to increase its comprehensive output value, as well as flower farmers' incomes. The value of its China roses is expected to reach 10 billion yuan by 2027, with the total economic value, including the cost of such inputs as fertilizer and processing, forecast to hit 12 billion yuan by then.
Yuntianhua Flower Industrial Zone, a demonstration zone in Jinning, uses soilless hydroponic cultivation and environmentally friendly fertilizer, increasing yields and setting an example for the industry, officials said. Its total area of 96.7 hectares includes 68.7 hectares of sophisticated greenhouses, officials said.
According to Yuntianhua, every hectare of the greenhouse space requires an initial investment of 20,000 yuan to 23,450 yuan. As of mid-July, 10,000 flowers are produced for the market every day.
Yu Dongdong, deputy head of the technology department of Yuntianhua Modern Agriculture Development Co Ltd, said the business has benefited greatly from modern technology, such as the internet of things, which connects various parts of the operation, and systems that control and integrate water and fertilizer. This means plants are given the best possible environment, including the right light, temperatures, humidity and nutrition.
Using hydroponics, the output value per unit area of the rose cultivation facility is eight to 10 times that of traditional soil cultivation, while the cost is 4.3 times that of soil cultivation, so the input-output ratio is significantly improved, he added.
Other cities in Yunnan are also using technologies to develop the flower industry. At the Anning Contemporary Flower Industrial Zone in Anning, Yunnan, there are 44.4 hectares of production greenhouses on a total area of 68.5 hectares. The zone, representing a total investment of 154 million yuan, has 17.2 hectares of roses in cultivation, covering more than 10 varieties.
In May, 7.76 million roses were produced, worth 14.96 million yuan. For the whole year, output is expected to reach 40 million roses, worth a total of 60 million yuan.
Wang Zixi, deputy general manager of Northwode Flower Industry Co Ltd, a company inside the industrial zone, said that the application of high technology has fostered the development of the flower industry. Their rose cultivation greenhouse can automatically adjust temperature, light, water, humidity and air. The industrial zone is equipped with a constant temperature monitoring and closed-loop post-harvest processing workshop, with a daily capacity of up to 600,000 flowers.
"The workshop takes up nearly 6,000 square meters. Its area, function and equipment are all at the first-class level in the industry. Equipped with the world's most advanced water-fertilizer integrated control system, it possesses advanced functions such as intelligent fertilizer distribution and intelligent fertilization," she said.
The industrial zone, with facilities much less dependent on manual labor, has cut costs by 50 percent and produces zero carbon emissions or pollution, she added.
"Yunnan has been promoting scientific innovation in the flower industry for 40 years and the province has achieved a lot," said Ye Yu, deputy director of Kunming Academy of Agricultural Sciences, Institute of Gardening and Horticulture. "However, the sector still requires continuous efforts of generations of scientific and technological workers.
"With the advancement of technologies and integration of multidisciplinary and multifield development, agricultural innovation will become a powerful booster for rural revitalization," Ye said.