China, ROK vow to uphold industrial, supply chains' stability
By ZHAO JIA | chinadaily.com.cn | Updated: 2022-08-10 23:17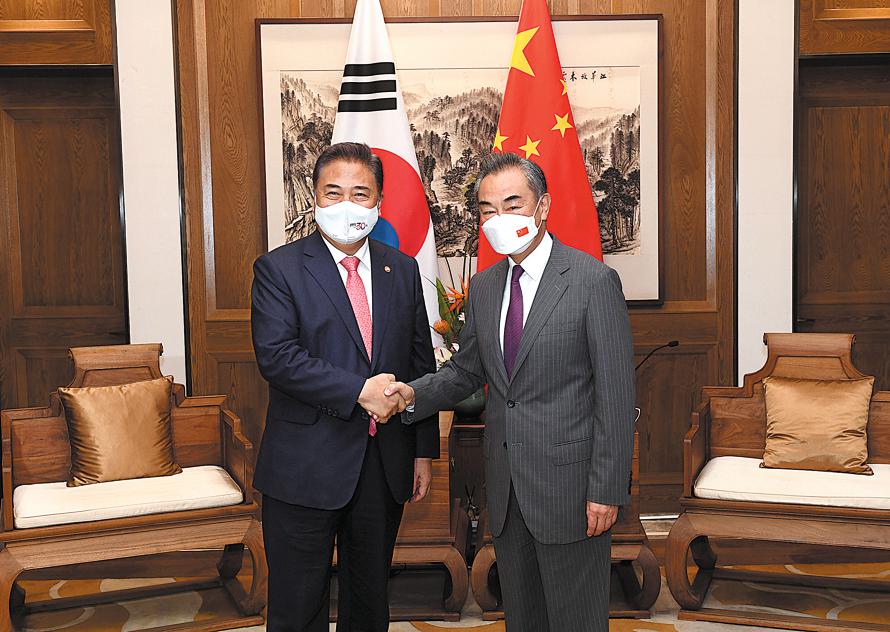 China and the Republic of Korea have agreed to develop dialogue on upholding the stability of industrial and supply chains amid rifts between Beijing and Washington over United States House Speaker Nancy Pelosi's visit to Taiwan.
During a meeting in Qingdao, Shandong province, on Tuesday, State Councilor and Foreign Minister Wang Yi and ROK Foreign Minister Park Jin also pledged that the two countries will strive to properly deal with the THAAD issue to ensure it does not hamper bilateral relations.
During their talks, the two foreign ministers had an in-depth exchange of their views about THAAD, the Terminal High Altitude Area Defense system, which is designed to shoot down ballistic missiles in the latter part of their trajectory.
China has expressed serious concerns about the US deployment of the advanced missile defense system in the ROK, as it will threaten the nation's strategic security interests.
They clearly expressed their positions on THAAD, and at the same time, shared the view that the two countries should attach importance to each other's security concerns and make efforts to prevent the issue from being an obstacle to the development of China-ROK relations, according to a Foreign Ministry statement.
Both sides agreed to step up the second phase of negotiations on the China-ROK free trade agreement, and expressed their commitment to dialogue on industrial and supply chains to ensure they are complete, safe, smooth, open and inclusive.
Wang criticized certain countries for their attempt to politicize the economy, use trade as a tool and standards as weapons, and try by every means to disrupt the stability of the industrial and supply chains.
He stressed that China and the ROK, as beneficiaries and builders of the global free trade system, should jointly resist acts that violate market rules.
On bilateral ties, Wang stressed the need to "maintain independence and self-reliance" without being affected by "external obstacles". He also called for upholding good-neighborliness and friendship, and accommodating each other on major concerns.
The two foreign ministers also exchanged views on the Korean Peninsula issue. Wang said that China will continue to play a positive role in the political settlement of the issue.
Park concluded on Wednesday his first trip to China since taking office in May. His meeting with Wang, which took place two weeks ahead of the 30th anniversary of diplomatic ties between the two countries, was widely viewed as vital in setting the tone for bilateral ties under the new ROK government.
"The meeting is of crucial significance as it sets the tone and provides guidance for Beijing-Seoul relations," said Wang Junsheng, a researcher of East Asian studies at the Chinese Academy of Social Sciences.
"The new ROK government has showed rationality on issues concerning China's major interests, although bilateral relations are still in a period of adjustment."
The meeting came as Washington issued an ultimatum to Seoul requiring it to decide before Aug 31 on whether it will join Chip 4, an alliance that would involve Japan, the ROK and China's Taiwan region proposed by the US in March to realize a closed loop of chip production and exclude the Chinese mainland.
"The ROK should uphold strategic independence, bear in mind its long-term interests and not join US-led anti-China blocs," Wang said.
China is the ROK's largest trading partner. Two-way trade increased by 26.9 percent year-on-year in 2021, and 60 percent of the ROK's chip exports were to China.
Wang Xingyu, an associate professor at the School of International Relations at Renmin University of China, said that the two countries, amid a complicated and volatile regional security situation, share broad interests on various issues, such as the Korean Peninsula nuclear issue and peace and stability across the Taiwan Straits.
"The two countries should manage differences through full coordination and communication in order to prevent them from becoming stumbling blocks affecting bilateral relations," Wang said.