Early state tales revealed from 5,000-year-old site
By Zhao Ruixue | China Daily | Updated: 2022-08-11 07:55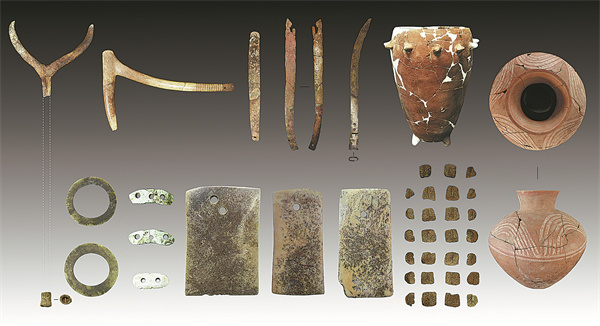 Around 240 kilometers from the Jiaojia excavation site in Jinan, capital of Shandong province, archaeologists have unearthed yet another 5,000-year-old portal to the past at Chengang village in Tengzhou city, in the southern part of the province.
Situated on the banks of Kuohe River, the Gangshang site sprawls over 800,000 square meters and approximately half of the area comprises the ruins of a city, according to Shandong Provincial Institute of Cultural Relics and Archaeology.
By January, excavations had been conducted over 1,100 sq m, leading to rammed earth walls and trenches, 31 tombs, seven houses and other traces of human activities. These provide solid study materials on the origin of the early states, says Zhu Chao, an associate researcher at the institute and team leader of the Gangshang excavation.
"Our excavations and studies show that the civilization, which represents the middle and late phases of Dawenkou Culture, is right at the critical juncture of time when states started to form," Zhu says. "The tombs have social grading, which indicates that our ancestors viewed their afterlife as equally important," he adds.