Promoting ethnic harmony, culture reaps rewards
By ALEXIS HOOI in Tacheng, Xinjiang | China Daily Global | Updated: 2022-08-11 09:14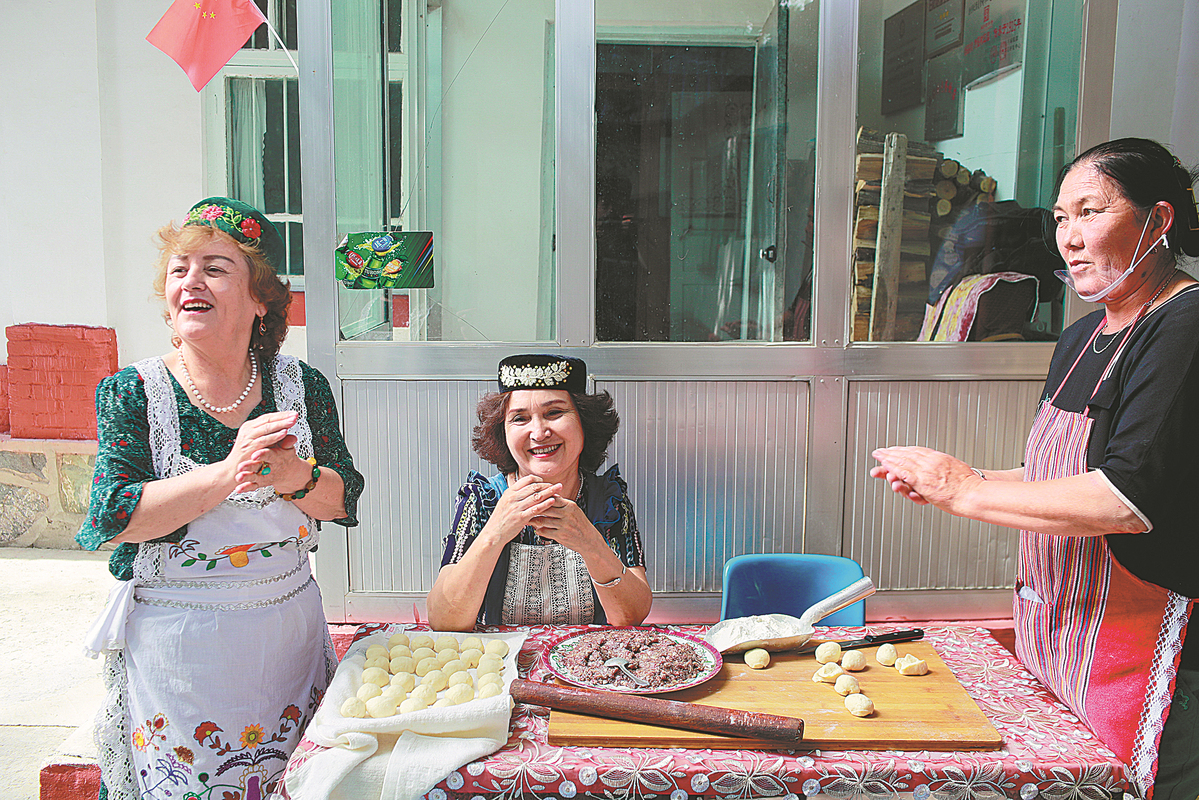 Artisan Roza Erbolat deftly guided a needle through a multicolored tapestry, adding another rich layer to her latest work.
Sitting in her studio filled with other meticulously handcrafted items, like sheep's wool sachets and dolls, the 38-year-old ethnic Kazak woman said her creations, popular among tourists and visitors, are expressions of her home and heritage.
"I also teach other people how to make these. It helps to share our traditions and customs," she said.
The efforts of the resident of Aktiketche, a village in Yumin county in Northwest China's Xinjiang Uygur autonomous region, reflect the latest achievements in preserving and promoting ethnic culture amid measures to vitalize the local economy through pillar sectors like tourism.
There are more than 200 Kazak households in the village, where herding, spread over 16,000 hectares, has traditionally formed a major part of their lifestyle.
Local tourism stakeholders in the village are reporting brisk business, thanks to the village's close proximity to China National Highway 219, a main artery for the Tacheng area and its scenic spots, which are surrounded by snowcapped mountains and pristine prairies. Tacheng received a record 6.9 million tourist visits in the first half of this year, according to local authorities.
Ma Guilian, who manages a team of five in her restaurant, said, "I came here and started this restaurant in May amid the rising number of tourists here.
"We get good orders, up to 10,000 yuan ($1,480) a day, for our specialties like the mutton and chicken dishes," she added.
Ma, 52, a member of the Hui ethnic group, also works with her neighbors from a range of ethnic groups in the catering business, with their partnerships highlighting the social harmony among the ethnically diverse community, which also includes members of the Han, Uygur and Mongolian ethnic groups.
In the nearby village of Qianjin, wheat farmer Wu Ming, 36, used to bring in about 68,000 yuan a year from his 4-hectare plot.
Earlier this year, by tapping into local government incentives and support, he set up tourist lodging with four rooms, complete with a courtyard for barbecues and a garden for growing organic produce. Income for his three-member household has since increased by at least 6,000 yuan a month during peak travel season, he said.
"We receive hygiene, services and other industry training, which also helps to improve the village overall. Together, our lives are getting better and better," Wu said.
The village's offerings include street-side cartoon props and other attractions so tourists can mimic internet celebrity photo shoots against the bucolic backdrop. Stakeholders like Wu said these have become major draws among netizens.
At an event in July to mark the importance of telling about the improvements in Xinjiang through residents' own voices and experiences, He Zhongyou, deputy secretary of the Xinjiang Uygur Autonomous Regional Committee of the Communist Party of China, pointed to the stable development of ethnic groups in the digital age.
Regional authorities, who are set to tap the pent-up demand for tourism as COVID-19 restrictions are eased, have geared up infrastructure and related investment in the sector, including a new airport, which opened in June, and new highways and rail lines.
There are also more than 380 star-rated hotels and over 5,600 homestays across the region, according to industry figures.
The number of visitors to Xinjiang surged in July, with the regional tourism bureau registering more than 110,000 daily visits to its top attractions, compared with about 57,300 per day in June and 19,000 a day in May.
Tour operators also reported a boom, with online flight reservations during the summer to hubs like Urumqi, the region's capital, doubling year-on-year.
In Tacheng, Zaitunna Karmuwa, a member of the Tatar ethnic group, draws crowds of tourists to her bakery through livestreaming, online travel posts and word-of-mouth, helping her reap about 1.2 million yuan a year by selling traditional food and other specialties. She also invites travelers to her Oak Tree Manor family courtyard home to take part in Tatar-related celebrations and other activities.
Zaitunna, 57, has won numerous accolades, including being designated as a national-level intangible cultural heritage inheritor, for her work in helping to preserve and promote her group's traditions and customs.
The Tatars, with a population of less than 5,000 nationwide, most of whom live in Xinjiang, are among the smallest in number of the country's 56 ethnic groups.
"We're really happy to be able to continue practicing our culture," said Zaitunna, whose family history in the area can be traced back more than a century.
"I get to keep our cultural legacy alive and help it thrive by teaching visitors from home and beyond how to bake our bread, confectionaries and other delicacies," she said.
"They learn more about us here-how we are living together in harmony and sharing the fruits of progress."