Exports of Chinese-made vehicles on rise
By LI FUSHENG | CHINA DAILY | Updated: 2022-08-11 09:37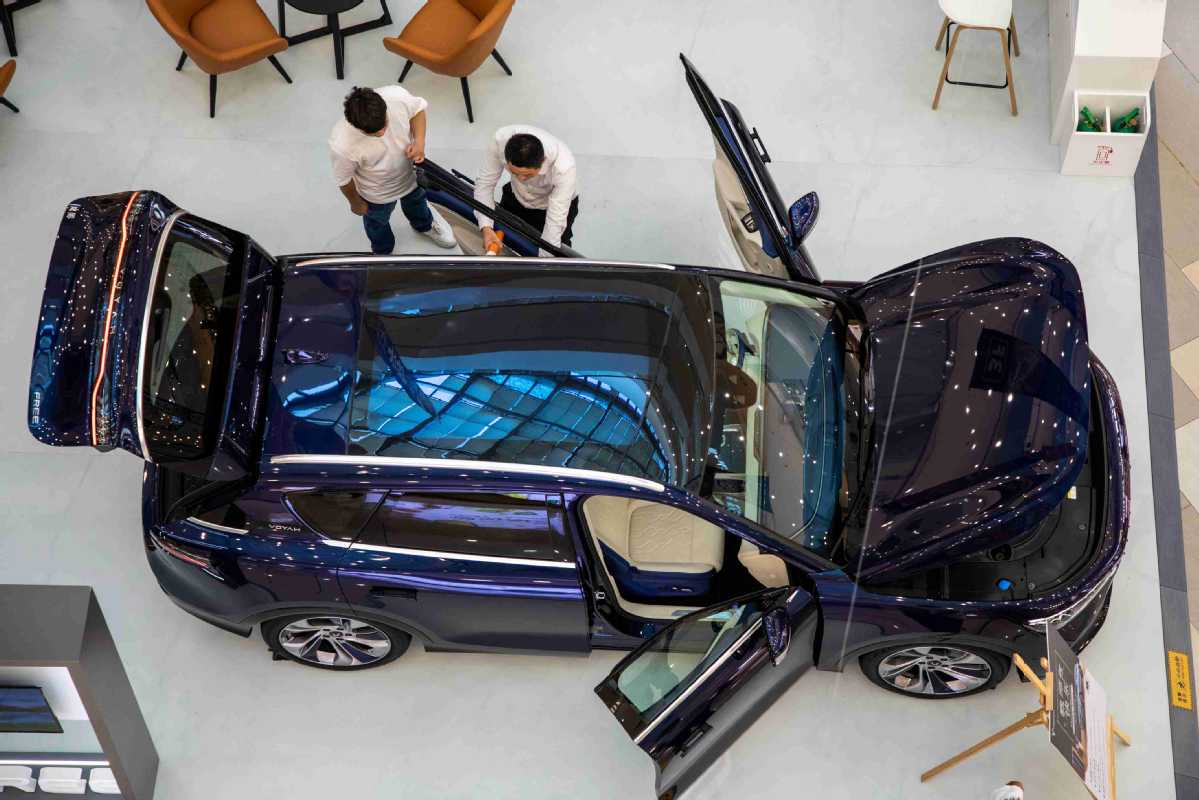 Resilient supply chain, prowess in new energy technology credited
Vehicle exports from China are picking up speed, which analysts and automobile manufacturing executives said is the result of the country's resilient supply chain and its head start in making new energy vehicles.
Auto manufacturers in the world's largest car-producing country shipped 1.22 million vehicles overseas from January to June, up 47.1 percent year-on-year, according to the China Association of Automobile Manufacturers.
Made-in-China vehicles saw their popularity begin to soar in 2021.Exports totaled 2.01 million vehicles in 2021, more than double the figure of the year prior, CAAM officials said.
This put China in third place among exporters that year, following Japan, which shipped 3.82 million vehicles overseas, and Germany, with 2.30 million units.
Cui Dongshu, secretary-general of the China Passenger Car Association, said the increase in exports is partly because of the resilience of China's supply chain and the country's measures taken to address the COVID-19 pandemic.
Those factors have made vehicle production and sales less affected in China than in other major car-producing countries, Cui said.
In the first half, new car registrations in the European Union contracted by nearly 14 percent, according to the European Automobile Manufacturers' Association. The EU had the worst June since 1996, with less than 900,000 vehicles sold during the month.
Sales in June dropped in all four major European markets: Germany, Italy, France and Spain. In Germany alone, sales fell by 18.1 percent.
The European association said supply problems had been chiefly responsible for the sales decline.
China's vehicle makers, however, saw their June sales soar 23.8 percent year-on-year, two months after COVID-19 caused what the industry dubbed "the worst April in a decade".
They produced 12.11 million vehicles in the first half, down just 3.7 percent year-on-year, despite suspension of production in March and April in Changchun, Jilin province, and in Shanghai, two major car-producing cities, due to pandemic containment and control measures.
After a hiatus of four weeks, Tesla's Shanghai plant started to resume production in late April, with help from local authorities.
In May, the plant produced 33,544 vehicles, up 212 percent from April. Sales reached 32,165 units, of which 22,340 were exported. In April, Tesla sold only 1,512 units, and none were exported.
In early June, its plant reached 100 percent capacity. The rapid recovery shows the "resilience of Chinese manufacturing", Tesla officials said. Over 90 percent of the components in its Shanghai-made vehicles are made in China, the company said.
In the first half, Tesla exported 97,182 Shanghai-made vehicles, more than double the figure of the same period last year. The carmaker said export destinations included Europe, Australia, Japan and Singapore.
SAIC Motor, also based in Shanghai, exported 381,000 vehicles in the first half, up 47.7 percent year-on-year. The carmaker, a partner of Germany's Volkswagen and United States-based General Motors, said its overseas sales this year will reach 800,000 units.
"This year, Europe will become our first overseas market where our annual sales reach 100,000 units," SAIC said.
Deliveries of its MG brand alone exceeded 45,000 units in Europe from January to June. MG vehicles' accumulated overseas sales have totaled 1 million units since they were first exported from China in 2007.
NEVs are a highlight of China's vehicle exports. In the first half, their overseas sales totaled 202,000 units, up 130 percent year-on-year, according to the CAAM.
In July, ships loaded with around 1,000 units of the MG4 EV hatchbacks, also called the Mulan-the EV that has been developed "with global markets in mind"-left China for European countries including Germany, France, the United Kingdom and Italy, SAIC said.
The model is the product of its British and Chinese teams working to produce a vehicle for customers in China and abroad, said MG CEO Zhang Liang.
Zhang said the model was developed in accordance with the European New Car Assessment Program, one of the strictest of its kind in the world.
The MG4 EV will hit the European market in the fourth quarter. In 2023, SAIC will export the model to Australia, New Zealand, Mexico and other countries. The carmaker expects the model's sales to reach 150,000 units in the same year.
"Globally, we hope it will become as popular as Volkswagen's Golf, a model that sells well around the world," Zhang said.
Another highlight of SAIC exports is its Maxus brand, whose electric vans are popular in Europe, the Americas and the Middle East, as well as in Australia and New Zealand.
Many of its big customers are delivery firms, including the UK's Royal Mail, Irish National Post, Germany-based DHL and US-based FedEx.