Pelosi's visit once again proves US a threat to global peace
By Yoro Diallo | chinadaily.com.cn | Updated: 2022-08-11 11:05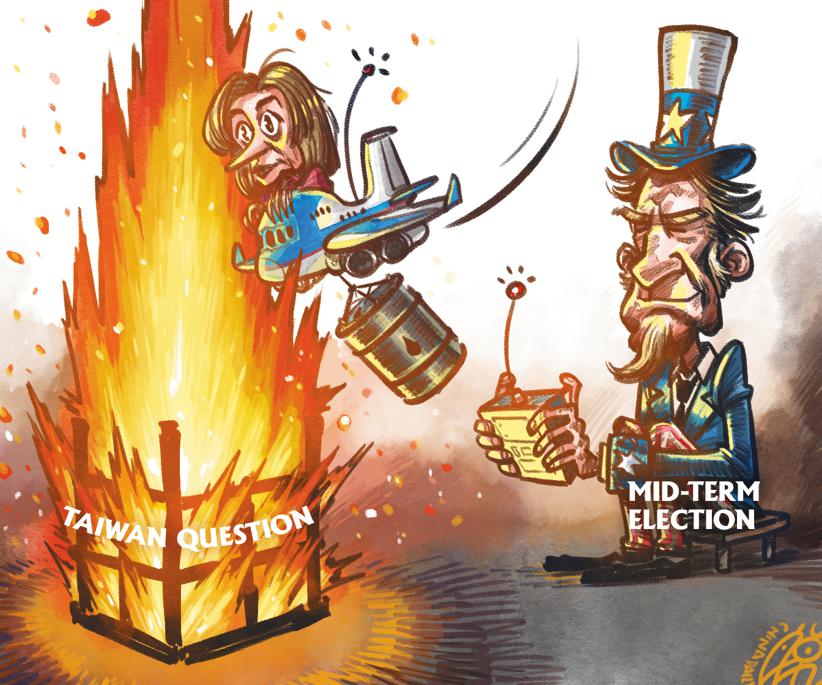 The annals of the international relations will remember that the US House Speaker Nancy Pelosi's visit to Taiwan was a real useless provocation of China and was harmful to peace in the Asia-Pacific sub-region.
Looking in the rearview mirror of history, it is clear that for years the condescending, surly, provocative and warlike attitudes of the US have finished convincing the wisest that this country is a danger for peace in the world.
In 2011, since the United States, under the presidency of Barack Obama, launched the program called the "Asian pivot", security in the Asia-Pacific region remains seriously threatened. Provocations in the form of military exercises between the United States and certain countries of the sub-region, the Quadrilateral Security Dialogue (Quad), the support of American agencies for certain pro-independence groups in China's Taiwan region and Hong Kong Special Administrative Region, constitute, among other things, acts of interference and threats to which China has always responded with firmness, determination and wisdom.
The diplomacy practiced by the United States with regard to the China's Taiwan region is diplomacy of "strategic ambiguity". It consists of claiming that the US recognizes only one China while providing significant support to the secessionist local authorities of Taiwan.
The world noted that: There is only one China in the world and Taiwan is an inseparable part of China. This is explicitly enshrined in the United Nations General Assembly Resolution 2758 in 1971. Since the founding of the People's Republic of China in 1949, 181 countries have established diplomatic relations with China on the basis of the one-China principle.
The one-China principle is a universal consensus of the international community and a fundamental norm governing international relations. Many international observers have condemned Nancy Pelosi's approach. The West, especially the US, must stop their attitudes of arrogance and hegemony. They must stop acting as policemen of the world, as professors giving lessons. They must stop believing that western culture is the only one that works for all of humanity. Then humanity will live in peace and shared development.
Yoro Diallo is a senior researcher and the executive director of the Center for Francophone Studies and director of the African Museum, Institute of African Studies, Zhejiang Normal University.
The opinions expressed here are those of the writer and do not necessarily represent the views of China Daily and China Daily website.
If you have a specific expertise, or would like to share your thought about our stories, then send us your writings at opinion@chinadaily.com.cn, and comment@chinadaily.com.cn