EssilorLuxottica has Chinese market in clear view
By ZHENG YIRAN | China Daily | Updated: 2022-08-12 09:15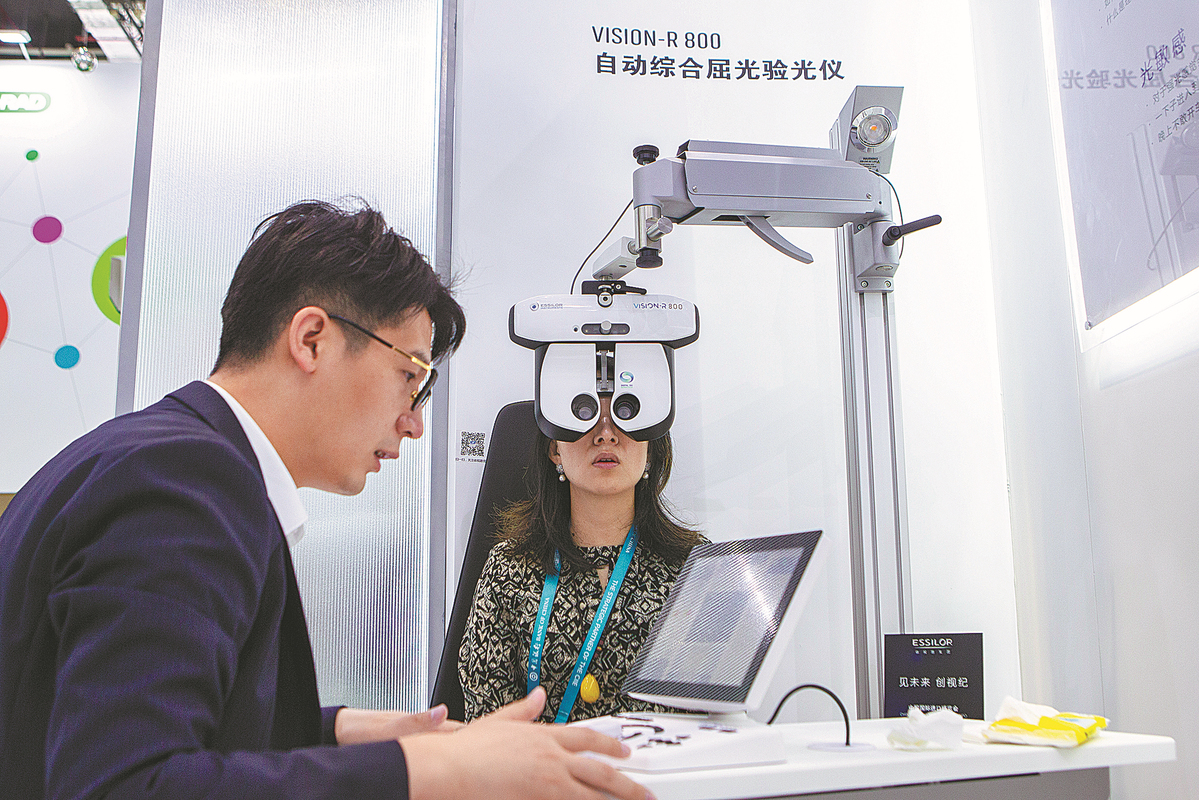 Global eye care and eyewear leader EssilorLuxottica said that with consumption upgrading and the rise in people's living standards, it is confident about the Chinese market and will keep on infusing investment into the country to better address vision care needs.
The remarks came after the global company opened its first vision experience center in China at Beijing Jinyuan Yansha Mall, aiming to meet the increasing need for professional vision health services and the personal styles of Chinese consumers, and setting a new industry benchmark for vision care and consumer experience.
"This is part of the group's long-term development strategy, in line with the long-standing commitment of the teams to serve Chinese consumers," said Giuseppe De Biasi, general manager of retail businesses, Luxottica Greater China.
In 2017, global glasses retailer Luxottica and the world's largest lens manufacturer Essilor reached a merger agreement and founded EssilorLuxottica the following year.
"I see the market is growing. It is growing not necessarily in quantity but in quality. Chinese consumers' ophthalmic demands are more accurate and refined. They care about the quality of the lenses and this is something that is very much aligned with our strategy," De Biasi said.
China has a large population base and people of different age groups have different potential vision problems, generating increasing demand for functional lenses. The latest data from the World Health Organization showed that 28 percent of the world's population suffered from vision problems, while the ratio for China was as high as 49 percent.
According to a recent report from industry research company ChinaIRN.com, between 2017 and 2020, China's eyeglasses market surged from 78.37 billion yuan ($11.63 billion) to 91.46 billion yuan, with a compound annual growth rate of 5.28 percent.
With the rise in per capita eyeglasses expenses, the country's eyeglasses market will maintain rapid growth. It is estimated that by the end of this year, the market will reach 97.49 billion yuan, said the report.
The constant refinement of the industrial chain is another reason for the rigid growth of the sector. Apart from lenses and frames, subcategories such as lens and frame materials, manufacturing processes and frame design are continuously divided and refined, making the entire glasses industry more complete and orderly.
Data from corporate information provider Tianyancha showed that in 2022, there were roughly 1.2 million eyeglasses-related enterprises in China. As eyeglasses are a product that combines ophthalmology and experiential consumption, before purchasing, consumers have strong experiential needs.
Therefore, currently, the sales terminal of the sector was mainly offline retail channels.
"This is why we founded the vision experience center-Essilor Vision Center-in Beijing, where optometrists offer customers a comprehensive eye examination, covering problems including myopia, presbyopia, photesthesia, amblyopia and asthenopia, helping them know their eyes better," said Kok Leong Lim, head of professional solutions, EssilorLuxottica Greater China.
"We think there should be a race between hospitals and optical stores, improving consumers' eye care experiences," he added.
Chen Jia, an independent researcher in international strategy, said: "With China's consumption upgrades and deepening of healthcare education for all, people are having increased awareness of the scientific use of their eyes.
Furthermore, the broad use of mobile internet terminals and the fact that new screen materials cannot solve problems such as low-light strobes that generate surging optometry demands."
"On the supply side, 3A-grade hospitals' traditional consultation models don't match the fast pace of modern society and people's life radius, and the community healthcare network cannot fill the demand gap, offering business opportunities for the high-end experiential ophthalmic consumption sector," he said.
"With a large consumption base, surging ophthalmic demands and relatively complete supply chain networks, foreign vision companies enjoy vast opportunities for long-term development in the country," Chen added.
"The government's 14th Five-Year Plan (2021-25) calls for establishing a standardized eye care system in the country, which offered us more development space," Lim said.
With the Essilor Vision Center in Beijing opened, in the next step, the company plans to build a future benchmark for the eye care industry in the retail environment.
"The government activities and our strategy are working in parallel. We will find the perfect formula for faster investment and expansion," De Biasi said.
He Jingwei and Zhu Xuehan contributed to this story.