Global promotional campaign launches at the Liangma River
Chinaculture.org | Updated: 2022-08-12 11:03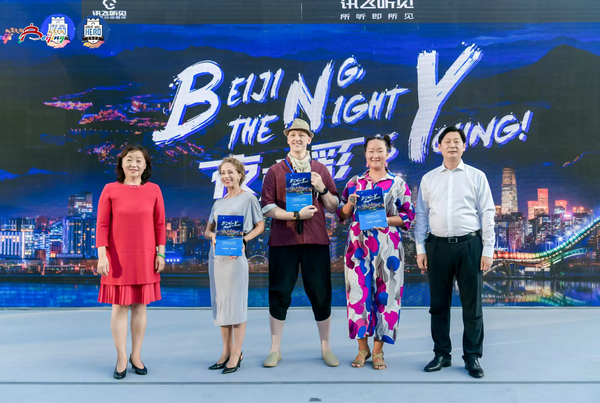 At the event, Beijing Municipal Culture and Tourism Bureau released five new "night economy" themed cultural tourism routes through different regions of Beijing, namely Beijing on Stage, Beijing Through Culture, Beijing for Families, Beijing in Fashion, and Beijing in Motion. The "Beijing, the Night is Young" cultural tourism routes focus on nightlife must-sees in Beijing and showcase Beijing's rich nighttime cultural tourism from the perspectives of food, accommodation, travel, tourism, shopping, and entertainment. The routes take in some of the most representative nighttime culture and tourism consumption zones in the city, including the National Centre for the Performing Arts, Liangma River, Bloomage Live at Wukesong, Sanlitun, and Qianmen Street, showing off Beijing's "nighttime charm."
Foreign experts who have lived and worked in Beijing for a long time were invited to the event to experience the five routes and share the extraordinary fun of Beijing nightlife. Among the invitees were five "Great Wall Heroes," including professional performers, artists, fashionistas, top chefs, and star sports coaches. As long-term Beijingers, they conveyed their love for Beijing by showcasing the fun journeys they took through the five different routes.
After the video launch session, the guests took a night cruise on the Liangma River. The Liangma River night cruise route was officially opened in July 2021. The total length of the cruise is 1.8 kilometers, starting from Yansha Wharf and ending at Solana Wharf and passing through a number of important landmarks. The tour was live streamed on the Visit Beijing Facebook page, allowing overseas fans to experience "Beijing, the Night is Young." The live stream was viewed 100,000 views in total.
The "Great Wall Hero 2022—Beijing, the Night is Young" global promotional campaign digs deep into the significance of Beijing as an ancient capital and a modern center with a unique local flavor, striving to promote the integrated development of cultural tourism and commerce, technology, sports and more to increase the number of culture and tourism products in the market. The supply of high-quality cultural and tourism resources will continuously enhance Beijing's consumption vitality, restore the vitality of the cultural tourism industry market, and help the construction of Beijing as an international consumption center.