How a hockey coach dribbled past hurdles and scooped a dream goal
Xinhua | Updated: 2022-08-13 11:06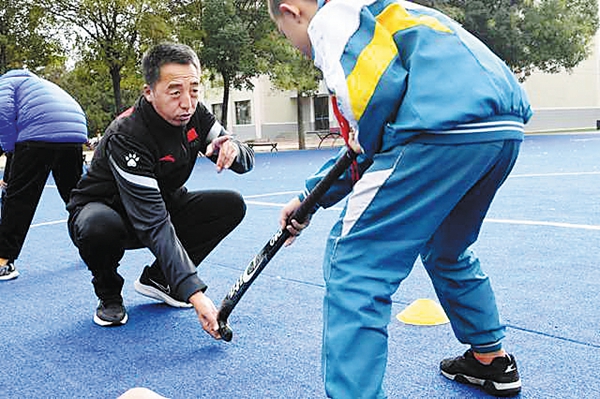 Sun noticed that his players not only performed better academically, but they also exuded confidence at various sporting events. The team trained in several places during summer and winter vacations, and competed against others from across the country.
"Vacation training improves technical and tactical skills, and broadens horizons,"Sun explains.
Hockey has become popular in Jingyuan, and more parents now want their children to play. Gao Xiang, headmaster of the Sports School of Jingyuan County, says the campus team has more than 150 players. "The school has sent over 200 to different colleges and more than 20 players have joined national youth hockey teams," Gao adds.
Yang Faxiang joined Sun's first batch of players in 2008. He has represented China at two international competitions since. The 25-year-old finished fourth as a member of the Gansu hockey team at the 14th National Games last year. "Hockey has changed my life and I love it," Yang says.
To promote the sport further, the county school has been sending its hockey coaches to train members of students' clubs and conduct after-class sessions at primary and middle schools.
Twenty schools were registered under the Chinese Hockey Association last year, of which 10 are in western China. The Sports School of Jingyuan County is an accredited National Olympic Reserve Base for hockey talent.
"There are more young hockey players in the province," says Wang Xiangchen, director of Gansu Sports Bureau, adding that the game offers great hope to children of primary and middle schools.