Look to recent past for future GDP fixes
By Li Xunlei | China Daily | Updated: 2022-08-15 09:04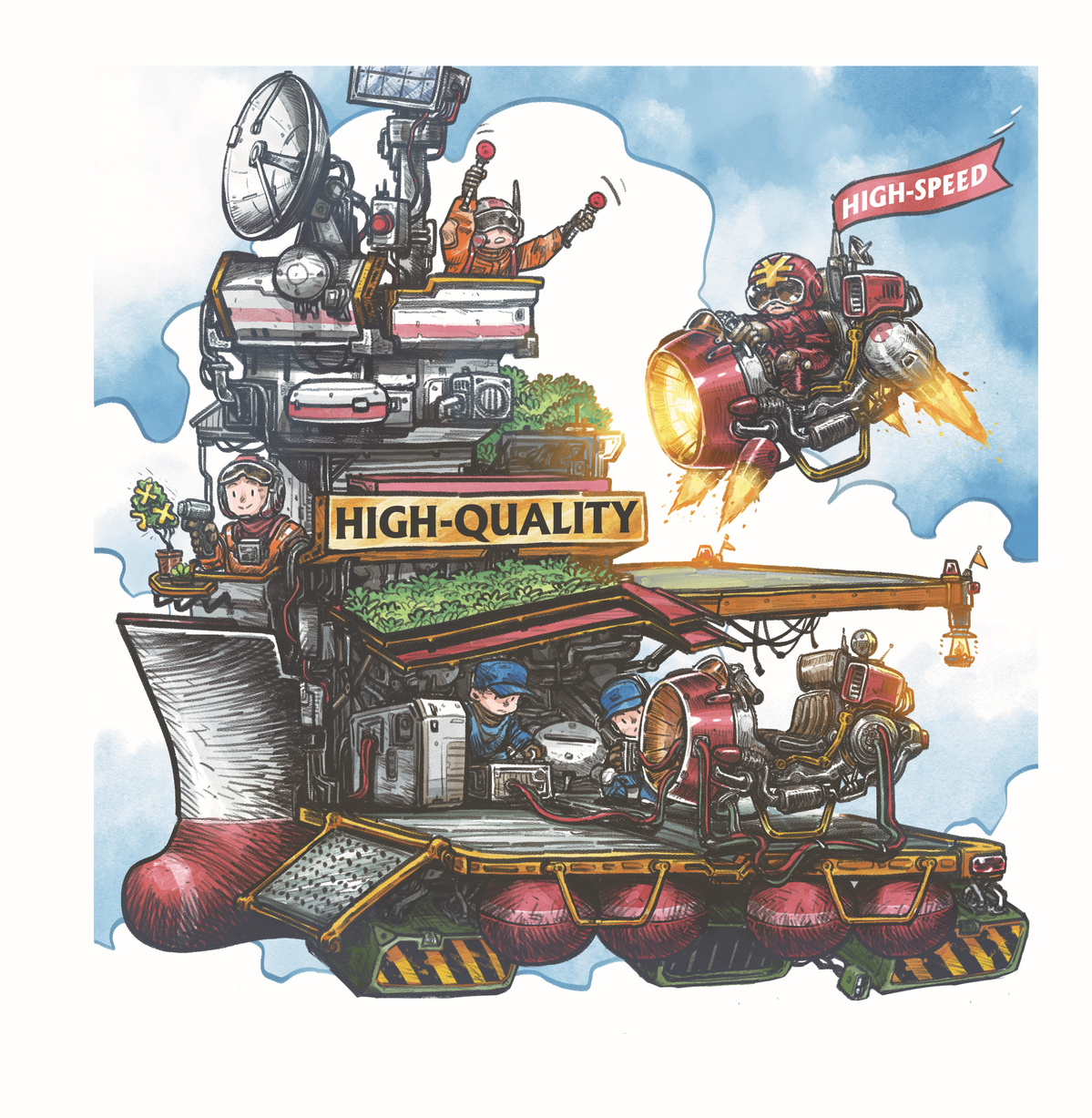 China reported a first-half GDP growth of 2.5 percent, and a second-quarter growth of only 0.4 percent, which will likely be the lowest three-month performance this year. Though starting in June there have been signs of a recovery, indicating that growth in the second half may pick up significantly, it's better that we again review first-half performance and dig out key structural factors behind those unexpected woes such as the Russia-Ukraine conflict and COVID-19 resurgences nationwide.
Structural issues revealed in H1
Given that the Russia-Ukraine conflict broke out at the end of February, and COVID-19 regional outbreaks in China did not spread on a large scale in the first quarter, China didn't see much impact from them on the economy during the period, with first-quarter GDP growing 4.8 percent year-on-year. Although the growth rate was 0.8 percentage point higher than that of the fourth quarter, excluding the base effect, the growth rate in the first quarter was actually lower.
Also, first-quarter GDP increased 1.3 percent quarterly, slower than that of the fourth quarter, reflecting the pressure of long-term sluggishness weighing on China's economy outside of the Russia-Ukraine conflict and COVID-19 upticks. And with the COVID-19 impact in March, the situation worsened for China's economic development and production data.
To tackle challenges brought by both long-term pressure and short-term setbacks, China has used countercyclical policy to stabilize growth, which is clearly reflected by infrastructure investment and actually has begun to take effect. Seen from macro data in the first half, there has been a significant rebound in infrastructure investment growth. However, the growth of manufacturing investment has fallen from a high level, and real estate investment has continued a downtrend, with a slump of 5.4 percent during the period. In terms of fixed asset investment, State-controlled enterprises saw their investments increase some 9.2 percent, but the private sector only rose 3.5 percent, which is a natural outcome as private investment is pro-cyclical.
Infrastructure investment grew 7.1 percent in the first six months, but can it maintain its momentum? It should be noted that there have been cases in past years when the growth rate of infrastructure investment kept declining near the end of the year after soaring since the beginning of the year, such as in the years of 2011, 2015, 2017 and 2018.
To reason for this phenomenon requires knowledge about where money comes from. This year, both the willingness and intensity of stabilizing infrastructure growth have been stronger, but the bottom line of policy measures has not changed. Local governments can only "do their best" within the constraints of the existing system and financial resources. Moreover, participation of private capital in infrastructure investment is declining due to lower returns on investment.
In the first half, the increase in household deposits reached 10.3 trillion yuan ($1.53 trillion), up 2.9 trillion yuan year-on-year, indicating that household demand for hedging risks has increased and their willingness to invest has declined. Such a reaction has partly affected total retail sales of consumer goods, which fell by 0.7 percent during the period.
Therefore, apart from efforts to contain the COVID-19 pandemic to ensure orderly development, we should give due focus to non-COVID-19 factors weighing on the economy, and pay attention to structural problems, such as employment, consumption and real estate risks.
Key variables in H2
First is infrastructure investment. Also severely hit by COVID-19, 2020 saw investment play a vital role in shoring up the economy, followed by exports. And among fixed asset investment that year, the growth rate of real estate investment was 7 percent, which is in sharp contrast to the 5.4 percent decline in the first half of the year.
Investment in real estate is mainly derived from the private sector, and its proportion in fixed asset investment usually exceeds that of infrastructure investment. Therefore, to stabilize investment this year, it is necessary to increase the proportion of government and State-owned enterprises' investment in infrastructure.
However, the proportion of fixed asset investment in GDP began to decline after reaching 80 percent in 2016, and that of infrastructure investment began to do so after 2017, indicating a weaker driving force from the sector. Considering that there are also restraining factors for State capital to invest in infrastructure projects, the pull of the sector on the economy in the second half may not be strong. This is also why the country is making its moves to shift development focus toward cultivating more high-quality drivers.
As a matter of fact, the increased distortion of economic structure and fragmentation issues in the global economic system are common problems faced by nations worldwide, including China. Therefore, transformation must be further carried out by ramping up independent innovation and making a successful switch from old growth pillars to new ones, so that even against the background of an economic downturn, there are still growth points and structural opportunities we can leverage.
Second is real estate. As we can see, the property sector needs the most attention this year.
Real estate investment is actually a slow variable affected by the long-term real estate cycle. And the cycle is in turn affected by factors such as long-term urbanization trends and population cycles. For example, the process of urbanization in China has slowed down, but the process of mega-urbanization is still accelerating, which is manifested in a net decrease in the permanent population of most smaller cities nationwide. Meanwhile, major cities like Shanghai, Guangdong province's Guangzhou and Shenzhen, and Zhejiang province's Hangzhou are still gaining more.
But at the same time, the graying of the population is also showing a rapid uptrend. Starting this year, the number of retirees will begin to expand more rapidly. That is to say, the urban rate in China won't be as high as in Western countries, because the aging population will lead to a decline in mobility. Ultimately, real estate, as a main pillar of China's economy, will gradually decline in its role in promoting the economy.
As seen from first-half data, property sales area recorded by the top 100 real estate companies, as well as that of the top 5, registered negative growth. Only 30 large and medium-sized cities saw a rebound in sales area in June. As sales in first- and second-tier cities make up around one-third of the nation's total, reversing the downtrend in real estate in the second half is still tough to achieve.
In conclusion, recovery in the real estate market will be slower than expected, and this should be given due attention. The property downturn is the biggest potential macroeconomic challenge this year, but commercial and residential property segments are far from being fully prepared for such a situation. Therefore, the most important thing at present is to keep the bottom line of risk control and avoid systemic financial risks caused by frequent debt default events, as well as the spread of local financial risks.
Last but not least is consumption. Affected by the COVID-19 resurgences, per capita disposable income of households nationwide in the first half rose 4.7 percent in nominal terms compared with the same period of the previous year. After deducting price factors, the actual increase was only 3 percent. While consumption is closely related to residential incomes, if the growth rate of such incomes increases, consumption can also rise accordingly. Since 2020, there have been drops in consumption growth, but with the COVID-19 situation expected to gradually ease, it is likely that consumption will rebound in the second half.
There are two directions that China may take in seeking answers to further improve consumption and increase its contribution to the economy. On the one hand, weak consumption is a result of high savings rates, including savings as pensions or for home purchases. If concerns over such issues are addressed or supported by policies, more spending will flow into consumption. Therefore, it is necessary to provide more public services, and offer more guarantees in housing, pension, education and medical care. Vouchers will also help in boosting residential consumption and spurring people's willingness to open their wallets.
On the other hand, governments should come up with more ways to expand income sources for low- and middle-income groups through tax reforms, financial subsidies or other means, not only because such earners are the main drivers of consumption, but such moves featuring promoting common prosperity and narrowing the income gap will also spur consumption.
Whether the GDP growth rate can meet expectations or not, if inflation and unemployment are kept within a reasonable range, and potential risks in real estate are well contained, the nation will remain on a healthy track. Many are saying that the government will introduce more aggressive stimulus policies in the second half to help the economy rebound sharply. But we don't necessarily agree because China has been emphasizing better efficiency in fiscal policy and demanding quality and efficiency of fiscal expenditure to ensure the sustainability of fiscal support for economic development. Therefore, for this year and beyond, achieving robust economic growth from high-quality development should be the main policy objective.
The writer is chief economist at Zhongtai Securities. This article is based on an op-ed by the writer for the China Chief Economist Forum, a think tank.
The views don't necessarily reflect those of China Daily.