Pomegranate blossom in Xinjiang
By Adham Sayed | chinadaily.com.cn | Updated: 2022-08-15 14:19
I was brimming with excitement as I stood in front of one of the gates of Hangzhou Airport that had a sign on top saying: "To Urumqi". Finally, I was going to Xinjiang Uygur autonomous region, the land of beauty and legend.
In Ili Kazak autonomous prefecture
The Ili Kazak autonomous prefecture reminds one of a large museum. Every detail in this city was designed to preserve the cultural heritage of the city's 47 ethnicities, which made it rich in harmony and contradiction. What is surprising is the massive disparity between what is said in the Western media about government policies in Xinjiang regarding ethnicities' rights, particularly their right to preserve and practice their language, customs, traditions, and religious rituals, and what you see with your own eyes.
During my explorations of this region, and in less than 48 hours, I was able to learn about the cultural characteristics of several ethnicities living there, and I can confidently say that what I learned there saved me from reading dozens of books about those ethnicities' cultures, customs, and traditions. There are dozens of cultural centers for all ethnicities throughout the city, and entire neighborhoods have been built to preserve their cultural heritage.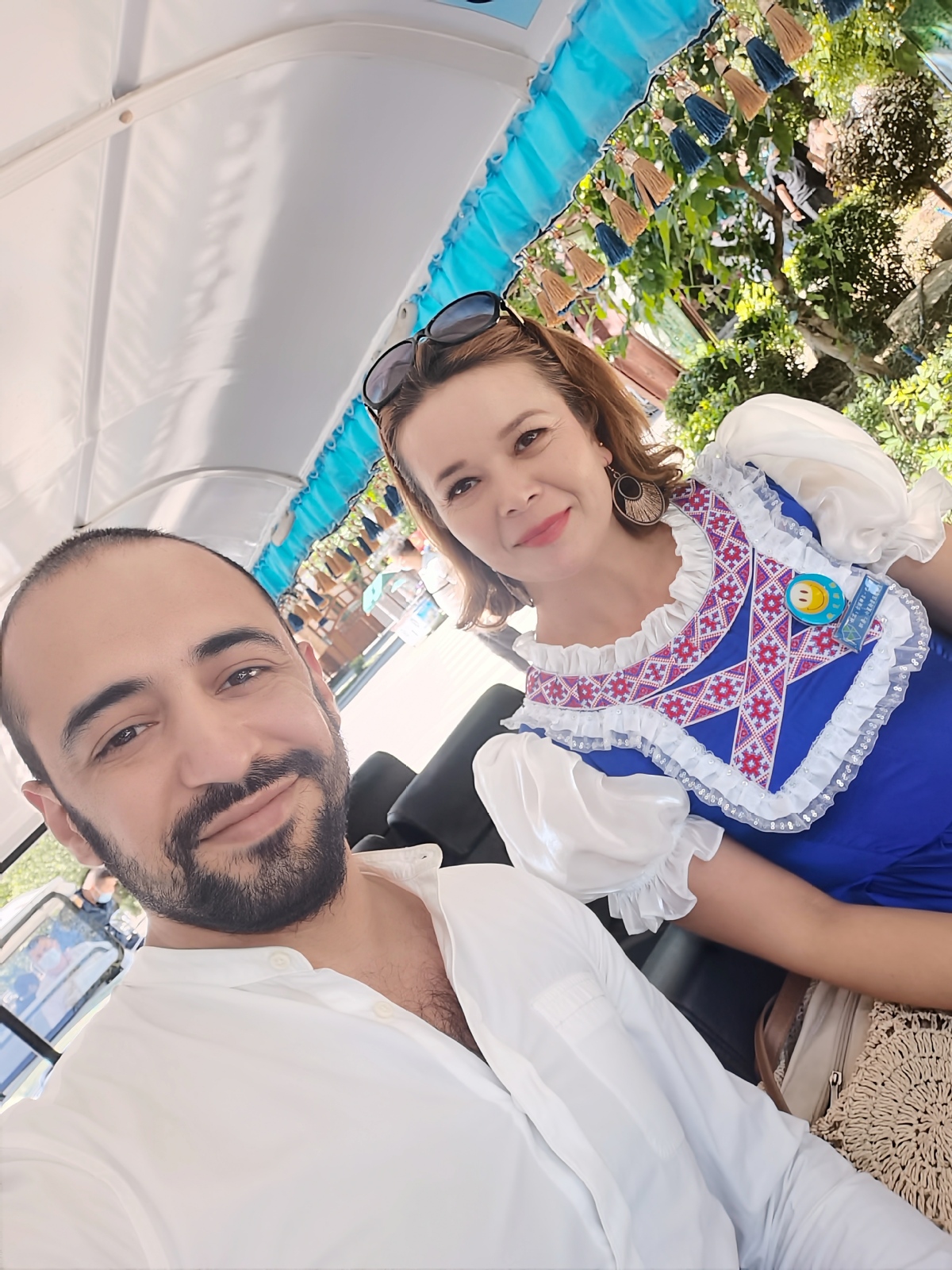 In a funny coincidence, before we arrived in the Russian neighborhood and unveiled this "cultural discovery", we took a tourist car to reach that neighborhood and the driver was a female with full Russian features, so I asked her if she was Russian, she answered, "I am Chinese." Immediately, a Russian friend who was sitting next to me said that in this city there are Russian Chinese. So, to document this discovery, I asked the driver to take a picture with her. The biggest surprise, however, came when we entered the Russian neighborhood. Russian cultural monuments can be found everywhere. So, where did the idea that the cultural characteristics of ethnical minorities are hidden come from? This is a ethnic group whose population in China does not exceed ten thousand, and it has all of this space to display its heritage and culture.
In the Kazakh neighborhood
I had a group of Kazakh classmates when I was still a student back in Wuhan. I had paid some of them a visit at their university residence. They, like most students, brought cultural symbols from their hometown to decorate their rooms. So, I was familiar with Kazakh culture in some ways. I was also aware of their fondness for carpets with light colors and rose printings.
However, when I visited one of Ili's Kazakh neighborhoods, I was reminded of the famous Arab traveler Ibn Battuta, who was amazed by the large size of a Chinese rooster in India when its owner replied that there is something even more amazing than his rooster in China. This story was recorded by Ibn Battuta, who added, "When I arrived in China, I saw the truth of what he told me."
When I walked into the home of one of the Kazakh families who had welcomed us, I realized that what I had seen in my friends' rooms was incomparable to the scene in front of me. A courtyard at the entrance to a more than a hundred-year-old house is topped by a tent made of grape tree branches, it helps hide the sun rays while also providing a lovely view of bunches of grapes hanging. It's a familiar scene.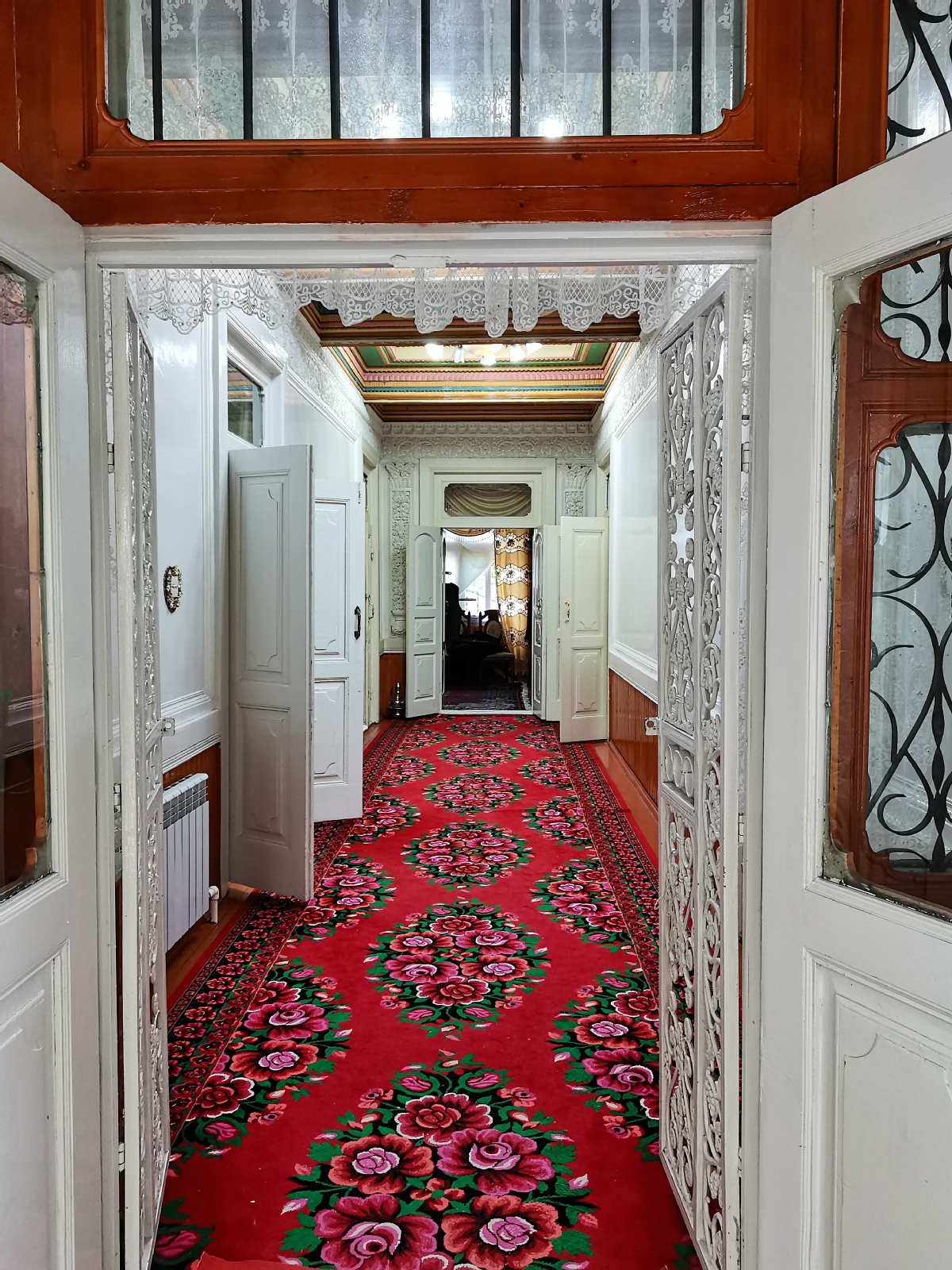 Most homes in Lebanon's villages, including my family's, have such a space. As for the rooms, the owners politely request that you enter them barefoot, which is one of the customs of Muslims in general, and the Kazakh in particular, where the floor of the house is fully furnished with carpets that I have only seen in the old lanes of the Levant, where Iranian and oriental carpets are sold.
For a while, I thought this house was unique, but when I entered numerous other residences, they all had the same layout. Large house yard, carpets in a variety of colors, particularly red and green. On the main table of every house, there are fruits and desserts as a welcome gesture.
I was also intrigued by how homeowners maintain their traditions, rituals, and heritage. I noticed that most men, particularly the elderly, wear a circular hat with embroideries representing Kazakh ethnic heritage and that most women, particularly the elderly, wear a scarf covering their hair. Many people mistook one of these ladies for one of my town's women after I posted a picture of myself with one of these ladies on my Facebook page. This was entirely predictable, given that the majority of the elderly women in my town wear such a scarf" And in a humorous incident related to special traditions. As a South Korean friend and I walked around the house, one room was locked, unlike the others. When this young man failed to open the door, he asked the owners of the house what was in that room, and they told him that it was their daughter's room, and she was still single. It is a tradition that no stranger enters an unmarried female's room.
Between Syria and Urumqi
As I wandered between the cities of Xinjiang, I was looking for similarities with our countries in the Middle East. The majority of these countries are ethnically and religiously diverse. Since the arrival of Western colonialism in our country, this diversity has become the region's curse rather than its blessing. Arab countries are used to witnessing religious or ethnic-based wars and crises, and the same scene may have played out hundreds of times in Africa, Latin America, and Asia. I believe that no country or region in today's world, which is ruled by the United States of America, is free of ethnic or religious tensions. Even inside the United States, we find that the American system continues to produce and perpetuate racism, discrimination, and inequality, so the racial issue is still very much alive in this country.
The main question I kept asking was how China dealt with the crisis in Xinjiang, one that was part of a wave of "religious extremism" that hit most countries around the world after the US-funded and supported the groups known as "Mujahideen". For instance, the United States turned Afghanistan into a base for extremists from all over the world in the 1980s, to fight the "Soviet." Later, "Al- Qaeda's" ideas got out of hand and it became one of the world's most dangerous terrorist organizations. Many other organizations were established or activated in its footsteps, including the "Turkistan Islamic Party," which moved its terrorist activity (2012) to Syria after the war began. Needless to say, the US and its local supporters were responsible for turning Syria into a base for international terrorism similar to the one established in Afghanistan.
This organization is well known to the people of the Levant. It is regarded as one of the most dangerous terrorist organizations in Syria. All sources following the terrorists' trail in Syria confirm that the "Turkistani" fighters are fiercer and bloodier than ISIS, and they are fighting on the front lines. They participated in most of the major battles, taking an even more aggressive stance than ISIS. This party currently occupies large areas in Jisr al-Shughur villages in the Syrian province of Idlib, where it has transformed these areas into settlements where its fighters (estimated at 20,000) live with their families and prevents any Syrian from entering. This organization is known to have been active in Xinjiang, carrying out dozens of terrorist operations, the most recent of which occurred in 2016.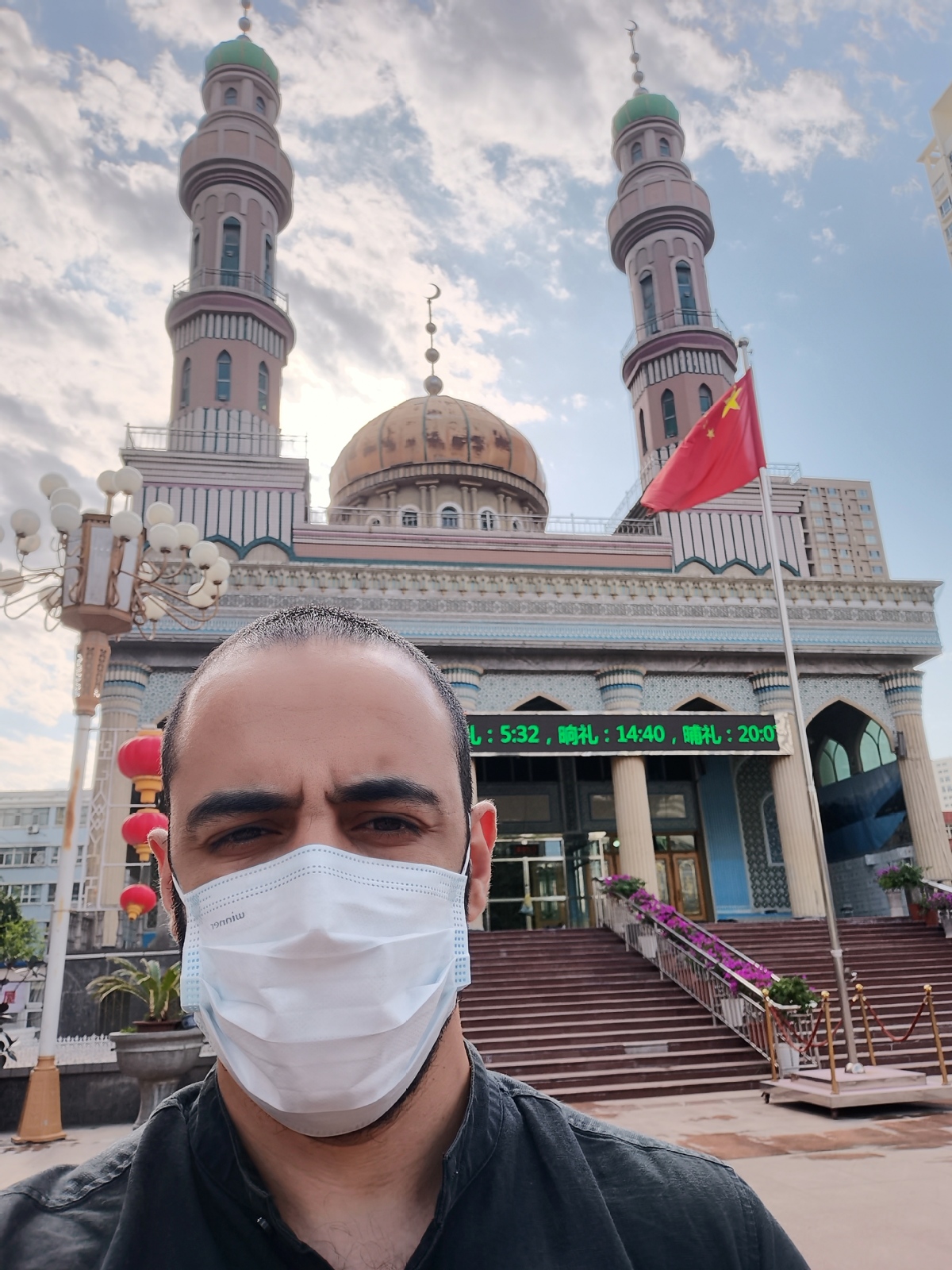 Upon arriving in Xinjiang, I had already considered all of these scenarios, thinking that the Chinese approach to dealing with terrorism would be similar to the "American model" (I believe the American system is a supporter and producer of terrorism, not a fighter against it). Hence, I expected to see destruction and a heavy military presence. I expected to see scenes similar to Raqqa in Syria, Fallujah in Iraq, or any other Libyan, Afghani, and Yemeni cities that were destroyed by the US in the name of fighting terrorism.
The reality, on the other hand, was quite the opposite. According to two friends from Mexico and Turkey who have visited the region more than once in the last twenty years, they confirmed during our tour in separate neighborhoods of Urumqi that the city expanded a lot during the last period and that new neighborhoods have been built every time they visit it. This is something I've observed. The city's airport is being significantly expanded, and large areas of the city's outskirts that appeared to be desert-like, are now alive with hundreds of new buildings being built in them. Matter of fact, active infrastructure development is one of the Chinese characteristics. When visiting any Chinese city, you will notice construction projects everywhere. All of these new constructions are built around the old city, and during our visit, we entered one of the relatively old mosques, and it is a delightful coincidence that the name of that mosque in Chinese is exactly the same as my Chinese name (Yang Hang), but with a different meaning. The imam of the mosque who greeted us speaks fluent Arabic and studied in Libya in the 1980s.
China was able to halt the wave of terrorism and terrorist operations without destroying Xinjiang's cities. Furthermore, the region has experienced years of continuous economic and population growth. Unlike Afghanistan, which was destroyed and occupied for twenty years by the US and its NATO allies. After many years of war, the Taliban returned even before the American army left, and when asked about the disastrous economic reality in Afghanistan, the American president stated that his country did not go there with the goal of developing Afghanistan in mind.
How did China accomplish this? Of course, the answer to this question necessitates a lengthy search, so I'll settle for a general answer that was always on my mind before the visit and was strengthened after it, but there's no doubt that the subject needs to be expanded further.
Either socialism or barbarism
The United States' goal has never been to protect people. Rather, as part of its global control model, America resorts to wars and destruction. This model has been dissected by hundreds of researchers and thinkers from around the world. Therefore, whoever adopts this model will not be able to end extremism and terrorism, but will instead strengthen it, and there is plenty of evidence to support this claim.
Another consequence of this model is the spread of hatred toward entire peoples and nations. For example, the alleged anti-terrorism campaigns launched by the United States of America were accompanied by a wave of hatred in all Western countries toward Muslims around the world, known as Islamophobia. This matter reinforced the statements and actions of US leaders since George Bush Jr.'s speech in front of the World Trade Center wreckage in 2000, where he said it was a "new crusade," passing through all the discrimination against Muslims and Arabs, where every Arab or Muslim is a terrorist until proven innocent.
The Chinese model is essentially a socialist model, it prioritizes human interests and addresses the causes of problems rather than their consequences. Terrorism and extremism are symptoms, not the disease itself; treating them as the primary issue will lead us to believe that every Chinese Muslim is a terrorist, which is not the case. The Chinese treatment was based on addressing two main aspects: ignorance and poverty. In other words, more work must be done to develop education and provide job opportunities for young people.
Ignorance and poverty provide fertile ground for terrorist organizations to spread their ideas. Of course, this was accompanied by intense security operations (rather than military war) aimed at suppressing active terrorist groups, as the region witnessed a series of terrorist operations. As a result of these measures, China has been able to suppress terrorist groups, with no terrorist operations since 2016. It has also denied these organizations and their supporters the opportunity to expand in the region.
Was it easy? No, my friend from Xinjiang assures me, that it was not easy. And she continues, "But, as you know, everything is relative; if we compare what we went through and what we achieved to what you went through and what you achieved in Syria, Iraq, and Libya, yes, we had it a thousand times easier than you." We did not experience displacement, destruction, or total war. It was restricted to security checks and inspections. "As in economics (which is our area of expertise), there are short- and long-term results," she adds. It was relatively difficult in the short term. As for the medium and long term, I know that my son, who was born three years ago and did not witness the terrorist acts of 2009 in our city of Urumqi, will have a stable life and a promising future in which there is no fear of terrorism or a lack of job opportunities. I see him grow up safely, attend the best schools, and obtain a high-level education." "Now, she asserts, we are reaping the fruits of sacrifice, just as the Chinese before us have reaped the fruits of misery throughout their history. Today, we live a prosperous life that we could not have achieved without all of our history's hardships."
I would say this interpretation is correct. And I'd add that socialism is the solution to all national, ethnic, and religious issues. "Either socialism or barbarism," Rosa Luxemburg declared a century ago, as the world wars raged around her. This premise still holds true. Without socialism with Chinese characteristics, Xinjiang would not have survived this crisis with minimal losses.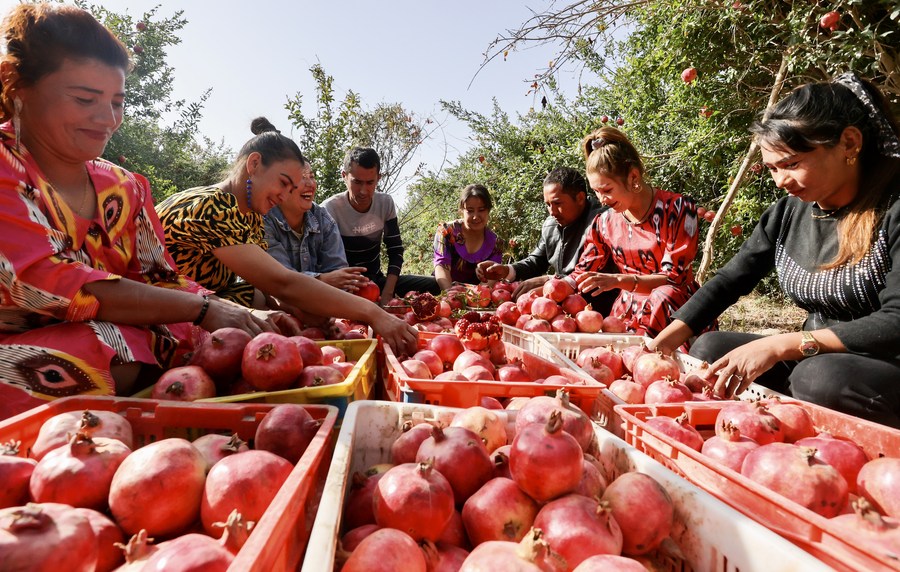 I was told that pomegranate is a symbol of Xinjiang, as the "pomegranate cone" represents Xinjiang in terms of the cohesive and shiny grains that unite to give us this beautiful and delicious fruit, implying that the pomegranate seeds represent the different yet united ethnicities and religions, and their diversity and unity is the source of their strength and beauty.
I wished, deep in my heart, that the pomegranate would bloom in my country, and we would be able to solve all of our problems by transforming our weaknesses into strengths and instituting our own socialism that transforms religious, ethnic, and sectarian diversity into strengths, rather than weaknesses that our enemies use to kill our children and suppress our future.
Adham Sayed is a researcher with the China-Arab BRI Research Center at Zhejiang Gongshang University, and author of the book "This Is How It Was in Wuhan: Diaries of Quarantine Days".
The opinions expressed here are those of the writer and do not necessarily represent the views of China Daily and China Daily website.
If you have a specific expertise, or would like to share your thought about our stories, then send us your writings at opinion@chinadaily.com.cn, and comment@chinadaily.com.cn.