Down memorial lane
By Huang Zhiling and Ning Guangxia | China Daily | Updated: 2022-08-16 07:52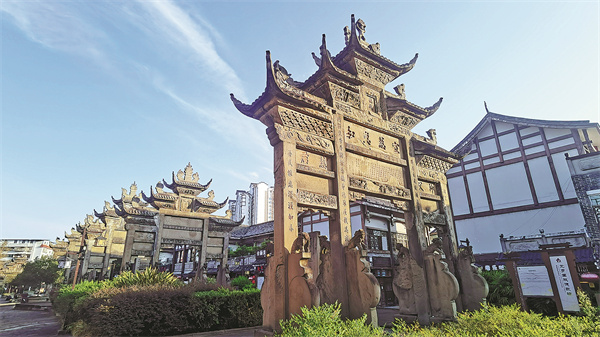 In these modern times, many of the world's ancient post roads have long since been paved over, replaced and built on. However, for the residents of Longchang, a city under the administration of Neijiang in Sichuan province, one such road is the center of daily life.
Early in the morning, people exercise on the 1,700-year-old post road which runs through the center of the city. Others traverse its bluestones on their way to buy breakfast, or meat and vegetables for lunch and supper. In the evening, they stroll leisurely along it to burn off the calories of those sumptuous meals.
Standing along the road are a group of seven bluestone memorial archways built during the Qing Dynasty (1644-1911) to honor local officials who worked for the public good, people showing filial piety, chaste widows taking good care of their parents-in-law and bringing up their children, a generous person helping the needy and a centenarian.
Longchang abounds in the material and is known as China's hometown of bluestone. It used to have 69 bluestone memorial archways. Now, just 17 built between 1496 in the Ming Dynasty (1368-1644) and 1887 exist. Seven are on the southern part of the post road in the city center, six are on the northern part of the road near the Longchang No 2 High School and the remaining four are scattered across the city's various towns.
The archways promoting virtues among officials and filial piety among the people are like public service posters on today's expressways, says Zhang Dechao, head of Neijiang's municipal bureau of culture, radio, television and tourism.