Youth lead the future: my Model UN experience
By Wu Xueli | chinadaily.com.cn | Updated: 2022-08-17 10:56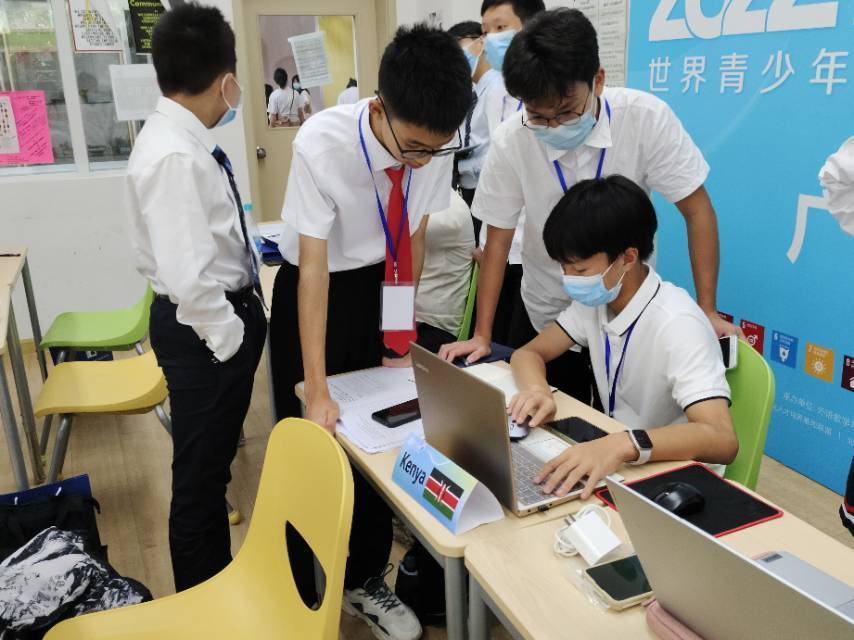 On Aug 6-7, 2022, World Model United Nations (Guangdong Conference), WMUN in short, was held in Guangzhou, jointly sponsored by the China Center for International People-to-People Exchange (CCIPE) of the Ministry of Education (MOE) and Beijing Foreign Studies University (BFSU). Long recognized for having the best substantive program on the MUN circuit in China, the conference has seen the full participation of over 300 students from Guangdong Province aged 10 through 18 as representatives of different countries. I had the honor and pleasure of taking part in this grand event as the Dais Head.
This is such an unexpectedly terrific educational experience that I couldn't stop pondering on it. There's this strong urge forcing me to write down how proud I am of all the delegates and surprised I am at how much I've learned from them.
Two days and six sessions, it was both physically taxing and professionally demanding. Surprisingly, all the participants, most of who are still in the 7th grade, showed incredibly great energy and attitudes throughout the whole process. Equally astonishing was their eloquence in terms of diplomacy and English language proficiency, as well as their critical thinking in heated and sharp debates. At the conference, delegates of different countries tried to seek common interests and formed several country blocs to further discuss the issues and come up with practical solutions to be enlisted in the draft resolutions that would eventually be voted on. Progress was obvious as each policy roadmap they proposed was concretized into feasible projects, and every confrontation was reduced by negotiation and compromise. Of course, it was not all solemnity and decorum, there were also funny moments such as when one delegate suddenly realized in the middle of his speech, "Oops, I read from the wrong page", which made us all burst into laughter.
As I looked at them, they were still children but no longer childlike, sitting straight and thinking straight, in their shiny suits and prime age, caring for people who are not in their neighborhood or even their country but who are still suffering, putting forth immature yet bold initiatives to tackle global challenges for a better world. As I looked at their bright eyes, I see hope and a future.
Before we parted, I asked them one question that I kept asking myself, "Why do you do MUN?" Some said they enjoy being a diplomat, others said it's great to meet like-minded people. Many of them mentioned the phrase "global vision". However, one answer impressed me most. He said if there's one takeaway it could be summarized as this: "There's no good or bad, no evil or justice. It's only the position that determines your perspective. So be more open-minded and less judgmental to other people, because you may never know what they've gone through." I could hardly believe that these are the words of a 13-year-old school boy. When I was 13, I couldn't even speak a full sentence in English, let alone talk about international affairs.
MUN has witnessed my growth from a beginner to a veteran and eventually a chair on the academic team. It opened up a new avenue for me and helped me see the world through a new lens. My MUN life started when I was in high school. I tried it out simply because I thought it was so cool to dress up like adults, with ties and skirts and high-heeled shoes. As I grow older and dig deeper, I've realized that MUN is not some sort of feel-good thing. While we're in our shiny suits sitting in grand halls talking about global issues, there are real people out there who are suffering from starvation and wars and struggling for basic livelihood. In the real UN, each clause we pass might be another starving child to be saved, and each word we write down in the draft resolution might be another family reunion. What gathers us is not only the passion we have for Model United Nations but also the concern we share for humanity.
Martin Luther King, Jr. once said: "Our lives begin to end the day we become silent about things that matter." The world is in desperate need of a young voice and creative ideas. On the one hand, economic downturns, climate change, the Covid-19 pandemic, wars and conflicts won't take the world anywhere apart from despair. On the other hand, the fourth industrial revolution leads us to a new era, where real-time information is globally shared, cloud tourism becomes the new trend and e-commerce becomes old-fashioned. The time calls for young people to have international understanding, shoulder the responsibility and, more importantly, take concrete action to make the world a better place. When duty calls, we answer it.
In line with the International Youth Day on Aug 12, this special occasion affirms a powerful truth: young people are making unprecedented progress for a more just and equitable world. Youth leadership is crucial, not just for the impact it can have today, but for what this can unlock in the decades that follow. To end with something similar to what we normally say in MUN, these are the words for every youngster: "The floor shall be yours."
The author is a student from Guangdong University of Foreign Studies.
The opinions expressed here are those of the writer and do not necessarily represent the views of China Daily and China Daily website.
If you have a specific expertise, or would like to share your thought about our stories, then send us your writings at opinion@chinadaily.com.cn, and comment@chinadaily.com.cn.