Flash floods kill 17 in Qinghai province
By HOU LIQIANG | chinadaily.com.cn | Updated: 2022-08-18 22:36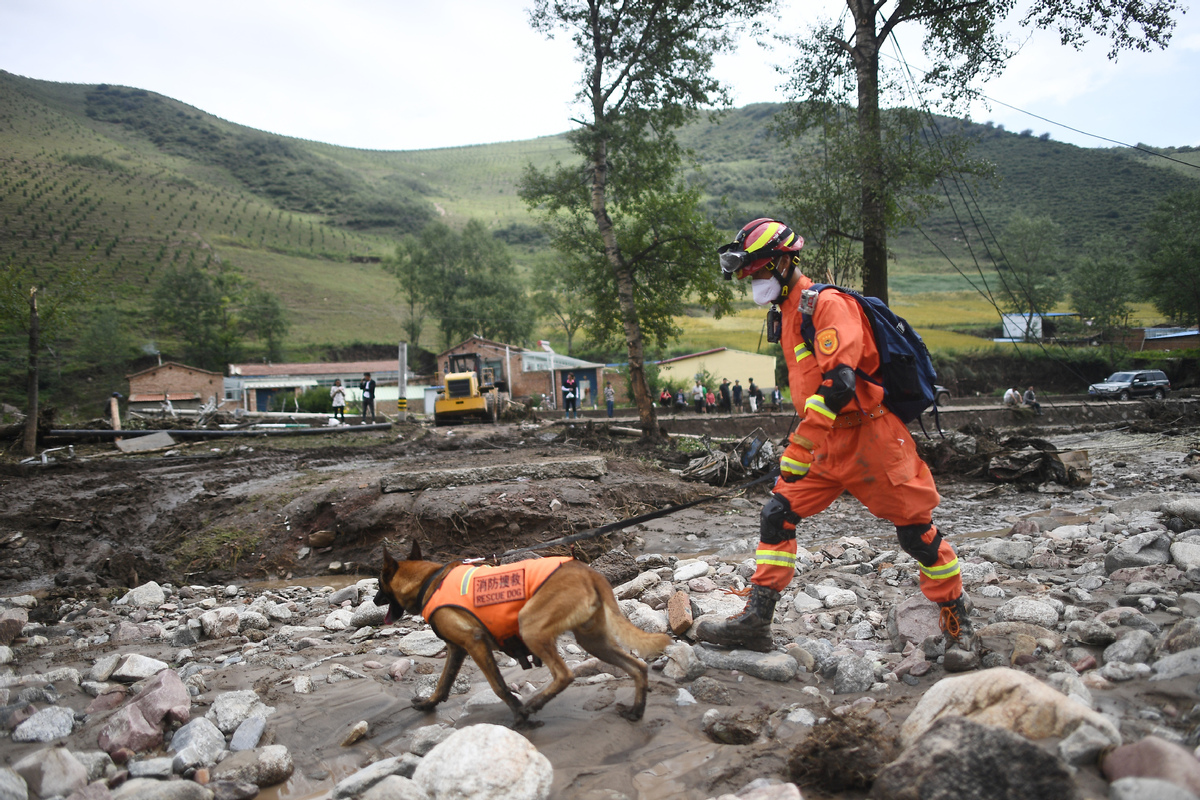 The death toll from flash floods triggered by sudden heavy rains in Qinghai province rose to 17 as of 8 pm on Thursday, with more than 2,000 emergency rescuers making an all-out effort to search for another 17 people who were still missing.
The rain started to lash Datong Hui and Tu autonomous county in Xining, Qinghai province at around 10:30 pm on Wednesday. This triggered mudslides in the early hours of Thursday, causing rivers to change course, according to a media release from the local authorities.
A preliminary investigation showed the floods affected 6,245 people from six villages.
The province activated a level II emergency response soon after the floods hit. China has a four-tier emergency response system, with level I representing the most severe situation.
Police officers, officials from emergency management and health departments and village committees worked together in an emergency rescue mission, the statement said, adding that many villagers were also mobilized.
The flooding was so heavy it swept away heavy machinery in several places. Photos from the Qinghai fire service showed that floods had toppled trees in a forested plot.
Wang Dingwei, of Qingshan township, runs a coal store near a river. After the floods passed, he found that not even a single piece of coal was left in his store, China News Service reported. "My loader, car and tricycle have all been washed away," he said.
Wang and his family all rushed upstairs from the ground floor when the floods came. They felt lucky that the flooding only knocked over the courtyard walls of their house.
Wang Xiangxi, who was appointed head of the Ministry of Emergency Management in July, rushed to Datong with a team at noon on Thursday.
Before leaving Beijing, he held an emergency video conference with on-site rescuers, asking them to comb through all affected areas to search for missing people.
While the number of residents affected and missing will be verified as quickly as possible, "not a single household or a single person should be ignored in the work," he stressed.
Local authorities must ramp up flood monitoring and early warning, as well as take precautionary measures for possible secondary disasters, he said.
Wang also drew lessons from the deadly incident to prevent similar tragedies from happening. In a move to rule out safety hazards, the local government should screen for all houses built in watercourses. An emergency evacuation plan and more detailed precautionary measures will be worked out soon.