China helps Africa realize its potential
By Ehizuelen Michael M.O. | China Daily | Updated: 2022-08-19 06:42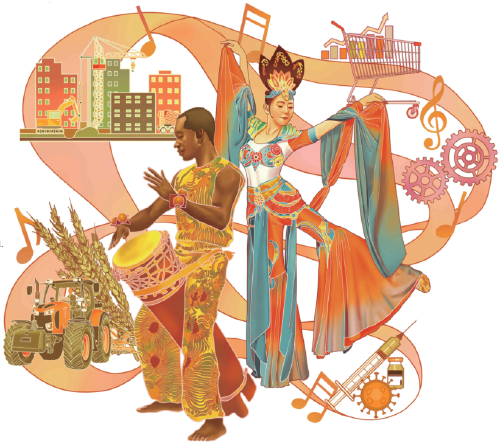 With bountiful natural resources to world-renowned tourist attractions, Africa has the potential of transforming from the poorest region in the world into a major economic powerhouse. However, potential alone is not enough to propel the continent's transformation. What would it take for Africa to transition from potential to prosperity?
Over the past two decades, the China-Africa partnership has made remarkable achievements on the road to sustainable development and improved the living conditions of the people in Africa. In many areas, including in economic and political cooperation, this partnership has delivered concrete results beneficial to both Africa and China. As a development partner, no other country has such an extensive commitment to Africa, for China has funded and developed (and is operating) more than two dozen big African ports and thousands of miles of roads and railways.
According to China's State Council Information Office, by 2010, more than four decades after the construction of the Tanzania-Zambia railway, China had assisted in the construction of over 500 infrastructure projects in Africa. Over the past two decades, Chinese enterprises have invested huge amounts to build and upgrade more than 10,000 kilometers of railways, almost 100,000 km of roads, nearly 1,000 bridges and about 100 ports, and 66,000 km of power transmission and distribution networks.
In recent years, thanks to the Belt and Road Initiative, the number of projects to improve connectivity between China and Africa has increased. On the other hand, for African countries which want to industrialize but do not generate enough electricity to do so and yet are rich in renewable energy potential, China's Green New Deal under the Belt and Road framework may be an opportunity for them to establish sustainable, win-win cooperation with China to achieve their goals, as the deal supports African countries' industrialization.
A lot of Chinese investment capital is allocated to infrastructure, because it is one of the areas where Africa has a lot of underutilized assets with enormous investment needs which cannot be met by small domestic capital markets. Since most of China's infrastructure projects in Africa address a desperate need for roads, railways, ports and energy, China's contributions to many African countries' development have become a central aspect of their development policies.
Also, Chinese investment in Africa's infrastructure increases the overall productive capacity of the African economies. For instance, Chinese infrastructure investment can help African countries better integrate with the African Continental Free Trade Area (AfCFTA), by improving connectivity in free trade and agricultural processing. And the processed products can be sold in AfCFTA markets or other emerging markets, including in the Regional Comprehensive Economic Partnership region and China.
As a matter of fact, African agricultural processing products are being exported to China-more than 350 agricultural products from Africa have been granted access to the Chinese market. In the past three years, China's agricultural imports from Africa have grown at an average rate of 14 percent a year, making China the second-largest importer of African agricultural products.
Also, the three-month-long African Products Online Promoting Season, launched in September 2021, was supported by Taobao, the largest online shopping platform in China, in line with the digital innovation program proposed by President Xi Jinping, during the Extraordinary China-Africa Summit on Solidarity Against COVID-19 held in 2020, to promote e-commerce to help African and Chinese exporters to tap each other's markets.
These are some of the factors that have helped increase China-Africa trade by 20 times in the past two decades. In 2021, Sino-African trade increased by 35 percent to $254 billion, mainly due to an increase in Chinese exports to Africa. And according to the 2021 China-Africa Economic and Trade Relationship Annual Report, China remains Africa's largest trading partner. Notably, China-Africa trade increased despite the disruptions in the global supply chains due to the COVID-19 pandemic.
However, a main goal of China and Africa is to continue technology exchanges in areas including green and low-carbon industries, clean energy and the digital economy, in order to achieve a sustainable, win-win China-Africa trade cooperation.
As for investment, China can create new production cooperation opportunities, get access to more natural resources and cheap labor, realize the transfer of marginal industries, upgrade its economic structure and boost its high-quality development by increasing investment in Africa. And from the standpoint of Africa, Chinese direct investment will inject new impetus into the continent's economic development.
No wonder China-Africa relations strengthened, despite the crippling impact of the pandemic on the global economy, with Chinese investment in Africa increasing by $2.96 billion in 2020, up 9.5 percent year-on-year. By the end of 2020, Chinese direct investment in Africa exceeded $47.4 billion, with more than 90 percent coming from the private sector.
As for job creation, according to China's State Council Information Office, Chinese enterprises' investments in Africa have created many jobs and more than 80 percent of the employees of the Chinese enterprises operating in Africa are local people.
As a result of such dynamics, African elites generally welcome Chinese trade and investment, as they see them as beneficial to African countries. Thanks to China's economic involvement in Africa, the African people have seen arguably the most momentous development on the continent since the end of the Cold War.
The author is an associate professor at, and founder and executive director of, the Center for Nigerian Studies at the Institute of African Studies, Zhejiang Normal University. The views don't necessarily reflect those of China Daily.
The opinions expressed here are those of the writer and do not necessarily represent the views of China Daily and China Daily website.
If you have a specific expertise, or would like to share your thought about our stories, then send us your writings at opinion@chinadaily.com.cn, and comment@chinadaily.com.cn.